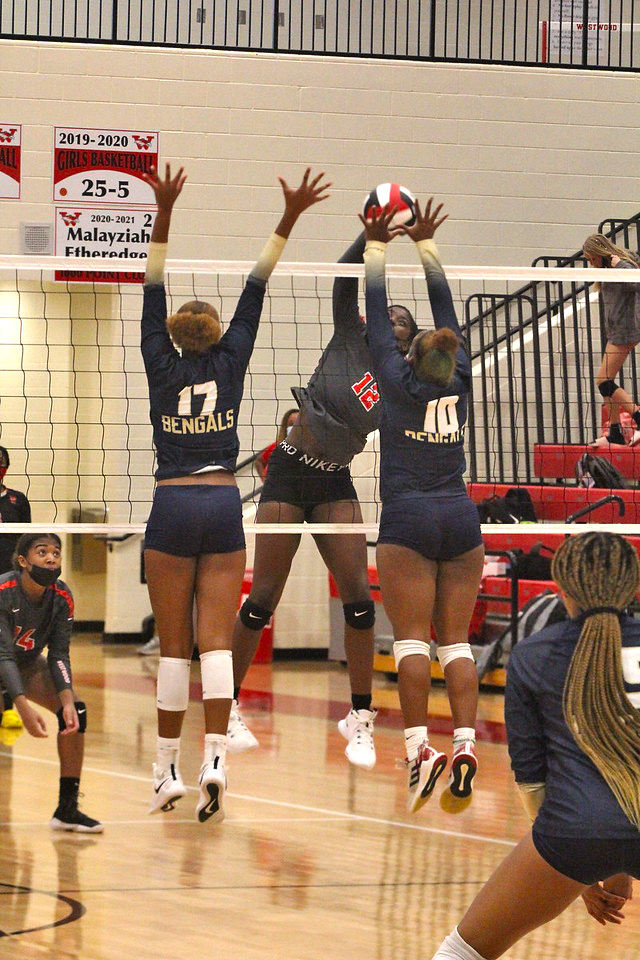 BLYTHEWOOD – Westwood (2-1) and Blythewood (3-4) battled it out on the court last Thursday. The Bengal volleyball team pulled out a 3-1 win over the Redhawks at The Castle.
Blythewood took the first set 25-20, but dropped the second to Westwood 21-25. The two exchanged leads in the third, but Blythewood pulled a 25-22 final to take the 2-1 advantage in the match. The Bengals clinched the win in set four with a 25-19 final.
Senior Bengal setter Macy Collins

Senior Redhawk Madison Taylor
The Blythewood win was the team's second in a row and their third of the season. Blythewood took down Lugoff-Elgin 3-0 on Aug. 24 and topped Byrnes on Aug. 31 with a 2-0 final. The Bengals have dropped games to Bishop England (0-2), Nation Ford (0-2), Cardinal Newman (0-2) and Wren (1-2) in tournament play.
Blythewood's game against Gray Collegiate Academy scheduled for Wednesday was canceled but will be rescheduled, according to a tweet from GCA Athletics.
Blythewood is set to face Lugoff-Elgin on Sept. 9 in an away match and will travel to Northwestern for a region match on Sept. 16.
The loss to Blythewood was Westwood's first of the young season. The Redhawks took down North Augusta 3-0 on Aug. 24 and Spring Valley shut out Spring Valley 3-0 on Aug. 26. Westwood's match against Ridge View on Aug. 31 was cancelled.
Westwood was set to return to action at home on Wednesday against Camden. Scores were not available at press time. They will travel to West Florence on Sept. 9 and A.C. Flora on Sept. 14 before returning to host Lugoff-Elgin on Sept. 16.