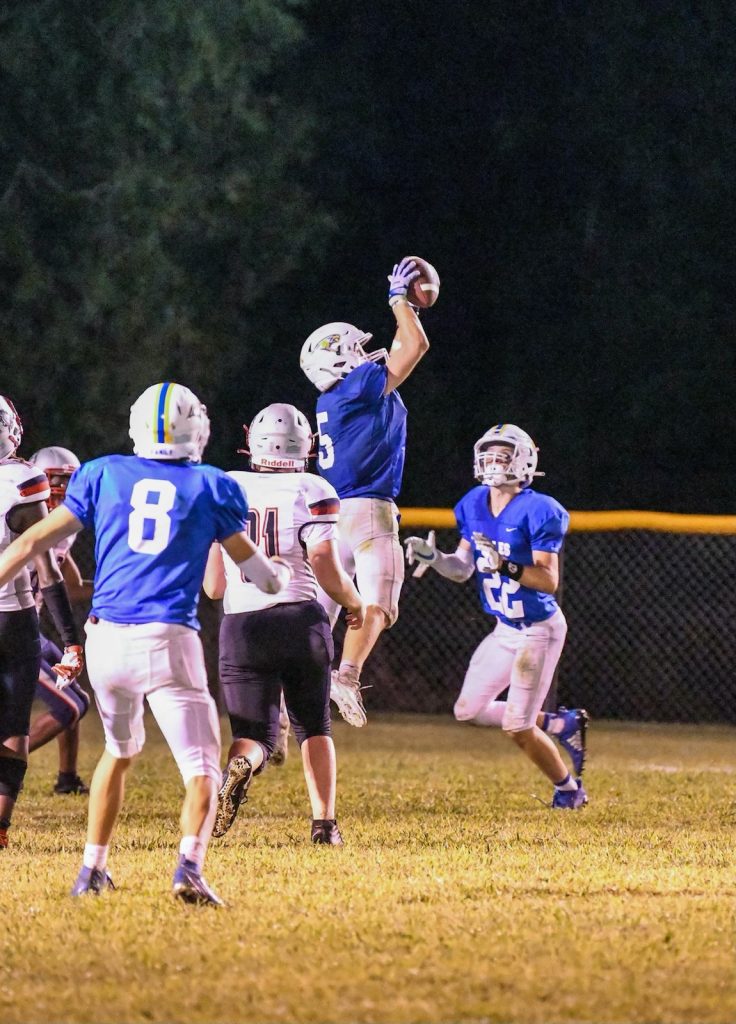 WINNSBORO – The Richard Winn Eagles (1-0) hosted the Knights of Faith Christian (1-1) on Friday, Sept. 3 at Ruff Field. The Knights made the long road trip from Summerville to Winnsboro for the 8-man football match up that resulted in a 36-14 win for the home team as the final buzzer sounded.
"We felt like we would have to improve this week to win, and our team did a good job of doing enough," said Richard Winn head coach Paul Brigman.
Richard Winn got on the scoreboard during first half action while the Eagle defense kept the Knights out of the end zone. RWA went into the locker room up 12-0 at halftime.
Senior standouts B Baker and J Talbert once again had outstanding performances to lead the Eagles in capturing the home victory. Baker rushed for 134 yards on 12 attempts and also hauled in two passes for 80 receiving yards. Baker had 2 touchdowns, one on rushing yardage and one receiving. On the other side of the ball, Baker and Talbert led the team's defensive stats, each one racking up 17 tackles. Talbert had 3 interceptions, one of those a pick 6, and Baker had a sack.
Quarterback Landon Caulder rushed for an Eagle touchdowns and completed TD passes to Baker and sophomore Drew Spires. Spires tallied 65 yards on 3 receptions. Junior Lawson Wade scored two 2-point conversions, and both he and senior Colton Hatchell recorded 12 tackles apiece. Junior Rob Wilson had two receptions tallying 31 yards, Brian King made 2 sacks and 9 tackles, Jacob Chaisson had 7 tackles and snagged a fumble recovery, and Ben Clowney had 6 tackles.
"It wasn't our best game, and we know that we still have a long way to go as a team, but we were happy to get the win," said Brigman.
The Eagles improved their record to 2-0 and will host W.W. King on Friday, Sept. 10, for their first taste of region action. King (1-1) defeated Faith Christian in week 1 with a 46-12 final and fell to Patrick Henry last week. Kickoff in Winnsboro is set for 7:30 p.m.