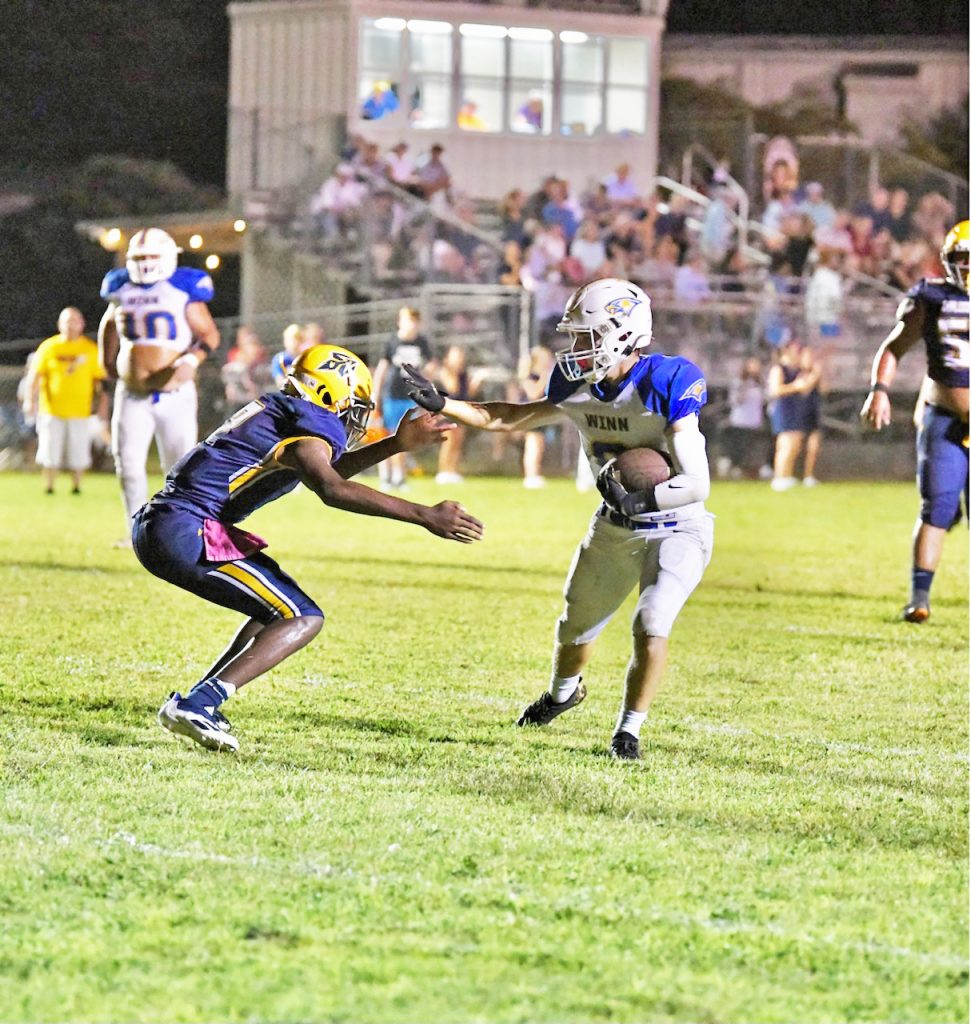 WINNSBORO – On Friday, Sept. 17, Richard Winn's Eagles traveled to the coast for a gridiron battle against the Charleston Collegiate Sun Devils of John's Island. The Sun Devils controlled the ball from the opening kickoff with an aerial attack and scored on their first possession with a 44 yard TD pass completion on their third play from scrimmage. This was the first time Richard Winn has had to come from behind thus far this season. However, when the final buzzer sounded, it was the visiting Eagles who proved their dominance on both sides of the ball in their 40-6 victory.
While the Sun Devils game plan was to go to the air, the Eagles used both air and ground attacks to control the game. Overall the Eagles did a great job defensively, applying pressure on the quarterback and defending the pass with outstanding performances from J Talbert and Connor Little.
"I felt like our team played well on Friday night. It was a long road trip, and we struggled a little bit early to get ourselves going. Our guys responded well to the challenge, and we were able to eventually take control of the game. We were missing a few of our key players, but our young guys responded when given the opportunity. It was a good road win for our team," said Head Coach Paul Brigman.
En route to their fourth straight win, the Eagle offense racked up a total of 448 yards, 291 in the air and 157 on the ground. Their defensive counterparts held the Sun Devils to a total of 102 yards on 58 plays and only 7 of 31 pass attempt completions.
Of the Eagles 448 offensive yards total, once again senior B Baker had another stellar performance as he tallied 212 rushing yards to score twice, 68 yards in the air on 10 attempts while snagging a third touchdown, and an additional 65 yards on 2 punt returns. Baker not only led the Eagle offensive charge but also topped the defensive effort with 8 tackles and 2 pass deflections.
Quarterback Landon Caulder was also on top of his game, completing 14 of 20 pass attempts for 263 yards for 3 touchdowns, and he rushed for 22 yards on 11 attempts. Backup QB Charlie Bonds was a perfect 3 for 3 with 28 yards tallied in the air, had 19 yards on 2 receiving attempts and a two point conversion catch in addition to 4 tackles and a deflection.
Jacob Chaisson had a 13 yard touchdown rush as well as 3 catches for 37 yards and another touchdown catch followed by the 2-pt. conversion run. He also made 4 tackles. Talbert played tenacious defense with a sack, 6 quarterback pressures, and 7 tackles to his credit. Teammate Lawson Wade added 6 tackles and 2 deflections and had 3 receptions for 18 yards total. Austin Lancaster punted the ball twice for a total of 77 yards, averaging 38.5 yards, and made 2 tackles, a sack, and a deflection. Berry Bonds added 3 tackles to the defensive effort.
The Eagles will make back-to-back road trips to the coast again this Friday in a quest to improve their overall record to 5-0. The Eagles will return to their home Ruff Field gridiron in two weeks (Oct. 1) to take on the Laurens Crusaders and celebrate Homecoming This week they travel to Mount Pleasant to match up against the Eagles of Palmetto Christian. The "battle of the birds" will kick off at 7:30 p.m.