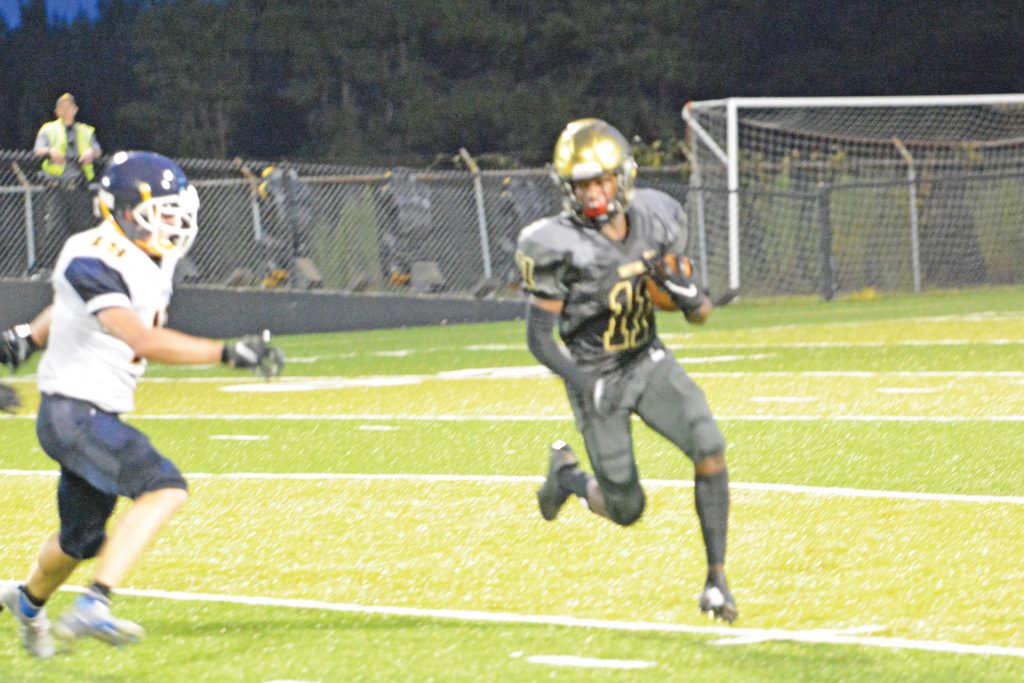 WINNSBORO – It took three quarters for Lancaster to jump into the game Monday night at E.K. McLendon Stadium.
When the Bruins did, they gave the Fairfield Central football team a heck of a scare.
Down 16-0 and with starting quarterback Jermaine Flowers knocked out of the game, Lancaster scored two fourth-quarter touchdowns and made both 2-point conversion attempts to tie the game at 16.
It took a Bruins punter's misfortune and the quick-slinging arm of Stephon Gadsden to close out a 22-18 victory.
"After that right there, I've got to take two blood-pressure pills," Griffins head coach Demetrius Davis said. "It was a tough, hard-nosed football game but any time you play these 4A, 5A teams, that's part of it."
Neither team had explosive offensive numbers. Fairfield Central's total offense amounted to 183 passing yards but just 43 yards on the ground. Lancaster had 119 rushing yards and 83 passing yards.
"Everything we had on run game we had to earn," Davis said. "We definitely have to go watch this film and see if they were that much better than us up front. They could have been. They were a little bigger than us."
Early in the third quarter and down 9-0 to the Griffins, Lancaster had made next to no offensive progress. The Bruins had just one passing yard and 55 net rushing yards in the first half and had just nine total yards on their first possession in the third quarter when Flowers went down.
On fourth and five at the Fairfield Central 20, Flowers took the snap, tucked the ball under his arm and ran to his right—head on into a group of Griffins, whose momentum took the quarterback off his feet and laid him flat.
That's where Flowers remained for a scary eight minutes as trainers and medical staff rushed to the field. The attendants took his facemask and helmet off and worked to revive him, but the Bruins starter was not responsive until after emergency responders placed him on a gurney. As he was rolled toward the south end zone to a waiting ambulance, Flowers did revive enough to raise his right arm with a thumbs-up salutation to a cheering crowd.
When play resumed, Fairfield Central took over on downs, went three-and-out and punted, and Lancaster resumed possession only to fumble the ball away.
Fairfield Central took over at the Bruins 34-yard line and Gadsden powered into the end zone six plays later. Roger Burns' extra point gave Fairfield Central a 16-0 lead with 1:01 left in the third, which seemed insurmountable.
Until Lancaster showed that it could strike quickly, that is.
Backup quarterback JaRon Stevenson led his team 58 yards on 10 plays, including a clutch 12-yard pass on fourth-and-11 at the Griffins' 13-yard line to keep the drive alive. Mikal McCollum ran the ball in from one yard out to get the Bruins on the scoreboard with 9:17 left in the game. Stevenson then ran the ball in for the 2-point conversion to make it 16-8.
The invigorated Lancaster defense stopped Fairfield Central on the next possession, and after a 14-yard punt set the Bruins up at the Griffins' 44-yard line, Stevenson soon connected with Cureton Witherspoon for a 40-yard touchdown pass play. Stevenson's pass to Xavier Graham for the 2-point conversion tied the game at 16 with 7:01 to play.
Once again, the Lancaster defense rose up, drove Fairfield Central backwards three yards, and forced another punt.
"When the little backup quarterback came in, he gave them a little spark," Davis said. "And in football, no matter what goes on, is a game of momentum. You could feel the momentum in the air go to their side."
Just as momentum swung Lancaster's way, it also swung right back to Fairfield Central.
The Griffins forced a fourth-and-six at the Bruins' 46-yard line and Graham as punter took the snap and inadvertently took a knee as he was preparing to punt.
That gaffe put Fairfield Central at the Lancaster 30, and on the next play Gadsden lofted a pass to TyDarian Grier in the end zone for a quick six points with 3:30 left to give the Griffins a 22-16 lead.
The point-after attempt failed, but the Fairfield Central defense didn't. Stevenson and the Bruins drove quickly down field, but the Griffins stopped the drive cold at the Fairfield Central 17.
The Griffins gave up a safety on fourth down as time expired, but walked off the field with their first win of the season in hand.
"I was proud of our guys, they hit two big plays on us, but we just kept playing," Davis said. "I don't know how, but we were able to get the win. That's probably the most penalties we've had, I don't know, but that's something we can clean up. Like I told my kids, we can clean that up with a 'W.' It's hard to clean up with a loss."
The Griffins started off in dominating fashion, and while they had issues on short yardage near the goal line, they had a 9-0 lead and the defense played like that was the only cushion needed.
Fairfield Central took the opening kickoff and drove 63 yards on 12 plays, but Lancaster stopped the Griffins at the one-yard line. The Bruins couldn't gain anything after their goal line stand, and gave up a safety at the 2:46 mark of the first quarter when punter Johnny Zatarain mishandled the low snap and the ball bounced out of the back of the end zone.
Donovan Watkins fielded the free kick and returned it 34 yards to the Bruins' 46-yard line. All Gadsden did at that point was snap the ball, look for DayJuan Durham on the right sideline, and connect with him for a 46-yard touchdown strike. Roger Burns' point-after made it 9-0 Griffins with 2:30 to play in the first quarter.
While the Fairfield Central defense kept Lancaster contained for the entire first half, the Griffins offense fell victim to early season mistakes. On one second-quarter drive Fairfield Central reached midfield, but an illegal motion penalty called back a Gadsden 46-yard touchdown pass to Trent Boyd, and a holding penalty called back another long pass play to Ja'Tron Woodard.
On the next series the Griffins again reached midfield, but back-to-back false starts and a sack had them facing a second-and-33 at their own 25-yard line at the halftime gun.
The Griffins head to Chesnee and the Bruins play host to Chester Friday.
"We won, but we've got a short week and we've got to turn around and go to Chesnee," Davis said.
Lancaster – 0-0-0-18 — 18
Fairfield Central – 9-0-7-6 — 22
First Quarter
F – Team safety 2:46
F – Dayjuan Durham 46 pass from Stephon Gadsden (Roger Burns kick) 2:30
Third Quarter
F – Gadsden 2 run (Burns kick) 1:01
Fourth Quarter
L – Mikal McCollum 1 run (JaRon Stevenson run) 9:17
L – Cureton Witherspoon 40 pass from Stevenson (Xavier Graham pass from Stevenson) 7:01
F – TyDarian Grier 30 pass from Gadsden (kick failed) 3:30
L – Team safety :00
Lancaster FC
First Downs 12 9
Rushes-Yards 31-119 24-43
Passing Yards 82 183
Att-Com-Int 13-7-0 17-9-0
Fumbles-Lost 2-1 1-1
Penalties-Yards 0-0 10-105
Punts-Avg. 3-34.3 5-29.6
INDIVIDUAL STATISTICS
RUSHING: Lancaster – Bryce Surratt 2-13, JaRon Stevenson 3-6, Jermaine Flowers 10-20, Mikal McCollum 18-80. Fairfield Central – Semaj Young 11-18, Stephon Gadsden 8-16. TyDerian Grier 3-8, Team 2-1.
PASSING: Lancaster – Jermaine Flowers 2-3-0, JaRon Stevenson 5-10-0. Fairfield Central – Stephon Gadsden 9-17-0.
RECEIVING: Lancaster – JaRon Stevenson 1-(-2), Mikal McCollum 2-4, Cureton Witherspoon 2-37, Demaje Hayden 1-4, Isaac Blackmon-Wilson 39. Fairfield Central – Trent Boyd 1-8, TyDarian Grier 3-50, Ja'Tron Woodard 1-58, Adam Gonzalez 1-6, DayJuan Durham 1-46, Khylin Williams 1-7, Kelton Mobley 1-8.