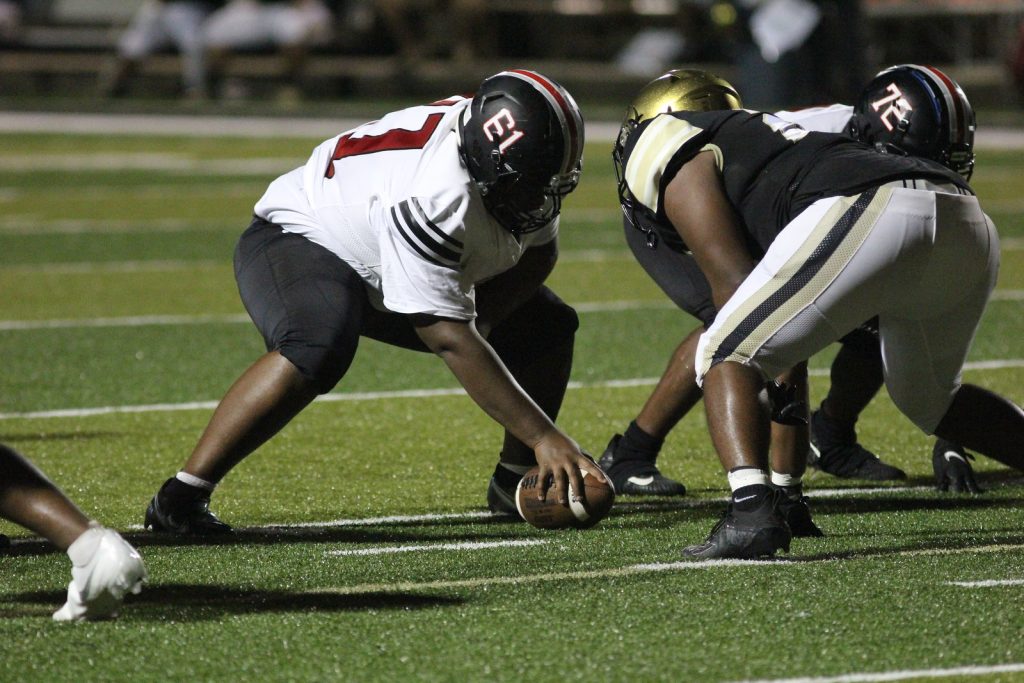 WINNSBORO – From Noah Jennings' 80-yard touchdown return on the opening kickoff to Camron Brown's pass that fell incomplete in the shadow of the goal posts in the final four seconds, the Westwood football team kept coming at Fairfield Central Friday night.
The Redhawks, who went two weeks without games and had just one practice because of COVID protocols, kept the pressure on Griffins quarterback Stephon Gadsden, but the senior delivered time and again, including a 53-yard touchdown pass to Trent Boyd with 1:07 left in the game. That score, and Semaj Young's 2-point conversion run, gave Fairfield Central a 35-32 advantage.
Yet, in that final minute, Westwood took the ball at midfield and picked up two first downs that set them at the Fairfield Central 18-yard line with 37 seconds left. From there the Redhawks sustained an intentional-grounding flag and despite a 16-yard gain, went four-and-out, and secured the Griffins' victory at E.K. McLendon Stadium.
"They were playing man(-to-man) so we had to take advantage of that, we had to take quick shots," Gadsden said. Once the Griffins scored each time, he added, "We just hoped and prayed."
Gadsden finished the night passing 9-for-18 for 208 yards and a touchdown, and rushed for three more scores and 85 yards on 11 carries.
With the Griffins (3-1) down 18-14 at halftime, head coach Demetrius Davis implored his team to find some quick solutions in passing to get the advantage over Westwood (0-2).
"We had to get the ball in the air," Davis said. "Our starting center Joe Tolbert went down (early in the game), and his backup is on concussion protocol. We were in a bind on the offensive line, and we were really just trying to get out of here with a 'W'. That's a good Westwood football team. They gave us everything we wanted."
Coming into the second-half action, Gadsden made some key strikes to get the offense going.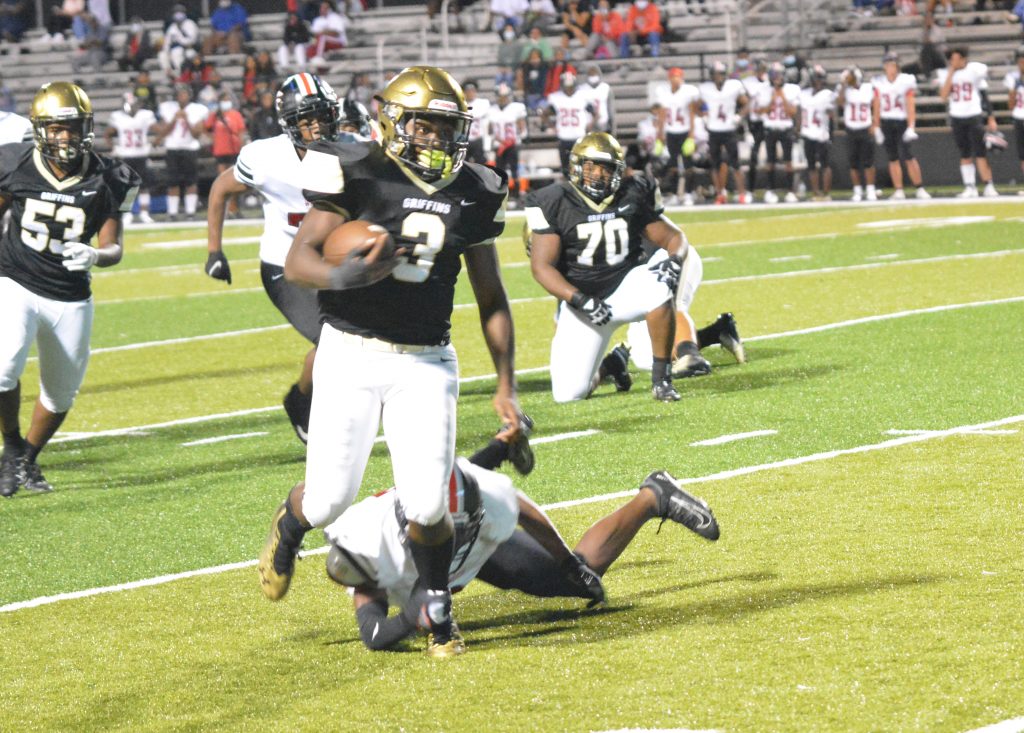 A 47-yard strike to Ja'Tron Woodard helped set up Gadsden's 6-yard touchdown run that gave the Griffins a 20-18 lead at the 9:22 mark of the third.
Early in the fourth quarter Gadsden kicked off another scoring drive with a 36-yard pass to TyDarian Grier, and then another 36-yard pass to Boyd that put the Griffins at the Westwood 14-yard line. Four plays after that one, Gadsden ran into the end zone from seven yards out to give the Griffins a 27-18 27-18 lead with 9:47 to go.
A two-possession cushion with less than 10 minutes to go against a team that's fighting mistakes from being inactive for two weeks would seem comfortable in any other game. Westwood picked up its intensity as well.
Julian Milligan's rushing fired up a 10-play, 58-yard scoring drive he capped with a one-yard touchdown run. That score cut the Griffins' lead to 27-24.
After forcing a Fairfield Central punt, Westwood took over with 3:46 left in the game and knocked out a long drive—with a little help from two roughing-the-passer penalties that gave the Redhawks first downs.
"I talk to these kids all the time about getting off the field," Davis said. "When it's third down and fourth down, we gotta get off the field. We can't have that (unsportsmanlikes) when you play a team of that caliber, you can't have those kinds of penalties. We've gotta clean that up."
The Griffins forced a third-and-16 situation at the Fairfield Central 33-yard line, but on that play Brown rolled out of trouble and found Jennings in the middle of the end zone. Jennings caught the ball in stride for the score and crashed into the fence at the back of the end zone. Jayden Harrison's conversion run gave Westwood a 32-27 advantage, but the clock had 1:20 left.
Gadsden, Boyd, and the rest of the Griffins needed just 13 seconds to erase that deficit. But to ultimately get the win, they had to hold on against a Westwood team determined to get the last score in.
"Our kids battled, I'm proud of them," Redhawks head coach Matt Quinn said. "That's a heavyweight fight going punch for punch. Our kids never backed down. We go down by a score with one minute left and they battle back. They never quit, and that's a culture change that I've seen in my three years here."
After Jennings' touchdown return on the opening kickoff, the Westwood offense pretty much went backwards throughout the first quarter. The Redhawks caught the sour end of nine flags, including four false starts, two offsides, an illegal shift, a holding penalty, and an unsportsmanlike conduct. Those assessments to the tune of 60 yards, as well as a Griffins interception, killed at least two possible scoring drives.
The Westwood mistakes enabled Fairfield Central to even the score at 6 on a 68-yard Gadsden touchdown run with 1:48 left in the first quarter.
"That's the same kind of stuff you see in a first game, in a scrimmage, really," Quinn said. "You see the penalties and the sloppy play and the inconsistencies, you see that in a first scrimmage. We got one practice this week, and it had to be inside because of storms."
In the second quarter Westwood seemed to collect themselves. Working on good field position on two drives, the Redhawks moved the length of the field and took an 18-6 lead.
On the first drive, Westwood quarterback Camren Brown closed out an 8-play, 61 yard drive with a 9-yard TD pass to Jalen McDuffie at the 9:30 mark of the second quarter.
When the Redhawks got the ball back, they drove 55yards on five plays. Milligan scored on a 30-yard touchdown run at the 6:10 mark.
Fairfield Central finally got a long drive in after that score. The Griffins moved 84 yards on 15 plays for Young to score from two yards out with 1:04 left before the half. Gadsden found Donovan Watkins for the 2-point conversion to cut the Redhawks lead to 18-14, the score at intermission, before the second-half fireworks.
Westwood finished the night with 453 yards of total offense, 232 rushing yards and 221 passing yards.
Brown was 12-for-28 in passing with two touchdowns and one interception. Milligan had 151 yards and two touchdowns on 20 carries. Besides his TD return, Jennings had five catches for 113 yards and a score.
"It's been tough," Quinn said about going into games with little or no practice because of the COVID protocols. "That's why we had some cramping issues. Typically I get upset with kids because they're not hydrating, but they haven't been able to work out or run with us for two weeks. Battling through all that against a pretty good football team, I'm really proud of these guys."
Fairfield Central opens Region play Keenan Thursday. Westwood opens Region play at Aiken Friday.
Westwood – 6-12-0-14 — 32
Fairfield Central – 6-8-6-15 — 35
First Quarter
W – Noah Jennings 80 kickoff return (run failed) 11:48
F – Stephon Gadsden 68 run (kick failed) 1:48
Second Quarter
W –Jalen McDuffie 9 pass from Camren Brown (pass failed) 9:30
W – Julian Milligan 30 run (pass failed) 6:10
F – Semaj Young 2 run (Donovan Watkins pass from Gadsden) 1:04
Third Quarter
F – Gadsden 6 run (kick failed) 9:22
Fourth Quarter
F – Gadsden 7 run (Matthew Few kick) 9:47
W – Milligan 1 run (run failed) 5:12
W – Jennings 33 pass from Brown (Jayden Harrison run) 1:20
F – Trent Boyd 53 pass from Gadsden (Semaj Young run) 1:07
Westwood FC
First Downs 21 10
Rushes-Yards 41-232 27-138
Passing Yards 221 208
Att-Com-Int                        27-12-1                    18-9-0
Fumbles-Lost 3-1 2-1
Penalties-Yards 21-166 7-90
Punts-Avg. 1-37.0 4-29.0
INDIVIDUAL STATISTICS
RUSHING: Westwood – Julian Milligan 20-151, Camren Brown 5-61, Jayden Harrison 8-25, Isaac Jennings 2-14, Team 2-(-19). Fairfield Central – Stephon Gadsden 5-69, Stepheno Gadsden 2-14, Semaj Young 7-31, TyDarian Grier 1-1.
PASSING: Westwood – Camren Brown 12-28-1. Fairfield Central – Stephon Gadsden 9-18-0.
RECEIVING: Westwood – Noah Jennings 5-113, Zyere Lee 1-15, Jordan Jenkins 1-44, Jaylen McDuffie 1-13, Jayden Harrison 2-22, Julian Milligan 2-14. Fairfield Central – DayJuan Durham 1-12, TyDariean Grier 4-46, Semaj Young 1-14, Ja'Tron Woodard 1-47, Trent Boyd 2-89.