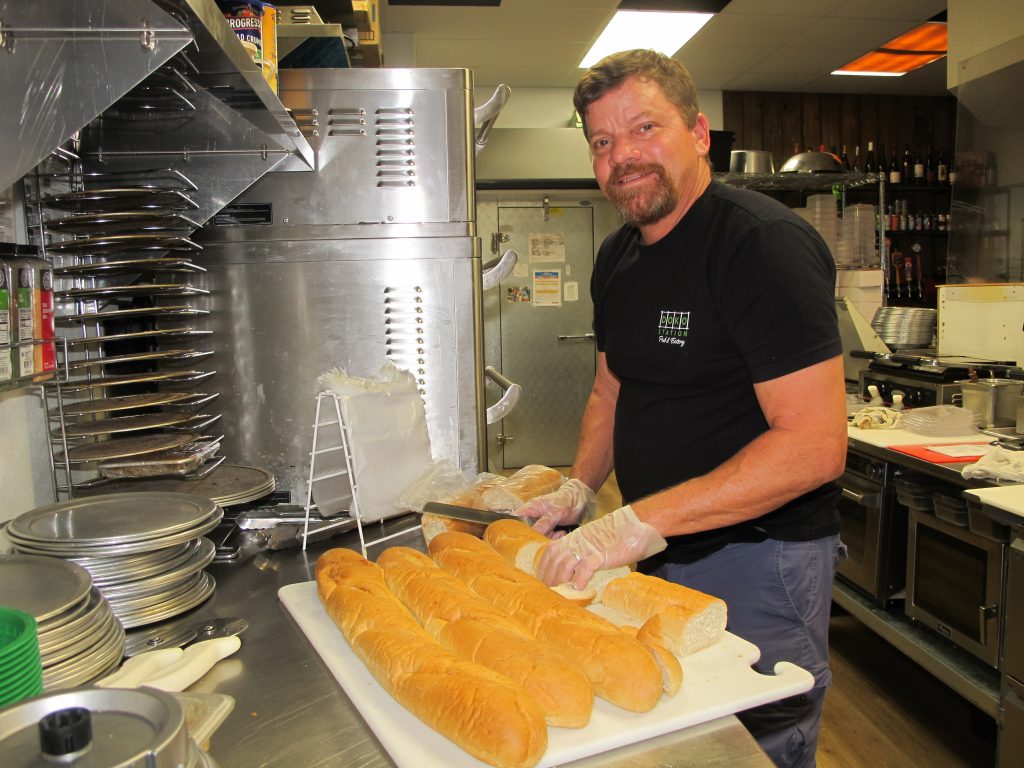 BLYTHEWOOD – It's been more than a year of operating under pandemic restrictions and uncertainty, but Doko Station Pub & Eatery has made it through – and officially celebrated its grand opening in September.
"I've got so many great regulars who support us, and a whole lot of new people come every week and support us, it's great," says John Clinger, who owns the restaurant with his wife, Kelly.
"We get the food out to them very quickly, but we want them to also just enjoy and relax, and I built this place to do that."
Doko Station shares a building – Blythewood's replica train station – with a music school, Freeway Music. Clinger says their partnership began a few years ago in Lexington, where their other restaurant, the old Mill Brewpub, shared an alley with the music lesson business.
"When Don and Sarah Russo [the music school owners] proposed this property up here in Blythewood, they had a coffee shop guy, and he backed out, so they thought maybe my wife and I would like to take part in it, so I drove up, took one look at the building, and I said I'm in," Clinger says.
"You couldn't have asked for a better location right here in the park facing a very busy road, plenty of parking… I couldn't have asked for a better situation."
Much smaller than the 144-seat brewpub in Lexington, Doko Station has nine tables inside and eight picnic tables outside, and Clinger says it's just what they were looking for. Their current project is the development of an outside beer garden.
For Doko Station, getting through the pandemic posed some special challenges, Clinger said. Because its planned opening coincided with the start of the pandemic, they weren't open before it began – meaning no opportunity to use the small business loans and other benefits offered in its wake.
But Clinger said there were also some advantages. He had a relatively small overhead and could rely on his staff from the brewpub in Lexington to help keep the Blythewood restaurant operating.
Most of the meals are in the $10-$12 range, and the menu features an assortment that ranges from keto and gluten-free options to flatbread pizzas and brisket sandwiches.
"We have an extensive arsenal of canned craft beers. Our wines are handpicked, and they're actually a really good lineup," Clinger says. "And then we have eight regional craft beers. When I say regional – Georgia, South Carolina, North Carolina, even Florida beers; we try to keep it southeastern."
In the 16 years he and his wife have lived in the area, Clinger says, the culture has changed significantly, with a growing appreciation for wine and craft beer.
In fact, he says, "South Carolina is becoming quite a mecca for craft beer."
Despite some ongoing pandemic uncertainty – the restaurant mask mandate was just put back in place for Blythewood – Clinger says he's hiring and hopes to hear from some good applicants soon.
After 38 years in food service as a franchise owner, manager, and restaurant owner, Clinger says it's still what he loves to do.
"The Blythewood community has embraced our business," he says, "and has exceeded our expectations."