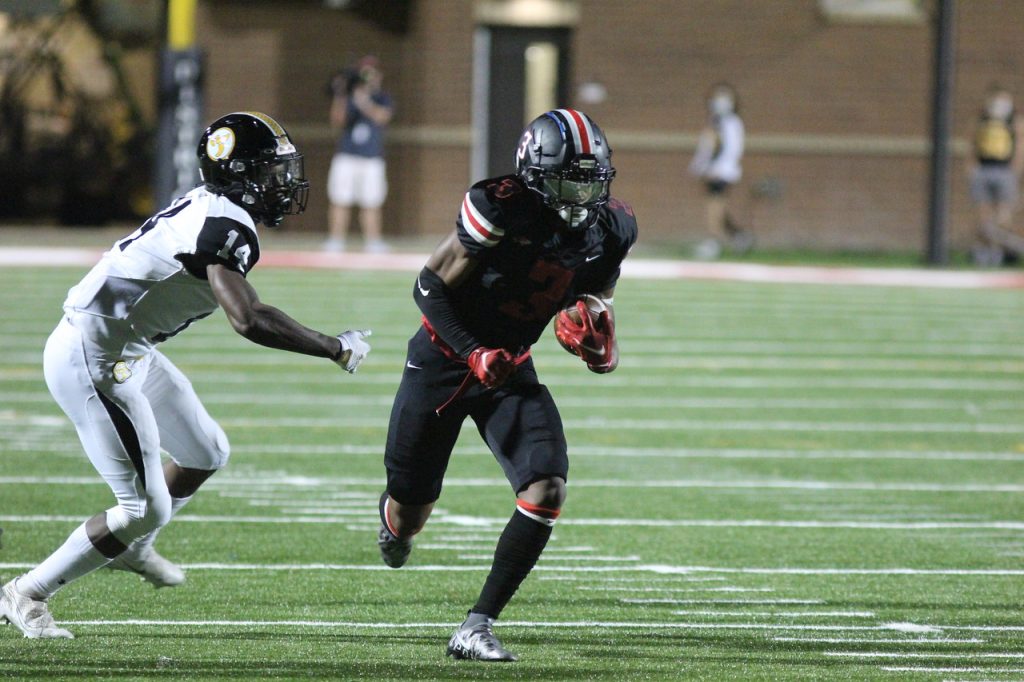 BLYTHEWOOD – Earlier in Westwood's 2021 season, a 20-point lead late in a game would be an obstacle in the way of a victory.
Friday night at District Two Stadium, the Redhawks showed a fired-up crowd that comeback victories are possible.
Down 34-14 to Irmo with 3 minutes left in the third quarter, Westwood scored four touchdowns over those final 15 minutes to take down the Yellow Jackets 42-37.
"It's a team effort," running back Julian Milligan said. "I told my team, 'hey man, don't look at the scoreboard, look what's going on right now. We're gonna win this game because they can't stop us. They can't handle our offense, we're stopping them on defense, we're playing as a team.
"We were never worried," he added. "We said we were going to stick to the game plan. We're gonna go in and do what we do."
Milligan finished the night with 92 yards and two touchdowns on 16 carries. He also had one reception for 26 yards.
Quarterback Camren Brown had the bulk of the offensive production, which was part of the game plan. Brown completed 12 of 22 passes for 209 yards and three TDs, mostly to Noah Jennings, who had eight catches for 159 yards and two scores.
"We had a big game plan for Cam Brown tonight, and he executed," Westwood head coach Matt Quinn said. "He made his plays, made his reads, made some throws. How about Noah Jennings? Noah Jennings is the best receiver in the state of south Carolina."
The Westwood snaptaker had more action on the ground, rushing 16 times for 133 yards and a score.
"I havent' been running the ball lately, but it's what I do best," Brown said. "We've got more to come, We've just got to get back what we've doing and keep doing it. I love these boys, I trust these boys, we're gonna go far."
Westwood (4-4, 3-1) not only stuck to the game plan, but also blew open the Region 4-4A standings. The Redhawks are now in a 3-way tie for first place with A.C. Flora (7-1, 3-1) and the Yellow Jackets (5-3, 4-1).
Being among the mix of region contenders seems a long way away from late September. The Redhawks had just lost a heartbreaking home game to York after carrying a lead for three quarters. Quinn said after that defeat, the seniors called a team meeting to talk about the direction of the program.
"From that moment forward, the kids have flipped the switch, and I'm so freaking proud of them," Quinn said. "These coaches, the time and effort we put into this game plan, it's unreal (what the team has accomplished). I'm proud of this team."
Considering Irmo came into Friday night's game the all-around favorite to win, and considering the Yellow Jackets had just snapped A.C. Flora's 16-game winning streak the week before, few looked at the Westwood-Irmo matchup as a big game.
The Redhawks did, and played as much from the start.
When the Yellow Jackets opened the scoring after a short drive capped with a 3-yard Erick Tucker touchdown run five minutes into the game, Westwood responded with a quick 6-play, 69-yard scoring drive.
Westwood used Milligan as a decoy on three key Camren Brown runs, the first one being a 59-yard scamper that set up his score from four yards out at the 4:27 mark of the first quarter, and his 2-point conversion run as well.
Westwood's 8-7 lead didn't last long, as Irmo ended the first quarter on a long drive and finished it with Tucker's 1-yard score at the 11:10 mark of the second quarter to make it 13-8.
Brown responded with a 60-yard catch-and-run connection to Noah Jennings. That play set up Westwood's go-ahead score on a 4-yard Milligan run with 52 seconds left in the half.
Irmo scored just before halftime to make it 20-14 at intermission. Whiteside passed and ran his team to a touchdown with three seconds left, a Whiteside 1-yard run.
Jennings, who finished the night with eight catches for 159 yards and two touchdowns, had a 60-yard reception but just one other catch of seven yards by the half. The playmaker stayed patient, and went into the second half knowing he would have more opportunities.
"I can't do this without my quarterback, I can't do this without my linemen, I can't do this without my running back getting me set up," Jennings said. "I never stopped believing. I knew I was going to get my touches, I just wanted to win the game."
The second half opened up as all Irmo.
Two Erick Tucker touchdowns, a 4-yard run and a 42-yard reception from Izayah Whiteside, enabled Irmo to take a 34-14 lead at the 3:16 mark of the third.
Westwood even fumbled a kickoff away amid their third-quarter doldrums. The Redhawks defense stopped the bleeding and forced the Yellow Jackets to turn the ball over on downs on fourth-and-goal.
At the 3:16 mark of the third quarter, the Redhawks began their climb back into the ballgame, and in doing so making a play at spoiling the Yellow Jackets' season hopes.
Westwood drove 79 yards on nine plays, thanks to a 34-yard Brown-to-Jennings connection that began the march. Brown tossed a five-yard TD pass to Jennings to make it 34-20 Irmo with 27 seconds left in the third.
Irmo fumbled the kickoff that followed, and a few seconds later Brown lofted another long ball to Jennings, who caught it in stride and powered himself to the one-yard line to complete the 41-yard play.
All Milligan had to do was fall into the end zone from a yard out to make it 34-26 with seven ticks left on the third-quarter clock.
Westwood's defense forced Irmo's next drive to stall at midfield. The Yellow Jackets were able to pin the Redhawks at their 12-yard line, but field position hardly mattered by this point.
Westwood stayed largely on the ground over the next 88 yards, until Brown found Zyere Lee in the end zone and connected for a 6-yard TD pass.
Brown's 2-point conversion run tied the game at 34 with 5:13 left.
Wanting to clear out of Westwood with a victory, Irmo took over and drove down to the Westwood 8-yard line. The Redhawks defense held, and the Yellow Jackets settled for a 24-yard Jose Villanueva field goal.
The Yellow Jackets were up 37-34, but left nearly two minutes on the clock for the Westwood offense to crank back up.
The Redhawks started from their 34-yard line, moved forward on Brown's passes to Lee, Jennings, and Milligan, who put Westood at the 11-yard line wth 21 seconds left to play.
Brown's first pass from that yard marker fell incomplete, but his second one, to Jennings in the left corner of the end zone, was comeback gold for the home team. Milligan's conversion run was the cherry to a 5-point lead with 16 seconds left.
Irmo's final possession, at midfield, ended promptly on two pass drops.
"Don't quit. Never quit," Quinn said. "Our guys have learned from their mistakes. They learned from the close ballgames, the Fairfield Centrals, the Yorks, and now they come back and do something like this. It's absolutely unbelievable."
Irmo head coach Aaron Brand said his team made too many mistakes, including 12 penalties for 80 yards, to win.
"Losing the fumble on the kickoff when we had our hands team out there, it's just unacceptable," he said. "We've got to rebound, get back to the drawing board. The big play execution, you can't go win a championship giving up big plays like that."
Westwood plays host to Richland Northeast Friday in the regular season finale. It's another must-win game for the Redhawks if they wish to finish in second place behind A.C. Flora, the likely region winner.
Noting Westwood's growth this season. Quinn and the team is approaching the next level more focused than ever.
"The guys kept their head in the game, they stayed focused," Quinn said. "This whole week we talked about controlling the controllables. These guys can't control the officials, they can't control who shows up, they can't control anything else that goes on here but their effort and their attitude. They controlled their effort and their attitude tonight and I love it."
Irmo plays Lugoff-Elgin, and A.C. Flora plays Dreher Friday.
Irmo – 7-13-14-3 – 37
Westwood – 8-6-12-16 – 42
First Quarter
I – Erick Tucker 3 run (Jose Villanueva kick) 7:02
W – Camren Brown 4 run (Brown run) 4:27
Second Quarter
I – Tucker 1 run (run failed) 11:10
W – Julian Milligan 4 run (run failed) :52
I – Izayah Whiteside 1run (Villanueva kick) :03
Third Quarter
I – Tucker 6 run (Villanueva kick) 8:12
I – Tucker 42 pass from Whitesdide (Villanueva kick) 3:16
W – Noah Jennings 5 pass from Brown (pass failed) :27
W – Milligan 1 run (pass failed) :06
Fourth Quarter
W – Zyere Lee 6 pass from Brown (Brown run) 5:13
I – Villanueva 24 field goal 1:53
W – Jennings 11 pass from Brown (Milligan run) :16
Irmo Westwood
First Downs 19 24
Rushes-Yards 34-161 43-277
Passing Yards 220 209
Att-Com-Int 14-20-0 12-22-0
Fumbles-Lost 1-1 2-1
Penalties-Yards 12-80 2-20
Punts-Avg 2-35.0 2-38.0
INDIVIDUAL STATISTICS
RUSHING: Irmo – Izayah Whiteside 7-35, Erick Tucker 24-119, A.J. Brand 1-17, DeAree Rodgers 2-(-5). Westwood – Camren Brown 16-133, Julian Milligan 16-92, Lavelle Ramsey 9-46, Isaac Junious 2-6.
PASSING: Irmo – Izayah Whiteside 14-24-0. Westwood – Camren Brown 12-22-0.
RECEIVING: Irmo – DeAree Rodgers 7-127, Erick Tucker 5-71, Cameron Johnson 1-15, A.J. Brand 1-7. Westwood – Noah Jennings 8-159, Zyere Lee 3-22, Julian Milligan 1-26.