WINNSBORO – After falling last Monday in a 3-0 region match to Wardlaw Academy, Richard Winn hosted Newberry Academy for their second meeting of the season.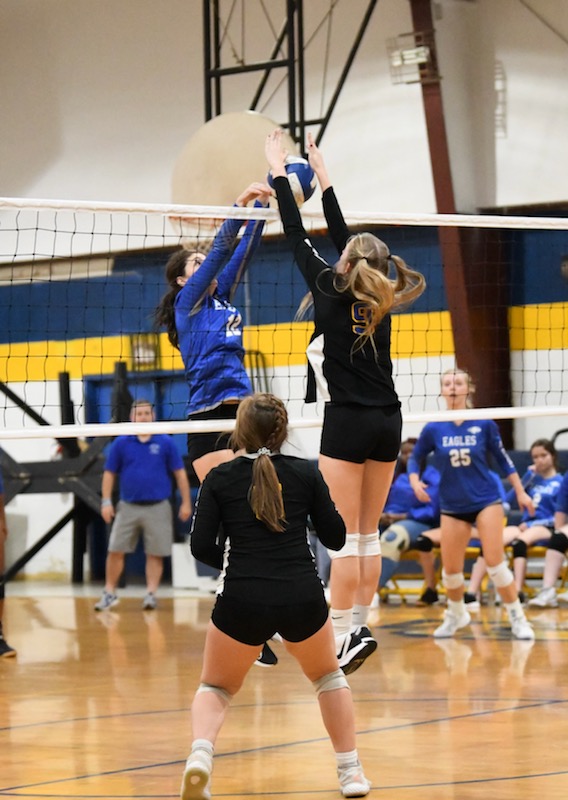 After trailing 3-7 in the first set, Newberry went on a 15-3 stretch to put the down 10-18.  Trailing 23-12, the Eagles thinned the lead to 5 with sophomore Brinson Baker serving.  Newberry took the first set 25-20.
Richard Winn led throughout the second set, at one point by 8 points, but Newberry came back to tie the score at 24. The Eagles pulled out a 26-24 win in set two with Baker again at the service line for the Eagles' final points.
Richard Winn took charge in the third set for a 25-19 win over Newberry and held a 2-1 advantage in the match.
Up 12-8, the Eagles looked to wrap up a win in the fourth set. Newberry chipped away at the lead and tied the game at 22. The Eagles went up 24-22, but Newberry took the lead back after three serves and held on for a 27-25 win to send the match into a fifth set.
The teams traded leads early in set five, but the Eagles pulled away to an 11-7 lead and quickly found themselves up 14-9. Newberry tallied four points in a row to only trail 13-14, but a side out gave the Eagles the 15-13 fifth-set win.
The Eagles hit the road last Thursday for their third region match of the week, this time against Anderson Christian. They swept Anderson 3-0, taking set one 25-14, set two 25-8 and set three 25-20.
Senior Mikaela Miller led the Eagle offense with 14 kills and three aces. She also had 6 assists, 5 digs and 2 receptions in the win over Anderson. Sophomore Lila Smith tallied 12 assists, 7 kills, 4 aces, 4 digs and 3 receptions. Meagan Brigman had 3 kills, 3 digs, 2 aces, and 2 receptions Brinson Baker, Maggie Hughes and Juliet Pineda each had an ace apiece. Hughes also had 5 digs and 6 receptions. Pineda had 7 receptions and a dig. Baker, Sydnee Byrd and Abby Lewis each tallied a kill. Baker also added 7 receptions, 4 digs, and 4 assists. Delaney Young had two kills. Lily Baggott had two receptions and Lily Hawkins had a dig and an assist.
The wins moved the Eagles to 5-8 on the season.