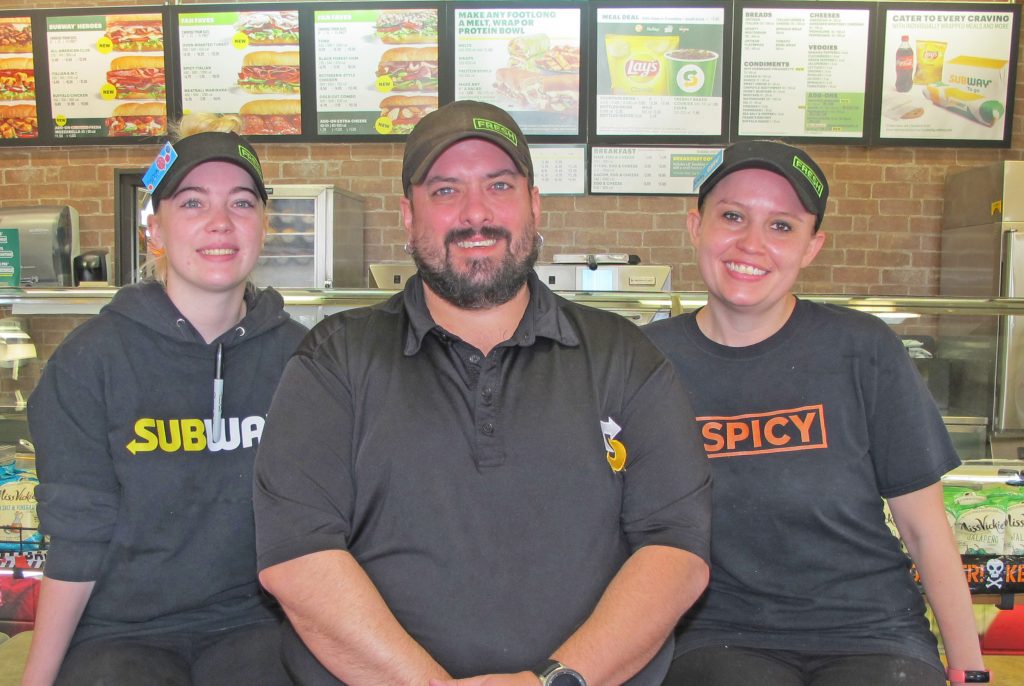 BLYTHEWOOD – Chris Rao is a no-nonsense Italian New Yorker. How on earth did he end up in Blythewood?
"It's where I got off the bus," he jokes – but he's serious.
He was going through a rough patch in a divorce he says, when he packed his bag and got on a bus going south. When he got to Columbia, it reminded him a little bit of New York, so that's where he got off. And he's been here ever since.
That was 12 years ago.
He worked in restaurants and assorted other businesses until a friend asked him to take over management of his then-struggling Subway restaurant in Blythewood.
"Not in a million years did I think I would be working here, but I love it and it's really been very lucrative," says Rao (pronounced RAY-o), 42, who is currently the general manager of the restaurant.
"When I first came here to look it over, I was like, 'There's not a chance …,'" he says. But the owner was a friend who needed help – so he jumped in. It took a year or two to make the necessary changes to get the place in shape, but in the end it worked out."
That was five years ago.
These days, he says, business is good, driven by a strong crowd of regulars and a steady stream of Interstate travelers getting off I-77's Exit 27.
"Throughout the pandemic, we never shut down, we never cut hours, we never cut anybody's pay, we never laid anybody off," he says. "We stayed open and stayed in business, and the people that wanted to work still work here."
People do occasionally get irritated up about some things, he says. For one, the touch-screen drive-through ordering system sometimes confuses those who don't read the signs.
But he says those issues – and the recent tempest in a social media teacup that erupted when a former Blythewood mayor and current Chamber of Commerce chairman griped about the Blythewood Subway's decision not to accept coupons and set an example for the community to take their business out of Blythewood to another Subway – hasn't hurt business a bit.
"It worked out ok, but I was a little surprised that a community leader would try to run business out of town," he said good naturedly with a shrug.
"The coupons say 'participating stores only' in plain black letters on the bottom of every coupon," Rao says, and there was a notice on the door that we don't take coupons. "Our store has to pay part of that coupon and it can get expensive as many small businesses know."
He readily admits that his no-nonsense style occasionally rubs people the wrong way, but it's hard to argue with success – the Subway in Blythewood is among the busiest Subway locations in the state. Rao is proud of that, and says he and his employees work hard to sustain that level of patronage.
Rao says he pays his employees well – because building a good core staff of solid, hard-working employees is key to the success of any business.
"They're well worth it," he says.
"The whole dynamic of it, once I got the culture change down, just took off," he said with a smile.
"My staff's been here for three years. I pay them well, and they're the best workers I've ever seen in my life."
Rao says he's been working since the age of 13, and there's something he's learned over and over from great mentors and managers: If you treat people right, they'll take care of you in return. He says that's what he strives to do.
Away from work, he plays drums on Sunday mornings at his church in Irmo. He says his church family has become like his second family. His love for religious music carries over into his restaurant where it often plays throughout the day.
"I may be driven toward success, but I also try to be accommodating. I care about my customers and I try to do what's right for them," Rao says.
"Our staff is amazing, the store is doing great, and we, like the other small businesses in this town, are all just trying to make it. We're glad to be serving the folks in this great community."