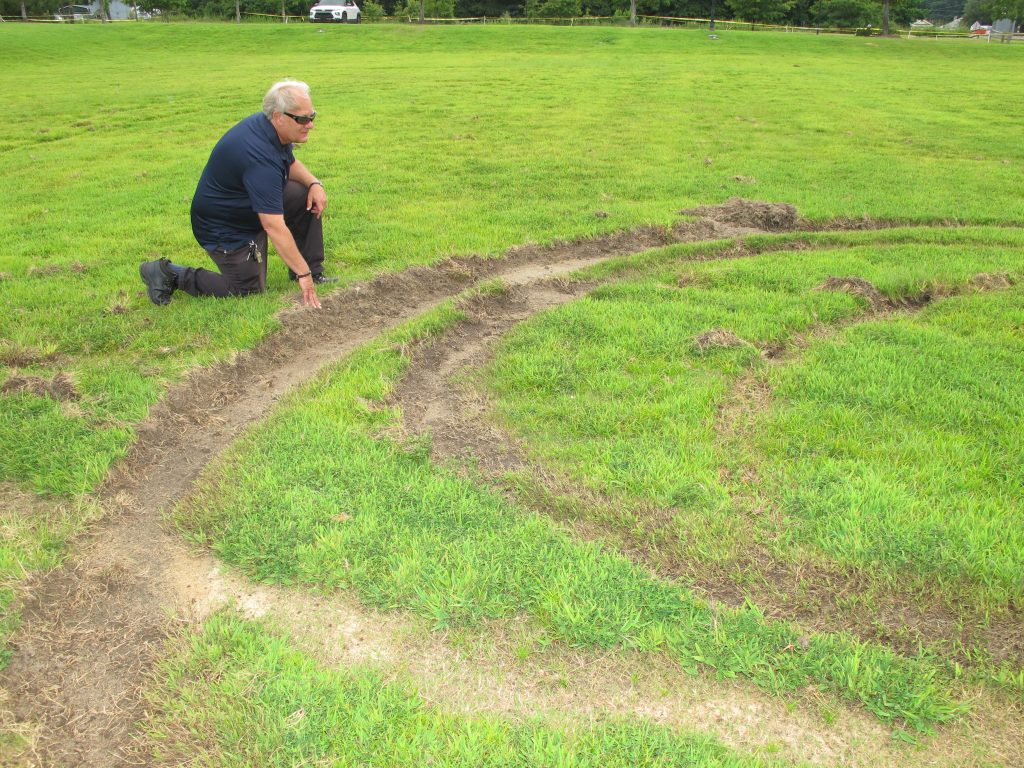 BLYTHEWOOD – No progress has been made in a vandalism case that caused glaring tire track damage to Doko Park.
Richland County investigators still haven't publicly identified the prime suspect who remains at large, and now the sheriff's department is charging hefty fees to provide its email communications with Town of Blythewood leaders concerning the Doko Park vandalism.
In response to a Freedom of Information Act (FOIA) request from The Voice, a sheriff's department representative initially declined to provide the emails.
"Unfortunately, as your request is written we cannot fulfill it, as we have no way to search and pull those emails, if there are any," Sgt. Catherine Smith with the sheriff's department wrote via email, without citing a specific FOIA exemption.
The Voice requested emails between the sheriff's department and either the town administrator or members of Town Council for the past three months that discuss Doko Park vandalism.
Most common email programs, such as Microsoft Outlook, Google Gmail and Yahoo Mail, come equipped with search bars allowing users to search for old emails by entering a keyword or email address.
After The Voice noted this functionality to the sheriff's department, an agency spokeswoman said the newspaper would have to pay $200 to access the records.
In its email, the department said it levies a $26 per hour "retrieval/redaction fee" and also an "archival retrieval fee" of $36 per box. Additional fees include a "CD/DVD fee" of $5 per disk and 15 cents per printed page.
The department did not itemize the various fees in its quote to The Voice.
The department's reply conflicts with several provisions of FOIA, most notably one that says "fees charged by a public body must be uniform for copies of the same record or document."
Additionally, the law states "records must be furnished at the lowest possible cost to the person requesting the records." Public bodies also may not charge for copies for records that can be provided electronically, such as the emails requested by The Voice.
The Voice submitted a similar FOIA request to The Town of Blythewood, which denied the newspaper's request in apparent violation of FOIA.
Town Administrator Carroll Williamson said releasing emails to and from elected town leaders would "interfere with a prospective law enforcement proceeding."
Jay Bender, an attorney with the S.C. Press Association, of which The Voice is a member, said the exemption cited by Williamson applies to law enforcement records, such as police reports, not political or administrative discussions about a crime.
"I would make the argument that political discussions are not exempt from disclosure," Bender said.
Nearly three months have passed since someone in a pickup truck cut deep donuts in a field at Doko Park on July 31, causing $1,500 in damage.
No arrests have been made despite a wealth of evidence, most of which investigators have shielded from public view.
Neither town hall nor the sheriff's department will release surveillance video, and an incident report redacted rudimentary information, including the truck's color, the apartment complex in which the suspect lives, and even the suspect's age.
Bender questioned why the report was so heavily redacted.
"They probably think they can make an arrest without citizen interest," he said. "If they wanted the public's help, they would hold a press conference."
No information has been provided to The Voice by the Town or Sheriff's department to receive help from the public in tracking down the known suspect.
The Town of Blythewood didn't file an incident report until Aug. 3, three days after the vandalism occurred. On that date, a deputy circled the apartment complex but couldn't find the suspect or his truck.
Investigators identified a suspect after running his vehicle information through an S.C. Department of Motor Vehicles database.
Investigators have obtained warrants but those have also not been made available as of press time. The sheriff's department would not say when warrants were obtained, though it has been at least two weeks, according to emails from the department.
"A suspect has been identified in this incident and charges are pending at this time. The individual's identity will be released when an arrest has been made," an agency spokeswoman said via email.
Bender said there's no legal requirement to withhold an unserved arrest warrant.