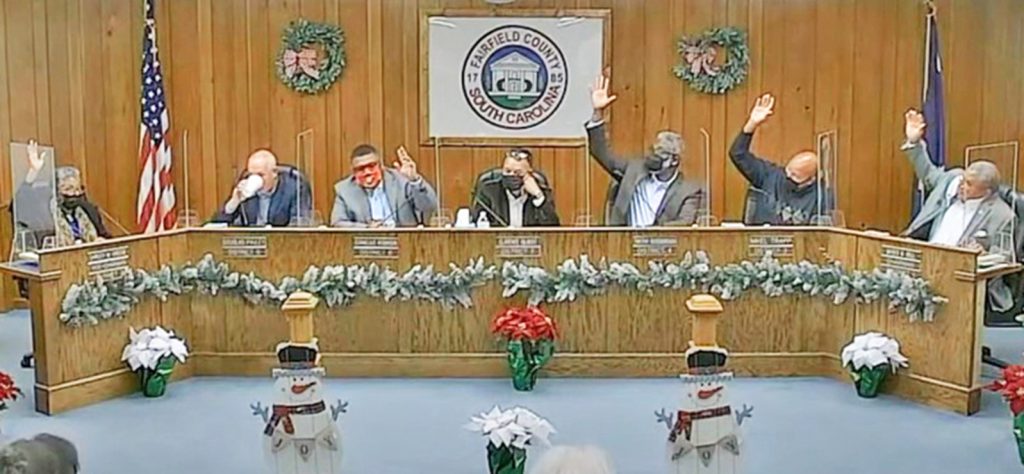 WINNSBORO – Fairfield County adopted a redistricting plan Monday night that some say is designed to preserve the current council voting majority.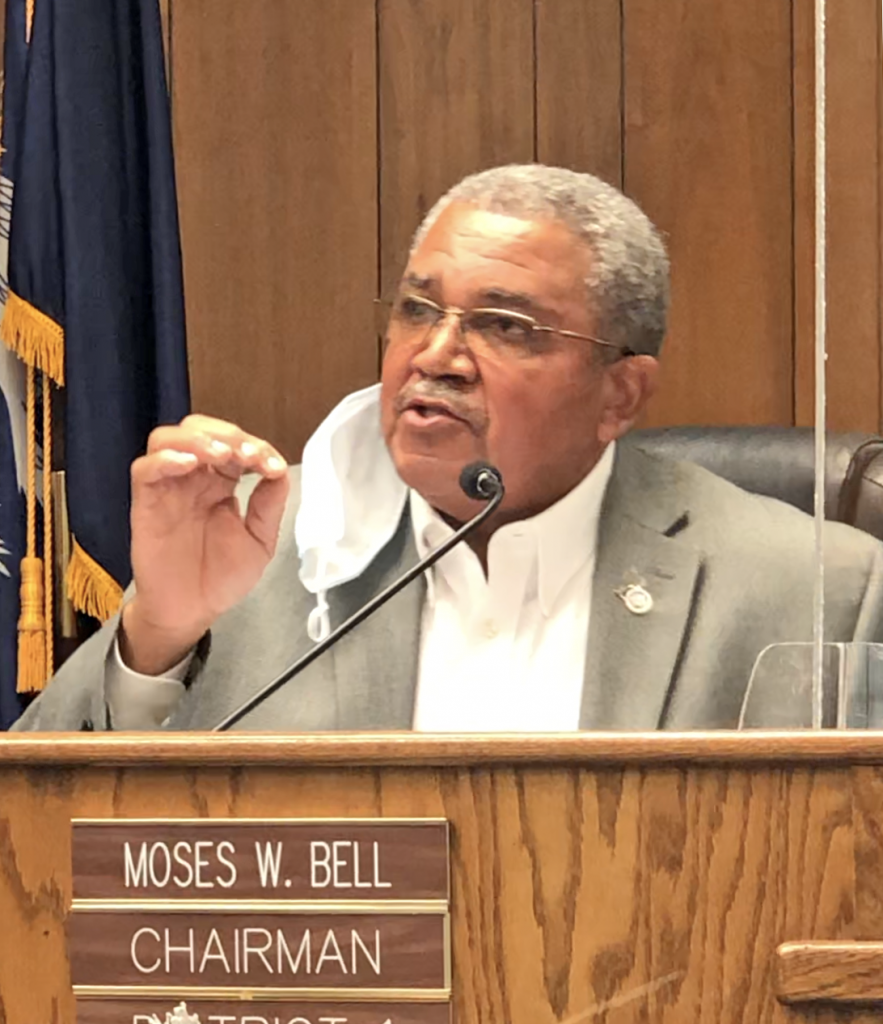 By a 5-2 vote, Neil Robinson joined the majority 4 to approve the new district lines. Councilman Douglas Pauley and Clarence Gilbert opposed.
Pauley and Gilbert tried to amend the agenda to table third reading to give the public more opportunity to provide further input, but their efforts also failed in a 5-2 vote.
While Fairfield County has until March 1, 2022 to finalize the map, the five majority members pressed forward anyway with Monday night's vote.
A major criticism of the new map is the accusation that Chairman Moses Bell virtually redrew the district lines himself and communicated with the state without adequately involving other council members or the public.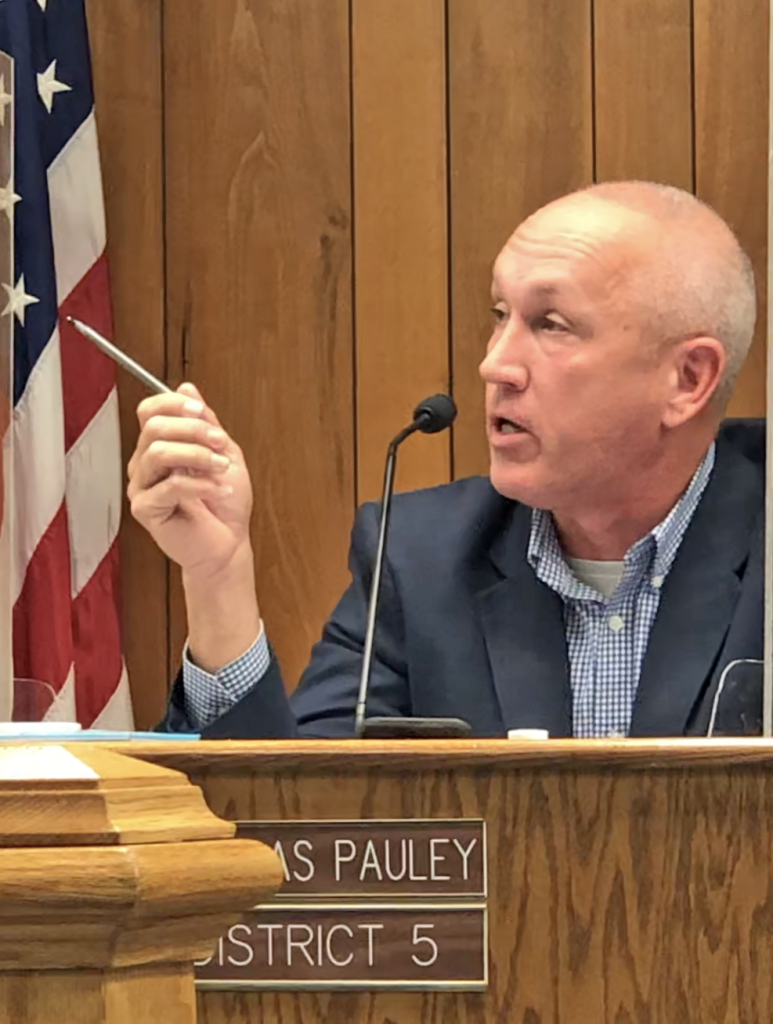 Council members Mikel Trapp, Shirley Greene and Tim Roseborough – all of whom routinely vote in lockstep with Bell and are now joined by Robinson – went along with the map Bell fashioned.
Pauley accused Bell of redrawing the district maps to remove a potential political opponent from the chairman's district. He also accused Bell of changing the lines to move a potential opponent into Pauley's district.
"It's another one of Chairman Bell's failures," Pauley said. "Chairman Bell has only one thing in mind and that is doing what is best for Chairman Bell."
Gilbert chastised the council majority for shutting out the public, saying the process was intentionally rushed.
"The public was not given time or a fair chance to submit their recommendations for the changes," Gilbert said. "It was said this is a 'significant improvement' over the previous map, which is easy to say if you drew the map."
Bell didn't specifically deny accusations of gerrymandering or unilateralism. Instead, he repeated his prior talking points of him having corrected previous redistricting mistakes. Bell also said the map, mathematically speaking, meets federal guidelines.
In District 1, one block moves into District 2 and three blocks shift to District 5, according to the proposed map.
District 2 loses two blocks to District 3, one to District 6 and another to District 7.
A block in District 3 moves to District 5, while District 5 loses four blocks – two to District 3 and and two to District 7, the proposal shows.
"Only 15 census blocks were shifted between districts and District 4 was not changed," Bell said. "Last time in 2011, the deviation was 7.31%. This time the deviation is 5.08%. [The previous] map has been in place 30 to 40 years."
Councilwoman Shirley Greene blamed districting critics – which includes the citizens – for not putting forth any alternative redistricting maps of their own, not mentioning that they had, only days earlier, been provided with information regarding the Fairfield redistricting.
Yvette Howard: "We believe the third reading of the redistricting ordinance should be postponed because the public has not been given an opportunity to provide input before you came up with this redistricting map. This was not the procedure to follow."

John Jones: "It seems like you were sliding the redistricting past us before we could do anything about it. That's not the way it's supposed to be done. Because you're not doing the will of the people and not letting us know what you're up to, we're getting angry."
"It is better to show leadership than to show showmanship," Greene said. "While there's a lot of discussion and harangue, the discussion is about the process and not the product. What we have to look at is the product."
Federal law requires counties to redraw district lines every 10 years following the release of census results.
The intent is, without gerrymandering, to compensate for routine population shifts so that no district gains an unfair political advantage.
Fairfield County lost about 3,000 residents since the 2010 census, according to the S.C. Revenue and Fiscal Affairs office.
The map approved Monday night shifts 15 blocks between six of the county's seven council districts.
One of those blocks includes Cedar Rock Road, which shifts from District 1 to District 5.
Randy Bright, a frequent critic of the current council majority, lives on Cedar Rock Road. He had emerged as a potential challenger for Bell's seat, but now that's not possible since redistricting moved Bright into District 5.
Bright said the council's tactics helped preserve power for the current four-member majority.
"If I was chairman, here's what I would do to gerrymander in my best interest. I would throw parity and equality out the window," Bright said. "I would rush through the process so I would avoid scrutiny of where I went wrong. I'd draw out potential candidates and draw potential cronies in."