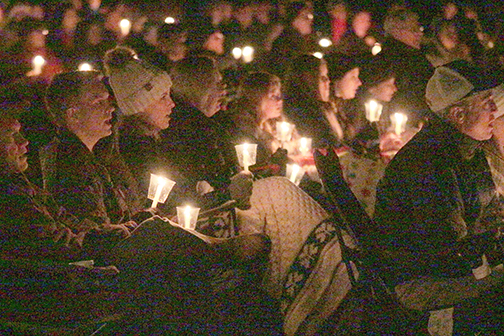 BLYTHEWOOD – Blythewood Presbyterian Church offers an outdoor worship gathering on Christmas Eve – Christmas Eve in the Fields. This has become a favorite Christmas tradition for many in the Blythewood area. If you do not have a home church that has a Christmas Eve service, this is a great time of experiencing Immanuel (God with us) under the stars, around fire pits and ending with a beautiful candle lighting.
"This year's theme is 'Joyful Christmas Noise' as we are told in Psalm 100, "Make a joyful noise to the LORD, all the earth," said Rhett Sanders, the church's pastor.
The service begins at 5:30 p.m. Prior to that, lemonade, homemade cookies and piping hot-chocolate will be served.
"Be mindful of the weather and dress accordingly," Sanders said. "Bring a chair and come out to make some Christmas noise with your neighbors."
"An outdoor Christmas Eve service around fires is very reminiscent of what the shepherds must have experienced: the vulnerability of the open spaces; the exposure to unknown elements; and the quietness of the night being disrupted by Joyful Christmas Noise! The angel proclaimed good news that will cause great joy for all the people!" Sanders said.
"Blythewood Presbyterian Church's Christmas Eve in the Fields is Good News that causes great joy! Let's gather and celebrate together!" Sanders said.
Blythewood Presbyterian Church is located at 441 Rimer Pond Road in Blythewood.