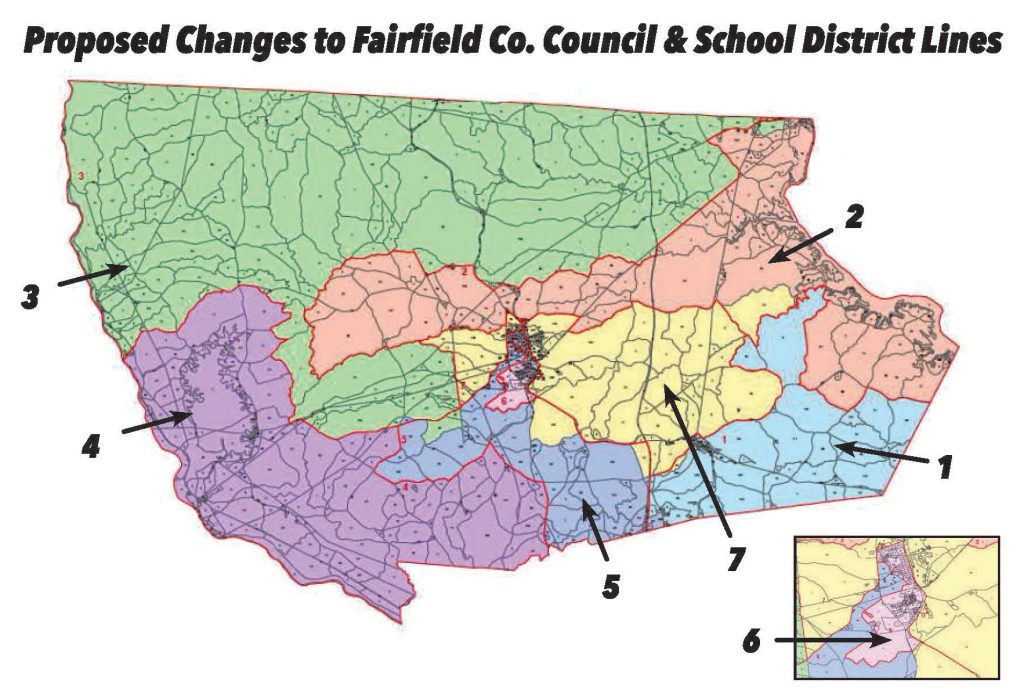 WINNSBORO – Fairfield County scheduled Monday night's public hearing on redistricting hoping to quell recent complaints of secrecy and personal politics.
Instead, more evidence arose illustrating that the proposed plan to redraw district lines may be politically motivated.
One proposed change shifts the street of a potential challenger of Council Chairman Moses Bell, ceding it from District 1 to District 5.
Bell lives in District 1, the same as Ridgeway resident Randy Bright, a frequent critic of the current administration who's been politically active for years.
Bright called the proposed district lines "very odd," though he stopped short of accusing Bell of gerrymandering.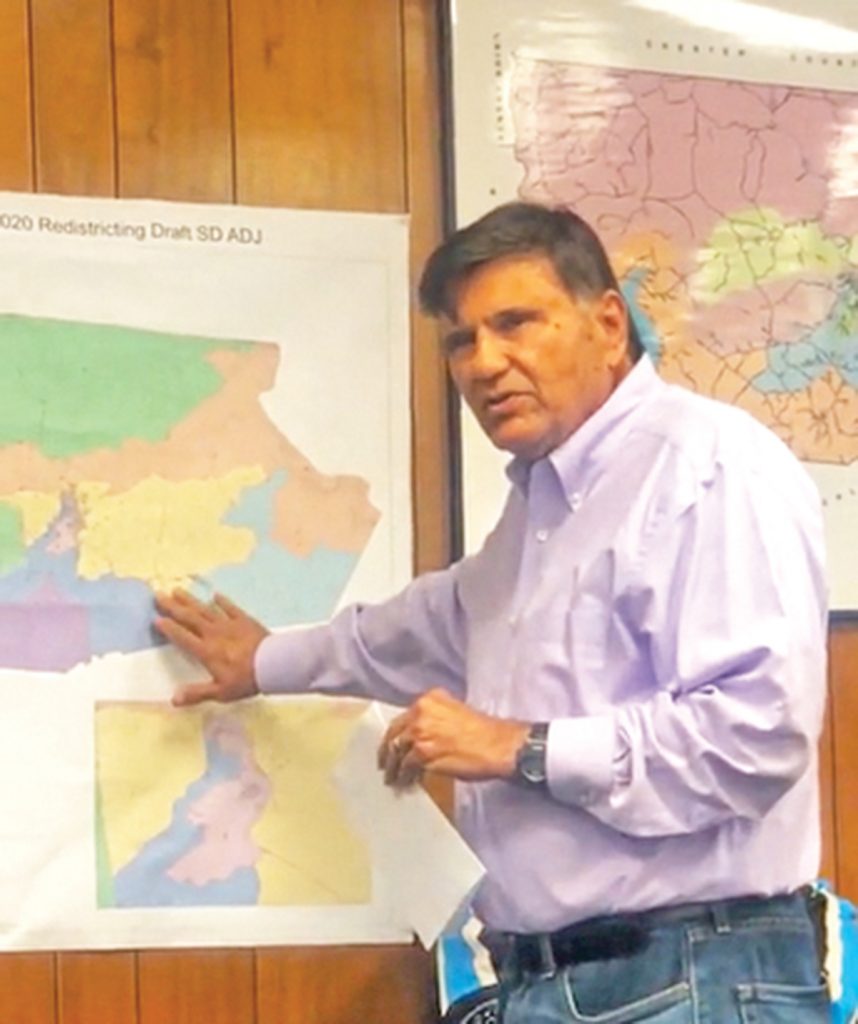 "This little sliver was pulled out of its community, out of its natural boundaries. It's a stark change – we were in District 1 – everything around us is District 1," Bright said. "This is basically one street. I find that very odd, that one sliver."
Winnsboro resident Brandon Peake was more direct in thinking the proposed maps were politically motivated.
Peake referenced recent council votes appropriating $500,000 for parks and playgrounds as well as approving the controversial Teacher Village housing development pushed by the school district.
"With $500,000 in one district [for parks] and the Teacher Village in another, it seems pretty apparent that they are trying to appease your agenda," Peake said.
Bell pushed back against the criticisms. He restated talking points from the last council meeting, where he said the proposed map follows state and federal laws, and is more equitable than the current map.
"When you look at the total picture of these lines, they are significantly improved over 2011 [redistricting] with only 15 census blocks moved, which is a significant feat in itself," Bell said. "This is really, really good."
Who's moving where
Fairfield County Council has already passed two readings of the redistricting plan. No votes were taken Monday night, though final reading could come as soon as Monday, Dec. 13 even though the federal deadline is March 1, 2022.
Federal law requires county governments to redraw district lines every 10 years, after census numbers are released.
Redistricting is also necessary because of routine population shifts. Since 2010, Fairfield County as a whole lost about 3,000 residents, shrinking 15.6%, according to the S.C. of Revenue and Fiscal Affairs office.
District 2 grew 7.1% while District 7 shrank 8.7%, the agency has said.
Federal law requires no more than 5% deviation in any council district, which means some precincts must move from one district to another to compensate for population shifts.
Revenue and Fiscal Affairs director Frank Rainwater said only 15 of the county's 1,200 blocks shifted.
In District 1, one precinct moves into District 2 and three precincts shift to District 3, according to the proposed map.
District 2 loses two blocks to District 3, one to District 6 and another to District 7.
A precinct in District 3 moves to District 5, while District 5 loses three precincts – two to District 3 and two to District 7, the proposal shows.
"Your overall deviation is down to 5%. You have many districts that are down to 1% of the target," Rainwater said.
Bell boasted that the proposed map brings the county into compliance with very few changes required to the district lines.
"It's a significant change in the deviation which makes it a significant improvement in the lines," Bell said.
Rainwater later acknowledged he discussed the proposed map only with Chairman Bell. He said it's normal for the state to deal with one person, but he was also unaware that other council members had no input.
"Mr. Rainwater, when you talk about two blocks moved from one district to another, who's responsible for the moving of those blocks?" Councilman Doug Pauley asked. "Who decides what blocks move from one district to the next?"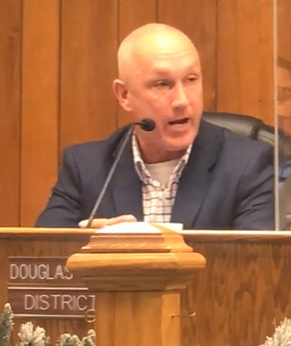 "Those were conversations we had with Mr. Bell," Rainwater said.
"Did you have any conversation with any other council members?" Pauley inquired.
"No sir," Rainwater responded.
Councilman Clarence Gilbert pressed as well.
"When you were given this draft, were you under the impression all of the council members had been a part of this?" Gilbert asked.
"I had no knowledge about who talked about it. I don't know who [Bell] did or did not talk to," Rainwater answered.
In an email of the draft redistricting map sent Bell on Monday and copied to all council members, Rainwater wrote, "Again, the draft map is based on the direction you (Bell) provided and is intended for you to share with council and the public for feedback."
Lack of transparency
On Monday, transparency issues continued to dog Bell, with council members and residents accusing him of shutting them out of the process.
Pauley said Bell instructed staff not to stream the public forum online, which is the customary practice for council meetings. Bell denied that.
"For some reason tonight, Mr. Bell does not want to have this meeting live," Pauley said.
Bell said it wasn't feasible for the county, which operates on a $44.6 million budget, to broadcast the meeting live.
"We're not prepared to do a live meeting. We're not prepared to do that," Bell said.
On short notice, a representative of The Voice was able to broadcast the proceedings live on Facebook using a smart phone.
Pauley also said Bell didn't adequately publicize the public forum.
Waving a copy of the Country Chronicle, which generally publishes stories favorable to the current administration, Bell stated the county did publish a public notice in that newspaper to announce Monday's forum.
"We did put it in the paper, so we did advertise," Bell said.
The county did not advertise the forum in The Voice, which is mailed directly to more than 4,000 homes in Fairfield County.