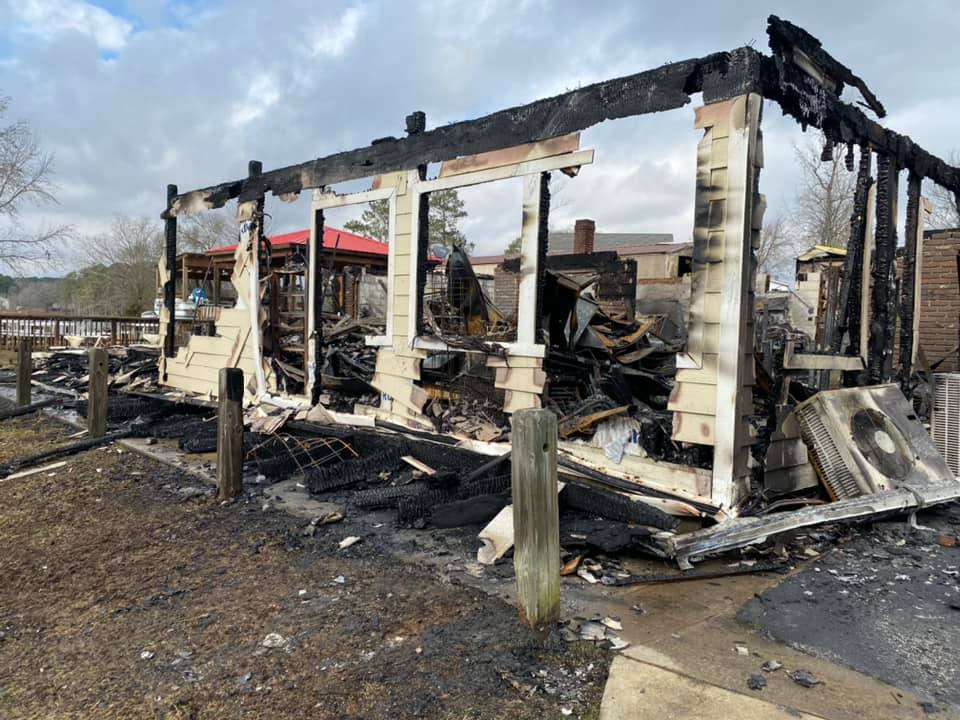 LAKE WATEREE – An early morning fire on Tuesday, Dec. 28 has destroyed the Dutchman's Creek Marina and Restaurant on Lake Wateree, according to Fairfield County Fire Services Director Jason Pope.
The fire was discovered after a security alarm notified the Fairfield County Sheriff's Office at 3:30 Tuesday morning. Upon arrival at about 4 a.m., a deputy saw the fire and notified the Fairfield County Fire Service.
As fire trucks began arriving at about 4:15 a.m., Pope said the entire building was burning.
"There wasn't a lot we could do at that point but control the fire," Pope said. "The Winnsboro ladder truck came out to help us as well as trucks from the Dutchman's Creek, Southeastern and Ridgeway stations."
Six trucks plus support vehicles responded officials said.
Pope said the fire was under control by about 7 a.m. The cause of the fire is unknown at this time, he said. No one was in the building at the time of the fire and there were no injuries.
"It was a big fire," Pope said. "The building is gone."
The building was originally built around 1970 according to a post on Facebook.
Long a popular landmark on Lake Wateree, the marina/restaurant's Facebook page describes it as providing "food, fun, adult beverages, convenience store items, bait, tackle, boating supplies, gas and wet boat storage & liquor store."
Commenters poured their memories and love for the marina and restaurant on a post in a Lake Wateree Facebook group on Tuesday morning as news broke.
"Dutchman is one of my favorite restaurants on the water. We've had many good lunches their [sic]. Praying you will be able to build back for the summer," one commenter said.
"Oh no. I'm from Spartanburg and this is where I get breakfast and bait every trip down," said another.
"Dutchman's and Nora have been a staple in our family every time we are at Lake Wateree," said another post. "This is a huge loss for the community. My thoughts and prayers are with Nora and all of her team."
Dutchman's owner Nora Martin responded to the outpouring of support on Wednesday morning in a Facebook post.
"The love and kindness you have demonstrated is overwhelming," she wrote, "and my eyes puddle as I am writing this… I thank each of you for your help that night not only with the fire but helping me through a very traumatic time."
Martin continued to say that her plan is to rebuild Dutchman's and that she will likely have a temporary set up for 2022. She says she will reach out to the community in the coming weeks to ask for help removing the debris.
According to Martin's post, the outside bar, lower deck pontoon stage and dance floor were untouched in the fire.
---
This story was updated Wednesday, Dec. 29 at 2:23 p.m.