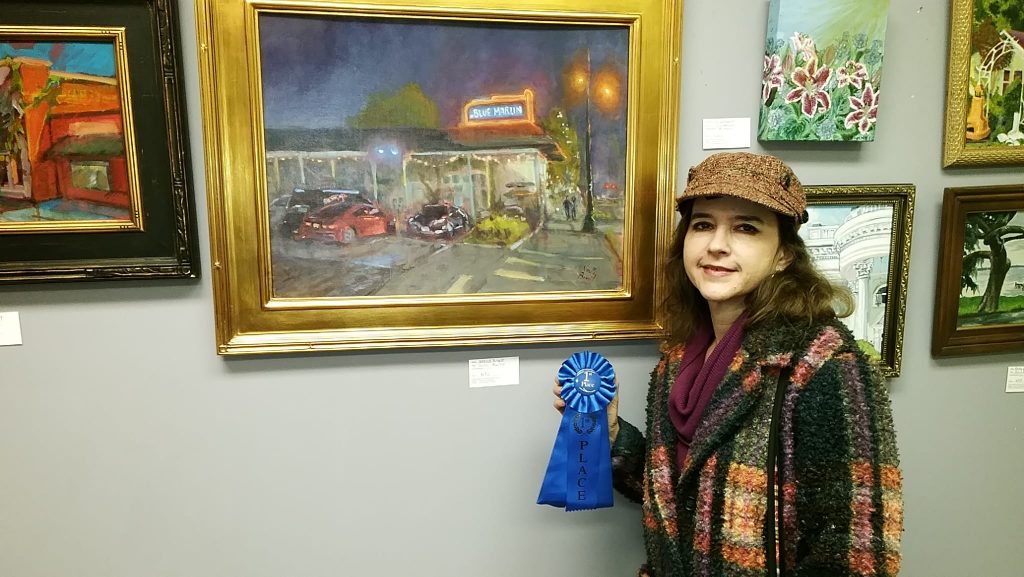 WINNSBORO – Growing up in Lower Richland, Noelle Brault says she was 'somewhat' artistic, but didn't necessarily pursue her talent.
"I enjoyed art, but I didn't really take any lessons," she told The Voice recently.
That's ok, she's doing fine.
Today, her work hangs in the governor's mansion in Columbia and in the small drawing room named for her in the Capitol City Club. Three of her works were part of a compliment of works that accompanied the Van Gogh exhibit when it came to Columbia in the fall of 2019.
Brault's work also hangs in Winnsboro in Barbara Yongue's Heirloom Fine Art Gallery where Brault was awarded the first place ribbon Friday evening during the Fairfield County Arts Council art show for her oil painting of the Blue Marlin restaurant.
The well-attended event hosted more than a hundred patrons and artists from around the state. Thirty paintings were on display for judging and sale and will hang until the end of February.
In only its second year, the gallery has hosted five shows and receptions for the Fairfield County Council on Arts. Over the two years, the events have continued to grow in attendance, attracting wide-spread artist participation.
Brault, who, lives in Columbia with her husband Ed, is a frequent visitor to Winnsboro where her parents Pam and Donnie Laird reside.
Self-described as an impressionist, Brault, who holds a degree in math from the University of South Carolina, says she finally became serious about her work as an artist around 2008, when she began studying under Michelle McNinch with the Stormwater group of artists in Columbia.
The next year, she won a poster contest sponsored by the Central Carolina Food & Wine Festival. That poster ended up on billboards around the state.
"My goal has always been to just keep getting better," Brault said, "just trying to learn new things every year."
Because she works full time managing software for a Columbia company, Brault said her painting is mostly limited to weekends. Even then, she turns out about 30 oil paintings a year – mostly cityscapes, architecture, landscapes and nocturnes.
"I don't like to pigeon-hole my work into one thing," she noted. "But there are certain things I like to do. I prefer to have figures in my paintings, and I also like to work with light and shadow. The subject matter doesn't have to be something spectacular," she said. "It's usually very ordinary."
Indeed, one of the judges of the Saturday show wrote that Brault's entry "clearly stood out above the rest…the mundane subject matter was well-executed…"
To the point, the blue ribbon was awarded to Brault's 'Blue Marlin' painting.
Kay Hensley and Janice Haynes

Phyllis Gutierrez, a founding member of the Fairfield County Arts Council