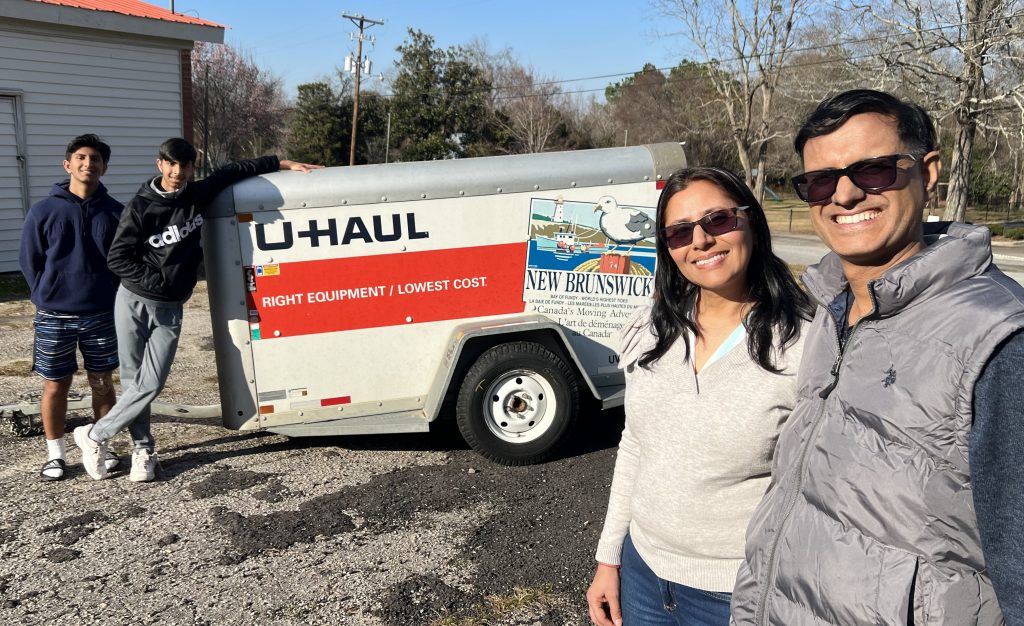 RIDGEWAY – In 1945, U-Haul figured out a way to fill a need and made it a business.
In 2022, Vic (Vishesh) and Anita Sharma, who own City Gas & Fuel located at 275 S. Palmer Street in Ridgeway, figured out a way to fill another need in their community and made it part of their business.
Last month, in addition to their convenience store which offers fuel, a breakfast/lunch deli, lottery tickets, ATMs inside and out, money orders, stamps and more, the Sharmas also became a U-Haul dealer, offering U-Haul essential services including rental trucks and trailers, towing equipment, moving supplies and in-store pickup for boxes.
"We will be serving not only Ridgeway with U-Haul services," Vic Sharma said, "but we will provide these services for Blythewood and Fairfield County as well."
"With the COVID-19 outbreak creating challenging times for small businesses, more than 20,000 dealers across the U.S. and Canada are creating supplemental income through U-Haul partnerships," said U-Haul representative Andrea Batchelor."When a customer rents from a U-Haul dealer, they are directly supporting an independent small business in their community."
Sharma explained that it's easy to rent a truck, trailer or other U-Haul equipment from his location.
"Trucks, trailers and other equipment can be picked up and/or returned right here at City Gas & Fuel," Sharma said.
"We initially had just two trucks and two trailers," he said. "They were both immediately rented the first day and now we have many more in use. We've been very busy with them – coming and going, coming and going," Sharma said enthusiastically. "And it's very easy. Customers can even register and reserve a truck or trailer online – you can see right online the inventory available for our 275 S. Palmer Street location."
"People seem to be very happy having U-Haul here in town," said Sharma, a longtime businessman in Ridgeway. "People are just moving all over the place," he said.
Originally from India, Sharma said his training and university designations are equivalent to the CPA designation here in America. While that's a big career change, he said he enjoys his work with City Gas & Fuel and enjoys interacting with the people in Ridgeway.
"I know these people who come here like family," he said, "and I enjoy seeing them, talking to them and sharing their lives. If we can help our customers in any way, we want to."
In addition to the family's several businesses, the Sharmas are involved with their two sons: Pratham, 17, a senior in Richland Northeast High School's Horizons Program; and Matty, 15, a sophomore at Blythewood High School, Both the Sharma boys are on their school's respective tennis teams. Pratham is planning to attend the University of South Carolina next fall to work toward a degree in computer science.
"We consider education to be our highest priority," Sharma proudly explained.
Sharma credits his wife, Anita, with making it possible for the family to take on their latest U-Haul business venture.
"She's the hardest worker in our family, Sharma said. "She works harder than me and takes care of all of us," he added.
Keeping up with all their businesses keeps the Sharmas and other store personnel moving at a rapid pace.
Sharma said one of the things he and his wife enjoy most about their businesses is serving the Ridgeway community. The U-Haul business is another way to provide that service," he said.
"We always take the time to be sure our U-Haul customers are satisfied and have what they need," Sharma said.
To rent a U-Haul truck, trailer or other equipment at City Gas & Fuel in Ridgeway, call 803-337-8716. The store is open seven days a week, serving breakfast at 5:30 a.m. and closing at 10 p.m., Monday through Saturday. Lunch is served from noon until 2 p.m. Hours on Sundays are from 7 a.m. – 9 p.m.