BLYTHEWOOD – The Westwood girls basketball team's first two rounds of the 4A state playoffs flashed by before York or Pickens could do much about it.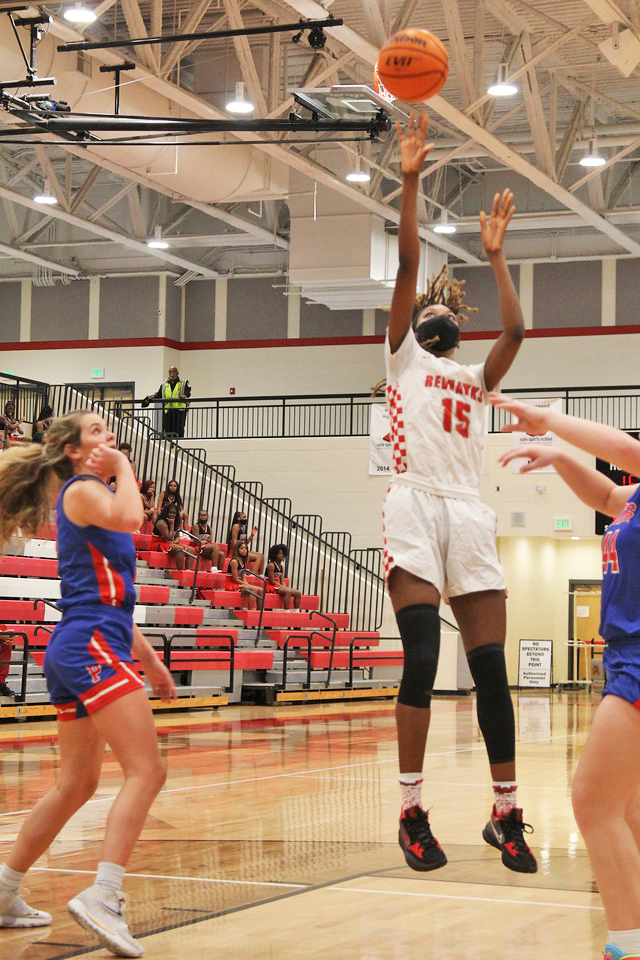 The Redhawks (20-6) overcame a slow start against York to clamp down on the Cougars 51-33 last Wednesday, then delivered a solid defensive performance in a 79-35 dismissal of Pickens Friday night.
"We executed our game plan really well tonight," Westwood head coach Gregory Bauldrick said. "There's always things to improve on, but I think we our goal in every statistical category that we were trying to meet."
Among the totals Friday night were 20 steals, 25 rebounds, eight 3-pointers, 28-for-55 (51.0 percent) shooting, and 15-for-21 shooting at the free-throw line.
In addition, four Redhawks scored in double figures. Jessica Woods led the way with 26 points, Raven Johnson followed up with 12, and Korletta Daniels and Makia Thompson had 10 points apiece.
Action was paused against York Wednesday to recognize Woods, Westwood's leading scorer on the season, for scoring her 1,000th career point. Woods joins noted Redhawks Mya Belton, Nyah Leveretter, Maliyah Lockett, Malaziah Etheredge, and Unique Drake in the 1,000-point club.
"All glory to God, I'm blessed to have 1,000 points. It was a lot of hard work," Woods said. "We're trying to win state at the end. I love the 1,000, but I want that (state championship) ring more."
Woods and the Redhawks showed as much when they took on Pickens Friday. The No.3 seed Blue Flame had upset No.2 Greenville 48-47 two days earlier, but ran head on into the Westwood wall at The Castle.
The Redhawks pressed hard throughout the game and forced 28 turnovers. They went on an 11-1 scoring run in the final four minutes of the first quarter to go up 16-5 and kept on going.
The score was 34-15 at halftime, and a 22-5 third quarter had Westwood up 56-20 going into the final frame.
Westwood moved on to the third round, where they played host to fellow No.1 seed Westside (25-0) Wednesday night. The Rams, Region 1 champions, knocked off No.2 South Pointe 64-50 Friday night.
"We're ready to play any opponent," Woods said Friday night. "We're gonna come out against anybody aggressive, try to step on their neck. We're ready for anything."
"I think we're ready," Bauldrick said Friday night as well. "We'll watch some film, get some rest, do some preparation and see what happens."
Jessica Woods (0)

Korletta Daniels (24)
Feb. 16
York – 12-2-4-15 – 33
Westwood – 10-15-14-12 — 51
York: Shaniya Gray 16, Coffee 9, Steele 4, Cottey 2, Brown 2.
Westwood: Jessica Woods 19, Korletta Daniels 11, Thompson 8, Johnson 5, Davis 4, Omiere 4.
Feb. 18
Pickens – 5-10-5-14 – 35
Westwood – 16-18-22-23 — 79
Pickens: Hannah Roper 10, A. Owens 7, McKinney 6, Campbell 2, B. Owens 2.
Westwood: Jessica Woods 26, Raven Johnson 12, Korletta Daniels 10, Makia Thompson 10, Omiere 6, Branch 5, Bumpers 3, Pope 3, Thamia Davis 2, Thanna Davis 2.