BLYTHEWOOD – The Westwood boys basketball team's 49-40 victory over Dreher Friday night may not have looked pretty, but the Redhawks defense showed out and closed out the team's third-straight Region 4-4A victory on Senior Night at the Castle.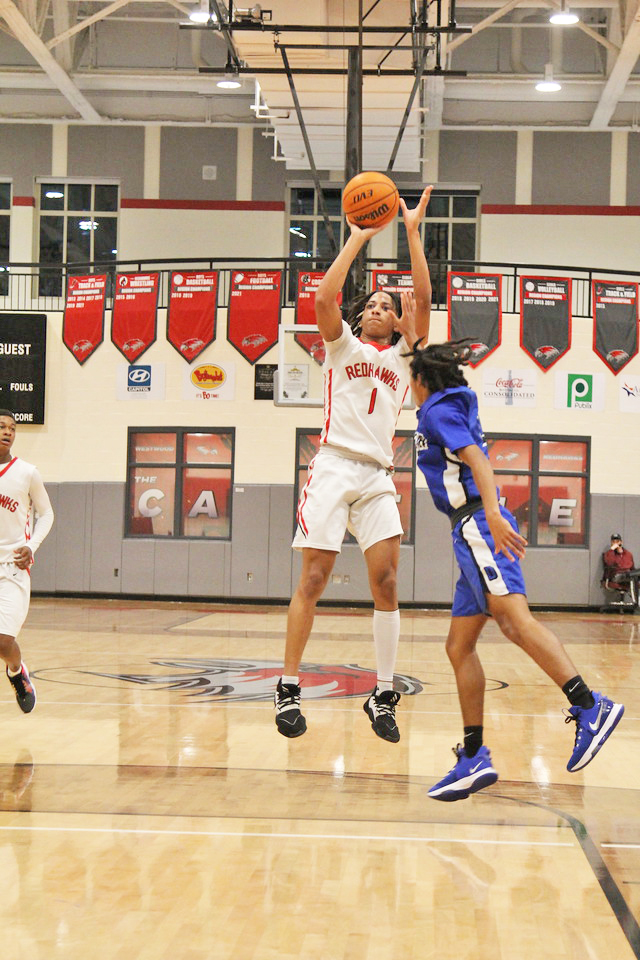 "It was a great win for us on Senior night to send out our six seniors with a win," Head coach John Combs said. "Any time you can get two wins over a region team, and two wins over Dreher, that's a good thing."
Seniors Bryson Felder, Jaylin McDuffie, Taukedrick King, Colin Evans, Amarion Evans, and Khalil Donald; Westwood girls player Thamia Davis; and senior cheerleaders were honored at midcourt between the girls and boys game.
Bryson Felder scored 18 points and had 11 rebounds to lead Westwood. Jaylin McDuffie had 13 points and six rebounds, and Arden Conyers had 10 points.
Just 15 shots fell for Westwood (10-13, 5-4), but seven of them were 3-pointers. Felder, McDuffie and Conyers made two apiece and T.J. Bell made one. The Redhawks shot 15-for-37, or 40.5 percent.
Those numbers don't sound like much, but compared to Dreher's 17-for-56, or 30.3 percent shooting, Westwood scored all that it needed to seal the win over the Blue Devils (9-9, 3-5).
"It certainly was a difficult game because Dreher plays all zone," Combs said. "Give them credit, they adjusted their zone."
Combs noted that when Westwood beat the Blue Devils 60-40 Jan. 14, they played mostly a 2-3 zone, but Friday night they reversed the look, going 3-2 and frustrating the Redhawks' looks to the basket around the 3-point line.
"We had to make some adjustments to some things that we did, and we were fortunate to make some shots and get enough defensive stops," Combs said. "Anytime you go and hold a team to 11 points in the first half, your defense is pretty good."
Westwood even held the Blue Devils to just four points in the first quarter. The Redhawks got on the scoreboard when Felder made a basket and followed up with a 3-pointer. He then got a putback and McDuffie added a basket to close out the quarter.
Those nine points were all the Redhawks needed to begin pinning down Dreher. They outscored the Blue Devils 11-7 in the second quarter for a 20-11 halftime lead.
The Redhwaks never relinquished the lead, keeping Dreher at least six points behind throughout the second half. Westwood outrebounded the Blue Devils 33-26, which isn't a great margin except that Dreher got just seven boards—five defensive and two offensive—in the second half.
"Rebounding was something that we preached to our team that we had to get better at," Combs said. "We are better now than we were at the beginning of the year and that's what we shoot for, we continue to grow as a team and continue to get better."
Westwood fell 74-66 at Irmo Tuesday night. The Redhawks trailed the Yellow Jackets just 30-27 at halftime, but Irmo (20-4, 7-1) outscored them 22-10 in the third and took a 52-37 lead into the third quarter. Even though the Redhawks scored 29 points in the final stanza, Irmo scored just enough to seal the win.
Westwood concludes region play at Richland Northeast Friday. A win over the Cavaliers (9-9, 4-5) can secure third place for the Redhawks, behind Irmo an A.C. Flora.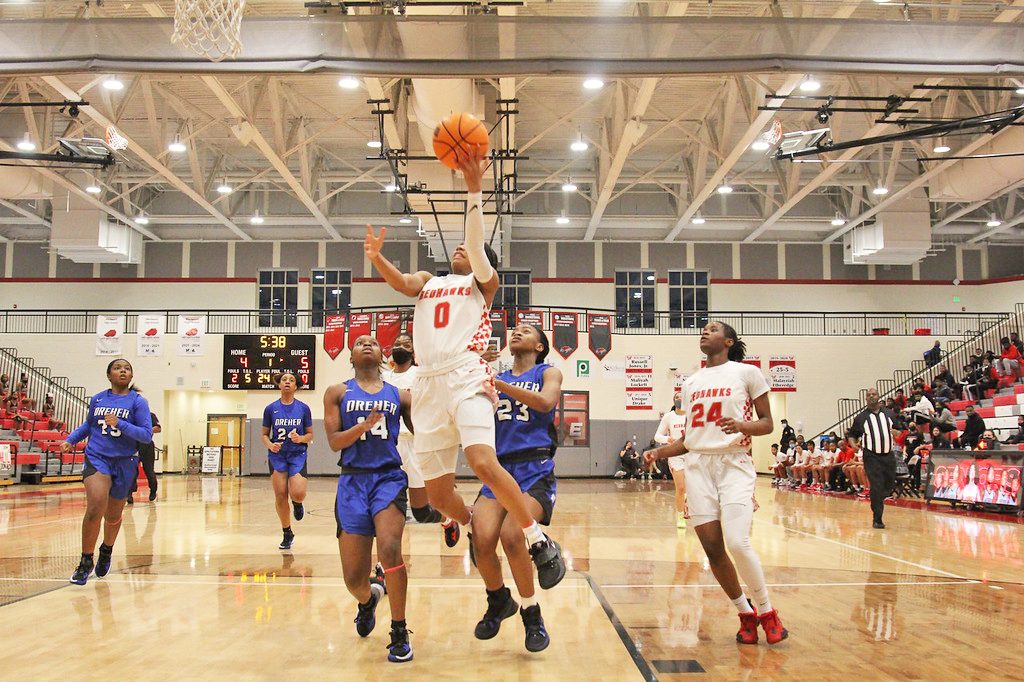 In the girls game, Westwood (17-6, 9-0) outscored Dreher (4-6, 4-3) 34-16 in the first half and cruised to a 59-36 victory to claim the team's fifth straight region championship.
"I thought we executed well. We knew they were tough, physical, and well-coached and we knew that they weren't going away regardless of what's on the scoreboard," Westwood head coach Gregory Bauldrick said. "I thought we held our own, did a lot of good things. We had some internal miscues, but that comes with the game."
Jessica Woods scored a game-high 19 points, and Raven Johnson and Korletta Daniels put up 17 points apiece. The only other Westwood scorer was Makiah Thompson, who had six points.
Westwood defeated Irmo 66-38 Tuesday. Jessica Woods led all scorers with 22 points. Raven Johnson added 12 points.
The Westwood girls travel to Richland Northeast Friday.
Boys
Dreher – 4-7-16-13 — 40
Westwood – 9-11-16-13 — 49
Dreher
Mekhi Smith-Brown 17, Elliott 6, Hires 6, Lominack 5, Miller 3, Adams 2.
Westwood
Bryson Felder 18, Jaylin McDuffie 13, Arden Conyers 10, Bell 5, Donald 2, King 1.
Girls
Dreher – 9-7-8-12 — 36
Westwood – 12-22-13-7 — 59
Dreher
Imani Williams 16, Yonni Jacobs 10, Hollis 6, Robinson 4.
Westwood
Jessica Woods 19, Raven Johnson 17, Korletta Daniels 17, Thompson 6.