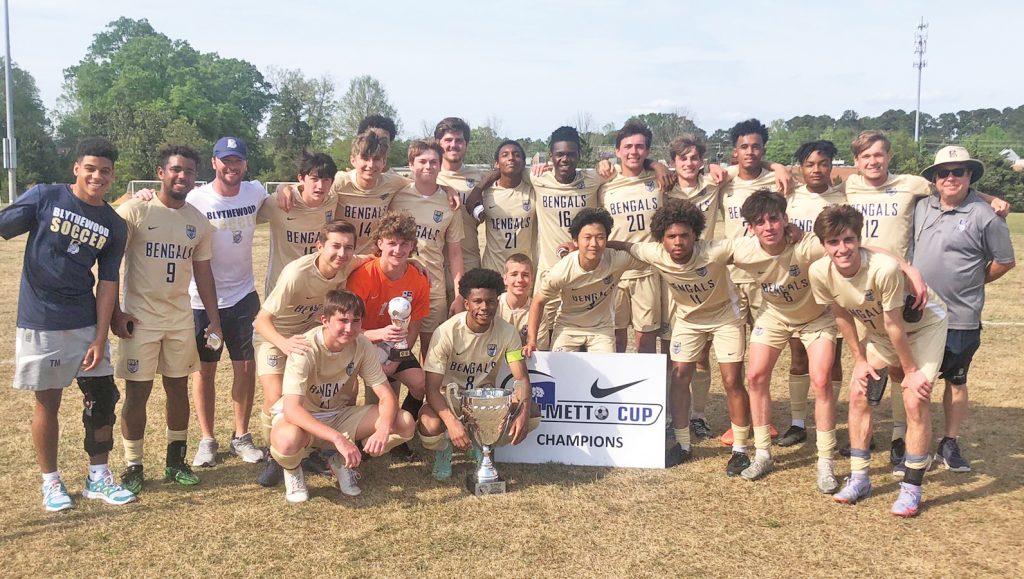 BLYTHEWOOD – Blythewood soccer claimed the Crescent Division title of the Nike Palmetto Cup last week. The Bengals took down Sumter and Ashley Ridge in route to the division title game against Cardinal Newman.
Junior Ryan Hart had two goals and senior Nathan Smith added one in Monday's 3-0 win over Sumter. Jace Griffin, Connor Jackson and Justin Ellis had assists. Minor Moran was credited with one save.
Tuesday's game against Ashley Ridge was another shutout for Blythewood. Hart tallied two goals again, and Jackson and Christian Steward scored one apiece. Hart and Jackson both had an assist; Moran had five saves in the 4-0 win.
The Bengals game against Cardinal Newman ended in a 0-0 tie, but they claimed the division title with 24 points on the week to Cardinal Newman's 22. Blythewood went 2-0-1 in the tournament with 7 goals and no goals against.
Blythewood's Ellis, Hart and Jackson were named to the All-Tournament Team; Minor Moran was named MVP of the Crescent Division.
The Bengals dropped a 2-1 region battle to Spring Valley on Monday. The loss puts them at 12-5-2 on the season and in second place in the region with a 3-2 region record. They'll face off with Ridge View on Friday for more region play, and follow up with two region matches against Northwestern next week.