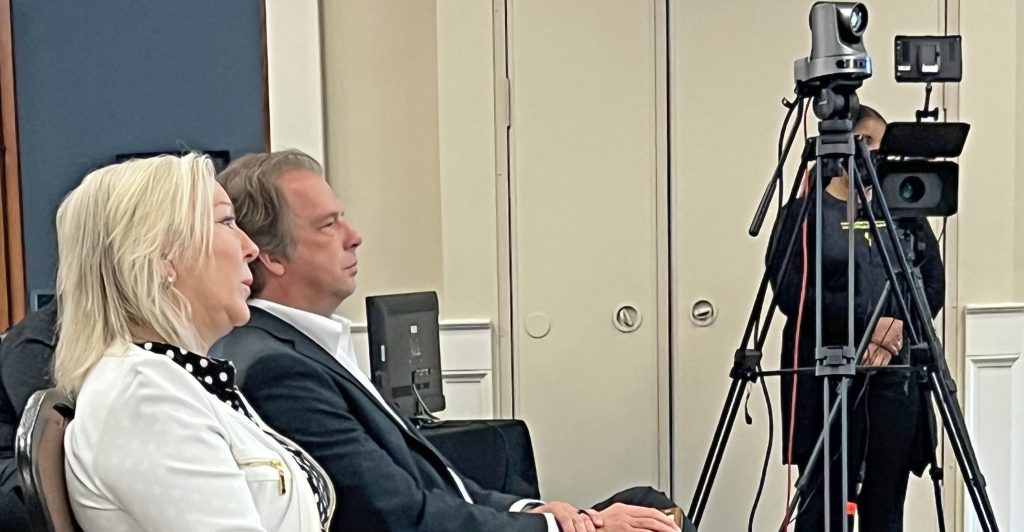 BLYTHEWOOD – Just before Blythewood town council went into executive session April 20, for an update on the MPA lawsuit and countersuit from two of the Town's outside attorneys, Councilman Donald Brock read a prepared statement that he did not recognize one of those attorneys, Nexsen Pruet Attorney David Black, as representing the Town in litigation against MPA Strategies.
"I have attended every council meeting and have reviewed the minutes of council meetings. I see no record of the Town of Blythewood ever engaging this firm [Nexsen Pruet] to represent the Town," Brock read.
"It is my understanding that the Nexsen Pruet law firm has charged [the Town] almost $100,000 to prosecute a lawsuit which we never authorized as a Council. I also understand we operate under a strong mayor form of government," Brock continued. "I do not believe the operation of the Town using a strong mayor form of government authorizes the mayor or his designee to have lawsuits filed in the name of the Town without a vote of council," Brock said.
Howard Duvall, a Columbia City Councilman and former Director of the Municipal Association of South Carolina, agrees with Brock.
"I don't think [the mayor] could enter into a law suit without council permission." Duvall said.
A state municipal official agreed, saying, "Even in a strong mayor form of government, it takes council approval to file a legal action on behalf of a city."
The countersuit against MPA was authorized by Franklin, Town Attorney Shannon Burnett and Town Administrator Carroll Williamson without council's knowledge or consent.
Following executive session, Mayor Bryan Franklin called on Black to address Brock's statement.
"One of the issues raised by Councilman Brock," Black said, "was that our firm has not been properly retained for this litigation. I can tell you, rest assured that we were retained properly with an engagement letter through the town administrator and through the mayor. That's our engagement."
But even given Black's assurance that he was retained properly, Brock said he believes Black wavers in his wording when he addressed the filing litigation.
'The MPA litigation is for the lawsuit that's been filed against the Town," Black said. "The Town has a strong mayor form of government. In a strong mayor form of government the Town speaks through the mayor and administrator.
"To say that the Town, which is council, 'speaks through' the mayor would indicate that it is through the council that the mayor is authorized," Brock said. "To say the council speaks is to say the council votes."
In his statement, Brock also said the countersuit filed by the Town is frivolous.
"It alleges damages which I do not believe the Town has incurred," Brock said. "This Town has never been asked to hire this particular law firm and none of us has ever voted to approve any of the bills which have been paid and which are outrageous.
"I have recently received a letter from the Town's alleged attorney which I find to be threatening," Brock said. "The Nexsen Pruet law firm has made various accusations against me in this letter which are not true and which I find to be defamatory. It is incredibly hard for me to understand how I can be expected to receive advice from the Nexsen Pruet law firm when I have received a threatening letter making factual allegations against me which are untrue," Brock said.
"I specifically request as a member of council that I receive all documents and correspondence related to the letter which was forwarded to me dated Feb. 11, 2022. I also specifically request that I be advised as to how much the Town paid for the preparation of this letter."
Another council member has told The Voice that council members have requested that Black update council more frequently and thoroughly on financial and other pertinent information about the lawsuits.
Black with Nexsen Pruet law firm in Columbia was hired in April, 2021, by Town Administrator Carroll Williamson, with approval from Franklin to represent the Town of Blythewood in its legal skirmishes with MPA Strategies – again, without the consent or knowledge of town council.
MPA Strategies filed a lawsuit against the Town of Blythewood on June 28, 2021, after Mayor Bryan Franklin failed to turn over documents MPA had sought under an FOIA (Freedom of Information Act) request that was due May 24, 2021.
On July 20, 2021, Blythewood Town Attorney Shannon Burnett, Town Administrator Carroll Williamson and Franklin authorized the filing of a counterclaim against MPA without council's consent or knowledge, an action that some government experts say was likely not legal. That evening, town council voted 3-1 to terminate its contract with MPA.
Mayor Franklin's Email Rebuttal
On April 21, 2022, Councilman Brock issued a statement on Town letterhead concerning a lawsuit the Town is actively litigating. Not only was the statement inaccurate, but material presented was misleading in describing the litigation. Last year, I, as Mayor, and the Town Administrator acted within our authority to hire the law firm of Nexsen Pruet, LLC to defend our Town against a frivolous lawsuit filed by MPA Strategies, LLC (MPA) and recover monies paid to MPA under false pretenses. As it has done in the past, the Town followed the proper established procedures as outlined in the Town Code of Ordinances and under the advisement of the Municipal Association of South Carolina, according to the Town Administrator.
I issue this rebuttal to correct the record, and avoid continued malicious attacks by other outside agents who may be working with Councilman Brock to continue to damage our Town. If this information is reported in the news, I expect it to be accurate, not agenda-driven or politically motivated, thus, I have offered this commentary. I citizens deserve the truth, not false narratives.
Bryan S. Franklin
Mayor, Town of Blythewood, SC