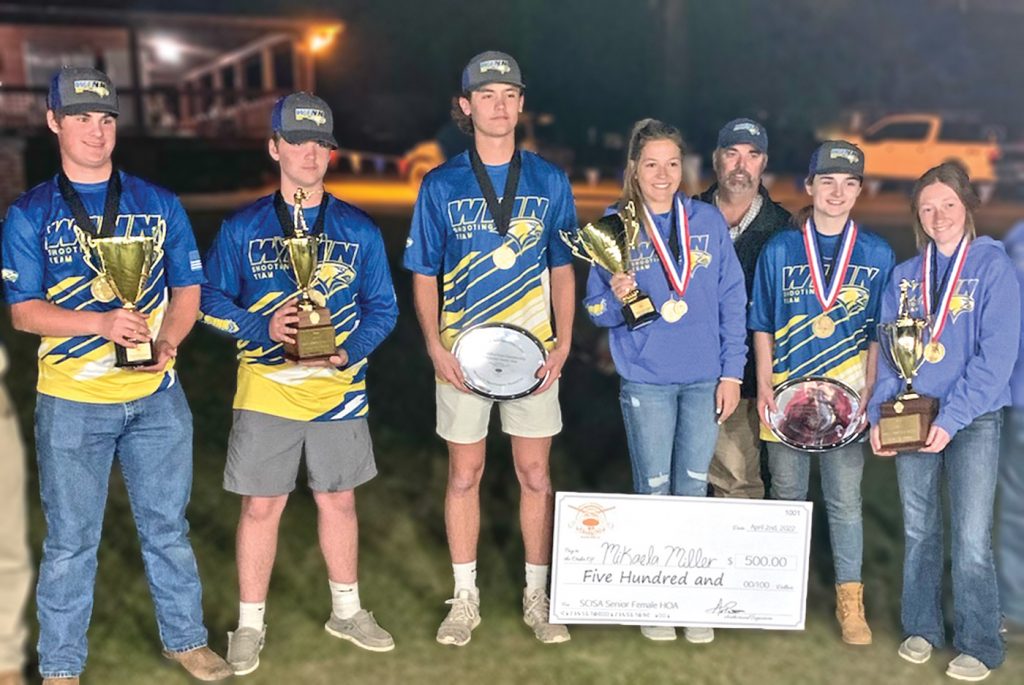 SOCIETY HILL – In just five short years, the Richard Winn Shooting Team has boomed, both literally and figuratively. On Sat., April 2, the twenty-five member team, ten coaches, parents, friends and family members traveled to Moree's Sportsman's Preserve and Sporting Clays in Society Hill for the SCISA State Championship competition. There were 19 schools competing at the South Carolina Independent Schools Association shooting event.
At the end of the day, after blasting hundreds of shotgun shells and breaking a large number of clay discs, the Richard Winn team had captured a back-to-back State Championship title and another Runner-Up title.
This time it was the RWA girls' team, a trio composed of senior Mikaela Miller, junior Ella Grace Harrison, and 8th grader Abby Lewis, who shot their way to the State Championship title with the combined highest score of 224. These girls defeated top shooting teams TKA and Thomas Heyward to claim the 2022 SCISA title.
Harrison was named JV Ladies HOA Runner Up with a 75, and Miller earned the Senior Ladies HOA with a 75 in addition to a $500 scholarship.
As one of five shooters remaining from the inaugural 2017 team, Miller reflected on her last SCISA competition, "Being named SCISA state champions last weekend is something I will remember for the rest of my life. My teammates and I have worked hard all year for this exact moment. It was a very hard course and would have been very easy for us to get discouraged, but we pushed through. It was a long day of waiting and anticipation, but it was all worth it when I saw all of the faces of our proud family members and friends."
The RWA boys' top squad was composed of JT Wilkes, Aaron Geddens, and Charlie Bonds with a score of 265 to win the runner- up spot. Thomas Heyward Academy's squad nudged out the Eagles to capture the boys' state title.
Charlie Bonds was JV HOA with a 92, and brother Berry, a senior and member of the inaugural team, was awarded the Senior HOA with a score of 92. TJ Knight was Middle School HOA Runner-Up with an 87.
"It's been really fun. I've learned a lot over the years… not just about shooting, but about life. I'm very thankful for the experience and memories I've made along the way, and I can't wait to continue shooting sports in college," Berry said.
The Richard Winn Shooting team is led by head coach Scott Clyburn, the team's founding father. Clyburn is ably assisted by coaches John Lewis, Brian Bonds, Randy Wilkes, Joey Sharpe, Tommy Knight, Benny Clowney, Amanda McCowen, Hank Harrison, and Robbie Smith.
"I could not be happier for them," Clyburn said as he expressed an overwhelming amount of pride and feeling of accomplishment for these young athletes.
"With last year's graduating class being so large and losing a lot of seniors, bringing home a State Championship and a State Runner Up is a testament to how hard this group has worked this year. I met with them a few weeks ago and told them that they have an opportunity that fewer than 1% of all high school athletes will get, and that is a shot to win a State Championship in a sport. I told them every bird counts, and to shoot every pair like it's your last. This is the fifth year for the Richard Winn Academy Shooting team and to win a second State Title and a second State Runner Up tells you how dedicated and committed these shooters are."
Clyburn went on to give thankful recognition to the parents, coaches, sponsors, and Richard Winn Academy. "It takes a lot of time, targets, shells, and dedication to do what these young shooters accomplished again," added Clyburn.
The RW Shooting Team will not be resting on their laurels but will continue to practice and prepare for more competition ahead. The SC Youth Shooting Foundation State Tournament will take place at the end of April, and the Junior US Open Tournament is in June which will bring over 600 youth shooters from all over the country to compete against each other.