Blythewood resident Janet Robinson spoke in opposition to the mass rezoning.

Blythewood resident Dave Cather (waving a copy of The Voice) spoke in opposition to the mass rezoning.
COLUMBIA – Richland County Council chambers were packed Monday afternoon with residents from throughout the county. They were there to express their concerns, fears and objections to Richland County's proposal to rezone all 375,000 acres of unincorporated land in the county. Unincorporated land is all land that is not within the town limits of a city or town.
The commissioners' task was to hear from the county's residents and then make a recommendation to council as to whether to adopt, deny or defer the proposed county-wide zoning map. The map is the second part of the county's newly proposed Land Development Code. The first part – the new zoning codes, or classifications – have already been approved by council last November, but they are not effective until the zoning map is approved.
Echoing the public comments made at the March 7 planning commission meeting on the issue, more than two dozen residents spoke vehemently in opposition to the rezoning map. None spoke in favor.
The proposed mass rezoning is driven by county staff while council has made a number of attempts to slow the train down over the last year and a half.
Of those who spoke before the commission Monday, the main objections to the rezoning were that the new zoning will make it easier for developers to bring dense subdivisions to rural areas of the county without the requirement for developers to go before county council for rezoning, By not being able to go before council, the public loses the right to have input about what goes into or next to their neighborhood.
Blythewood resident Janet Robinson and fourth-generation owner of family property, told commissioners that, right now, 400 homes are proposed but not yet approved to be built behind her property. Currently, she and her neighbors will have a chance to persuade council to see things their way in a public council rezoning meeting.
Without a public rezoning process that is currently in place, Robinson said, she would no longer have a voice in what developers bring next to her property.
"To me, the message being sent is that the rural voice is no longer wanted or needed," she said.
Robinson implored the commission to deny the map or, to at least defer it to allow creative conversation to "keep Richland County a great place to live."
"What smart growth looks like to me is being respectful of the homes in the community and the people who have supported and have been the cornerstone of this very county," she said.
Matt Neece, the policy coordinator with Carolina Farms Stewardship Association – a two-state nonprofit that serves and advocates for small and medium-sized family farms in both Carolinas – said members from Eastover to Blythewood who have 15 to 25-acre multi-generational farms that were farmed for the last 100-150 years, recently alerted him to letters they received from Richland County inferring that their farms would no longer be farms under the new zoning.
In a sarcastic interpretation of the county's letters, Neece mocked, "You (farmers) must be mistaken. This is not a multi-generational farm you have here. This is, in fact, a hobby farm. Those 20 pigs you have on your property may look like livestock, but they're actually pets."
The audience laughed, but the county's message seemed painful to hear.
Neese said that South Carolina's Right to Farm Act prohibits counties from implementing stricter regulations than the state legislature imposes on what farmers can do with their property. Neece warned of possible lawsuits that may come if small family farmers are forced out of business. He cautioned the planning commission to keep the existing "agri" zoning classifications.
A number of speakers and others in the audience from the Ballentine area near Lake Murray wore "No Rezoning" T-shirts. They expressed the concerns of many others that infrastructure in their area is already inadequate to support the density that exists today, and that the proposed zoning to an area already established with single-family residences is not appropriate for multi-family duplexes, triplexes, and quadplexes.
Pam Selkinghaus and Donna Cole from that area submitted "No Rezoning" petitions with 1,334 names.
There were also speakers from within towns and cities who feared the rezoning of county "donut holes" within their municipalities.
Forrest Acres town councilman Tommy Andrews expressed concerns related to multi-family units being built in "donut holes" in Forest Acres neighborhoods already established with single-family residences.
"I don't think this is a lake problem or rural problem or a Forest Acres problem. I think it's a Land Use Table and Map problem," Andrews said.
Shawn Greenwood, city administrator for Forest Acres and Andrews also expressed procedural concerns related to the effective date of the new code. The code has already been passed, eliminating RU, for example, but the map is not and won't be decided for some time. That leaves both residents and developers in a conundrum about how properties are currently zoned. The codes do not go into effect until the map is approved.
Several citizens in the real estate business spoke against the plan, including one who develops small rural subdivisions with large lots to the west of Blythewood.
"With all the "regs", realtor Vanessa Patrick said, "I can't make it work. Kill the map, do a re-write."
Because of density restrictions to be imposed in more rural areas, an Eastover resident stated that privileges currently tied to land zoned RU (rural) would be removed and would prohibit subdividing to create ¾ parcels to give as heir property to their children.
A frequently repeated concern of those attending was that approving the new map, which would result in rezoning all parcels in unincorporated Richland County, would strip county council's ability to approve or deny much of the new development, thus limiting council's ability to manage growth.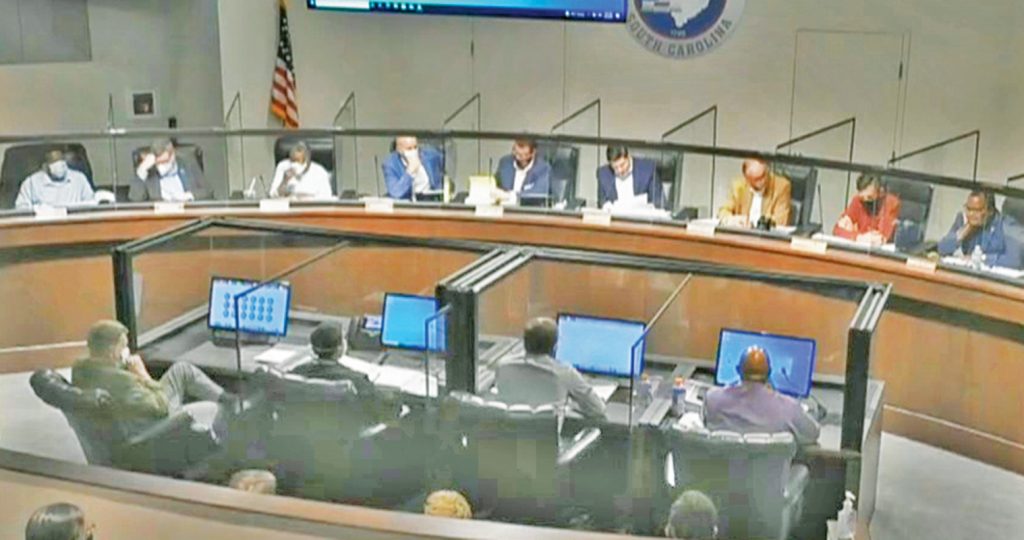 Following the public comment period, planning staff stated that council is currently scheduled to have a first reading and zoning public hearing on the proposed zoning map on April 26.
When Chairman Jason Branham called on commissioners for questions and comments, most expressed serious concerns related to the map and the proposed zoning classifications.
At the end of the meeting Branham read a lengthy prepared statement (posted on The Voice's website at blythewoodonline.com) identifying a number of discrepancies and issues he saw in the Land Development Code as well as an aggressive increase in density.
Branham said the result of approving the map would be "materially modifying existing practices, which involve the naturally increased time given to a typical individual rezoning application. [That time] involves a site-specific application, communications with staff, review and input and recommendation with the planning commission, hearing from the community and review and input and vote by council, which is often accompanied by community meetings and site-specific agreements as to development."
Branham stated that he could not "in good conscience vote to approve the proposed map…"
Commissioner Frierson then made a motion to defer action until the commission could have additional work sessions prior to their regular May 2 meeting. The vote was unanimous.
What is not known, is how the delay of the approval or denial of the proposed map will affect the dates of when the new zoning codes will take effect.