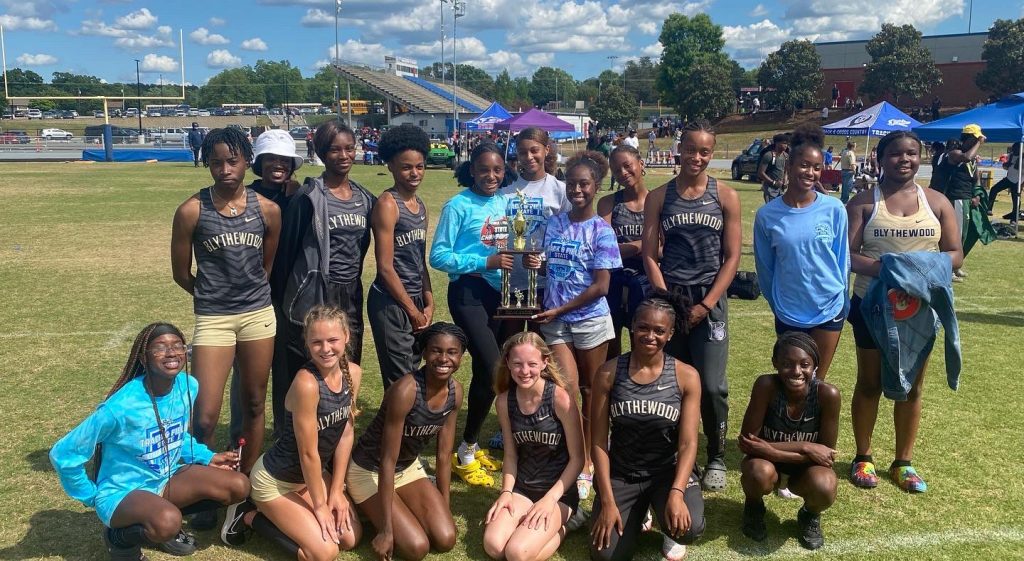 DUNCAN – Only one point separated Blythewood and JL Mann girls at the Upper State championship meet last Friday, but that point was all the Bengals needed to clench the top spot.
Blythewood advances to the State Meet, set for Friday at Spring Valley High School.
Among those competing are Hailey Duncan (100m and 200m), Arianna Williams (200m and 400m), Aminah Rhone (400m), Briana Green (100 and long jump), Olivia Taylor (400m), Peyton Hightower (200m and 400m), Mallorie Hogue (800m), Makeshria Brown (100m hurdles), Katuria Glover (400m hurdles), Monica Joy (high jump), Zion Harvey (long jump) and Ashlynn Scott (triple jump).
Blythewood will also send its 4×100, 4×400 and 4×800 relay teams.
Blythewood girls took top spot at Upper State on the backs of a pack of Bengals. The 4×400 Relay Team of Peyton Hightower, Monica Joy, Taylor and Williams earned the squad's only first place finish with a time of 3:52.02. The 4×100 relay team of Duncan, Williams, Hightower, and Green took second place. Jasmine Young, Hogue, Anna Kelly and Lily Whitener took fourth place in the 4×800 meter.
Hightower finished second in 200m dash and 400m dash. Brown finished second in 100m hurdles. Briana Green finished second in long jump and fifth in the 100m dash. Williams placed third in 200m dash and 400m dash. Hailey Duncan placed sixth in the 200m dash and seventh in the 100m dash. Olivia Taylor placed sixth in the 400m dash and 10th in long jump. Ashlynn Scott placed seventh in triple jump. Aminah Rhone placed ninth in the 400m dash. Katuria Glover placed ninth in 400m hurdles.
Blythewood Boys
Blythewood's boys finished 12th out of 19 schools. They will send four individuals to compete at state along with the 4×800 and 4×100 relay teams.
Also competing individually are: Barry Hardy in 800m; Randy Kelly in high jump. Caleb Gore in high jump and Jordan Clark in shot put.
Hardy, Elgine Green, William Lenker, Grany Benson, Eureka Washington and Malachi Brooks make up the 4×800 relay team. Kenneth Peeples, Jonathan Harper, Paul Streater, Anthony McCullough, Josh Gary and Fahm Muhammad will compete in the 4×100 relay.