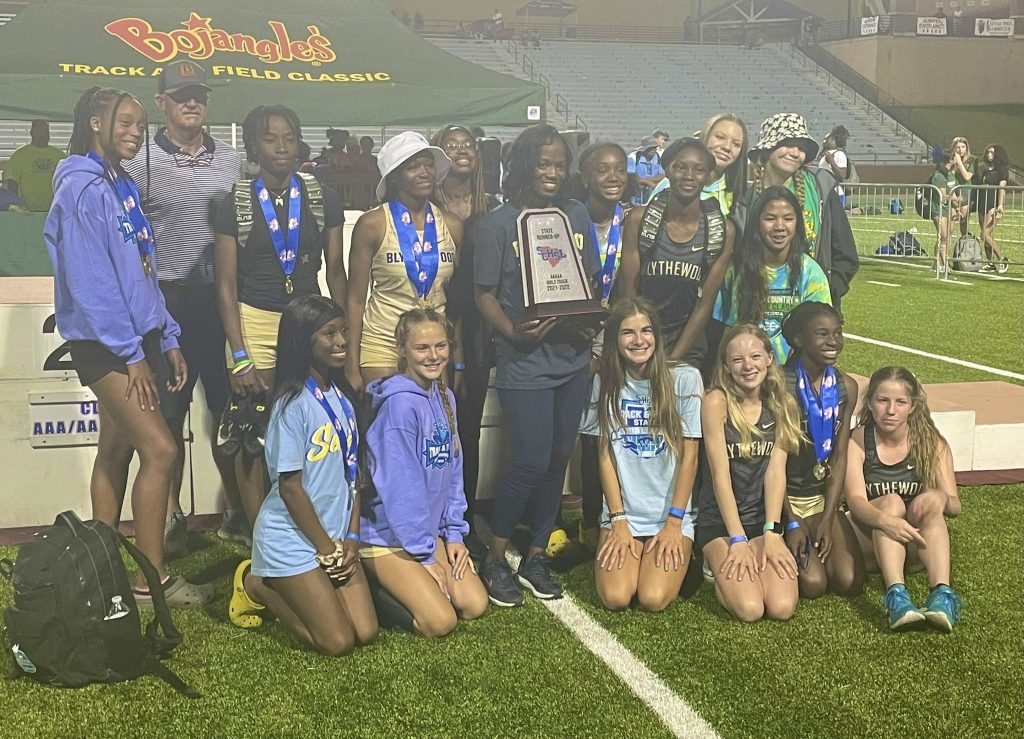 COLUMBIA – Blythewood's girls track and field teams made the most of their time at Spring Valley's Harry Parone Stadium Friday night.
On Friday in the 5A state meet, Blythewood battled with J.L. Mann for the top spot on the podium. Only when three field events came in did the Patriots edge the Bengals and win the state championship. Blythewood took runner up with a score of 77 points to J.L. Mann's 84.
"It was a good night," Blythewood head coach Alicia Hawkins said. "We were missing a few girls due to injury tonight but the rest of our girls did good by pulling it off."
At one point in Friday's meet, the Bengals held a 67-66 edge over the Patriots. From there
Blythewood's 4×400 team took gold with a time of 3 minutes, 50.28 seconds, giving the team 77 points.
The Patriots finished fifth in the event with a time of 4:03.50, bringing their total to 70 points.
Blythewood's 4×400 effort was the last scoring event for the Bengals.
When the final field events came in, J.L. Mann's Jhnyia Knuckles took silver in the triple jump with an effort of 37 feet, 11.50 inches, good for eight points. Amiyah Carter took seventh in the event with a mark of 35-0.50 for two points.
Nevaeh Perira took fifth place in the Javelin with a throw of 121-7 for four points.
Those 14 points put J.L. Mann on top.
"It was a battle all day long, but our javelin thrower and our triple jumpers delivered it at the end," Patriots head coach Todd Prochaska said. "It was a special night."
Before their 4×400 win, The Bengals' 4×100 team took gold with a time of 46.32.
Peyton Hightower won the 200 dash with a time of 24.37. Teammates Arianna Williams (24.70) and Hailey Duncan (25.12) finished third and seventh. Williams also finished third in the 400 dash with the time of 55.63.
Blythewood's Briana Green took first in the long jump with a mark of 18-6. She also finished fourth in the 100 dash with a time of 12.01.
Makeshria Brown took second in the 100 hurdles with the time of 14.57.
The Bengals girls' 4×800 relay team took seventh place with a time of 9:59.66.
In boys events, Blythewood's Randy Kelly won the high jump with a mark of 6-10. Teammate Caleb Gore finished 5th in that event with a jump of 6-02.00. Jordan Clark finished fifth in the discus with a throw of 53-01.00. Barry Hardy finished ninth in the 800 meter run with a time of 2:02.08.