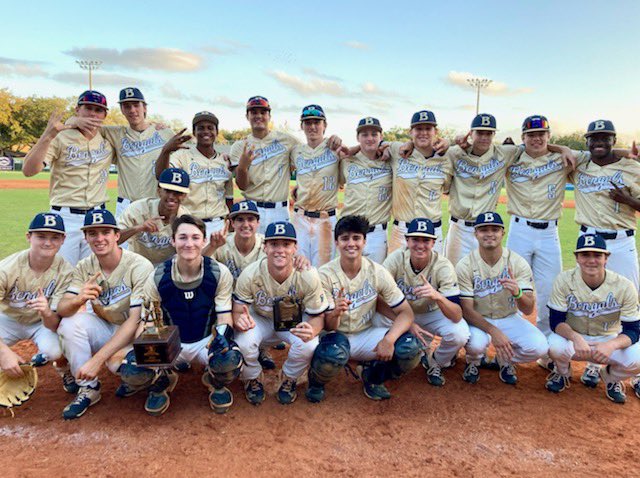 BLYTHEWOOD – The Blythewood baseball team's focus continues.
The Bengals wrapped up the 5A District 4 tournament in a snap Monday night with an 8-1 victory over Nation Ford. Next comes the upper state tournament.
Blythewood, at 28-1, No.1 in the state in the SCBCA rankings, and ranked ninth in the nation in the latest Collegiate Baseball High School Poll, travels to T.L. Hanna tonight.
The Yellow Jackets (21-7) beat Clover 3-2 Monday with Knox Whitten's 2-run walk-off double in the bottom of the seventh to win the District 3 championship.
"They're a good program," Blythewood head coach Banks Faulkner said. "I haven't seen them, but they beat us last year in spring break (8-5 April 8, 2021), so they've got a good team. They've got their best arm ready so we've got to go on the bus and be ready to battle, because it'll be a challenge."
Blythewood will have ace Davis Wright on the mount tonight. After the District 4 tournament Wright has a 1.44 earned-run average, seven wins and 54 strikeouts this season.
"He's our guy," Faulkner said. "We'll stay on schedule this week."
Blythewood and T.L. Hanna will battle District 1 champion Boiling Springs and District 2 champion Fort Mill for the upper state championship.
In the lower state, District 5 champion Lexington travels to District 6 champion Chapin, and District 7 champion Berkeley travels to District 8 champion Summerville Thursday.
Blythewood outscored District 4 opponents 25-3 in three games.
"I'm proud of them," Faulkner said. "We played well, swung the bat well, we pitched really good, and we've played defense like we've done all year."
Consistency is what has kept the Bengals steady. With everyone in the lineup hitting well, and with steady pitching and fielding, the trick for the team has been to keep rolling.
"We've been playing solid ball all year," Stephen Lang-Spittler said. "We're just trying to do the same things that we've been doing all year. That's what's really keeping us under control and poised. That's what really makes our team good."
The Bengals did so with a mix of home runs, doubles and short-game baserunning, much like what was on display Monday.
Nation Ford took a 1-0 lead in the first when Luke Keller came home on Seth Hanson's 1-out sacrifice fly. That was the last time the Falcons crossed the plate.
Blythewood took a 2-1 lead in the bottom of the first. With one out and Caleb McCants at third and Zac Cowan at second, John Rollings drove in his first run of the night with a 6-3 groundout that scored McCants. Lang-Spittler singled in Cowan before Camden Watts flied out to end the inning.
The Bengals got five more runs in the third, after Nation Ford starting pitcher Avery Childs was pulled in favor of Drew Brink. With Alex Nevils and McCants aboard with one out, Rollings batted in two more runs with a centerfield single to make it 4-1.
Lang-Spittler and Watts then hit back-to-back doubles to make it 6-1. After Kevin Steelman singled, Watts came home for the fifth run of the inning on Alex Myers' fielder's choice.
After Blythewood got a run in the sixth, Alex Simmons came on the mount with one out of the seventh and closed out the win.
"Everybody was getting on base for me," said Rollins, who went 3-for-4 with four RBI. "I came up at the right time to do my job."
Starting pitcher Landon Penfield pitched four full innings, striking out three and walking one. Jacob Hardy came on to start the fifth and struck out two and walked one in 2 1/3 innings.
Going forward, the team will have to win on the road.
"It's gonna be different, but we've got to stay the same, though. Keep rolling," Rollings said.
"It's just seeing the pitches. You see pitches against everybody, you see fastballs, you hit fastballs."
Monday
Nation Ford – 1-0-0-0-0-0-0 — 1, 4, 3
Blythewood – 2-0-5-0-0-1-X — 8, 10, 1
WP: Landon Penfield. LP: Avery Childs.
Hitters: N – Gabriel Simmons 2B. B – John Rollings 3-4, 4 RBI. Caleb McCants 2-3, 2B. Stephen Lang-Spittler 2-4, 2B, RBI. Camden Watts 2B, RBI.
Thursday
Hillcrest – 1-0-0-1-0-0-0 — 2, 10, 2
Blythewood – 1-0-1-2-1-2-X — 7, 11, 0
WP: Kevin Steelman. LP: Carson Matthews.
Hitters: H – Drake Moore 3-3. Wyatt Stone 2-3. Connor Nash 2-3. B – John Rollings 3-3, 2B (2), 3 RBI. Alex Nevils 3-3, 2B, HR, 2 RBI. Zac Cowan 2-3. Alex Myers 2-3, 2B.