Davis: Protect The Brand, Focus on Culture, Environment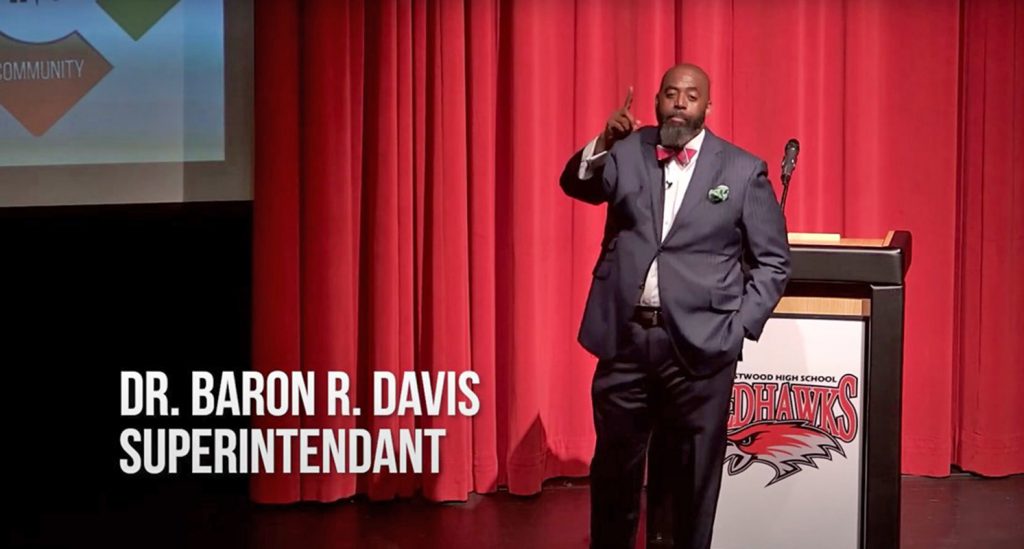 COLUMBIA – In a convocation address to Richland Two School District, embattled Superintendent Baron Davis, without mentioning the state investigation of the District, blasted what he called an attack on public education and promised a positive culture in lieu of raises for teachers and staff.
"Public education is under attack, public education teachers are under attack, administrators are under attack, and everybody that is attacking public education is not from the outside; some of them are inside the public education experience," said Davis, in a speech to kick off the 2022-23 school year.
"Richland School District Two, that brand, that logo, is under attack," said Davis, dressed in a black suit and red bow tie on the stage of Westwood High School.
"It has been tarnished (sic) as an attempt to tarnish it," he said, "to say [the district] is not what it used to be, because some of the things that we focus on that don't necessarily align with past historical practices… I would argue that this brand, this flame, shines as bright as it ever shined."
The publicly available video of the speech is incomplete, with an unknown amount of time and content missing from the beginning. A district spokesman said the livestream site did not record the beginning.
Davis's comments come a few weeks after the summer break announcement that Gov. Henry McMaster had requested an investigation of district leadership following a number of high-conflict incidents and complaints involving Davis, his wife, and members of the Richland Two school board.
According to McMaster's request, the state inspector general's office was asked to investigate after the state received evidence of "organizational or institutional dysfunction or other mismanagement by Richland Two's elected and appointed leadership."
Since 2019, nearly all of the school board members have either been arrested, cited for ethics violations, recorded cursing a member of the public, or otherwise crossed obvious ethical boundaries in their public conduct.
Davis has also been in the thick of the drama, particularly after a confrontation at a school board meeting that featured his wife, a high school teacher, reportedly involved in verbal altercations with several people (including a teen student) and reports of Davis himself having to be restrained while confronting a parent – all accusations that he denies.
In a more recent incident of school board dysfunction, a conversation recorded during a closed-door meeting featured an altercation between Board Chair Teresa Holmes and board member Lashonda McFadden that resulted in McFadden being arrested and charged with threatening Holmes.
In the wake of the announced state-level investigation, three of the four board members who are up for re-election this year opted not to run; only Holmes has filed to seek another term.
The top priority Davis stated for the new school year during his convocation speech: "Protect the Brand."
He says his plan for the 2022-23 school year is to concentrate and focus on the culture and environment within the district – and take action to ensure that it is positive for teachers and staff.
"The world stage is full of actors, people pretending to be something that they're not. What we have little of is people of action who actually put the work in to get it done," he said.
"We don't need any more people being pretentious about the roles and responsibilities that they have and displaying things and saying things and not following [through]. We need people of action, so we're going to concentrate on these things."
In addition to culture and environment, two areas of focus he noted are achievement and talent.
He then offered some comments on the value and importance of setting goals – routine material at this kind of event – before explaining his plan to investigate the culture throughout the district through surveys and unannounced classroom visits.
He called upon teachers to "create, sustain, and invest in a culture and environment of excellence" by developing and sharing personal goals to further the effort.
The five key areas he says are important to the district's culture: that it is safe and secure, affirming and inclusive, respectful and professional, supportive and appreciative, connected and informed.
He said the culture and environment within the district is critical to retention of teachers and staff, noting that the last time Richland Two increased teacher pay, surrounding districts did the same in order to compete for talent.
But in the end, he says, most people won't leave a district for a small pay difference when they are happy with their jobs.
He expressed some regret for the last teacher pay increase because, he said, had the district waited, the state would've picked up most of the tab.
"Two years ago, before the state decided to mandate starting teacher pay to be $40,000, we raised teacher pay from $37,000 to $41,000, before the state gave assistance to that," he said. "Now, had I known the state was going to give assistance to that, maybe we would've waited two years."
More important than differences in teacher pay between different school districts, he says, are the intangible elements of their workplace culture.
"People aren't going back and forth between districts for $1,500, most people. They stay because of how you treat them and how they feel: Do they believe in you as the leaders of the school district, and do we believe in one another? Is it a good working environment?" he said.
"That's what people stay for because when you divide $1,500 over 24 checks, you're not going to see a whole lot of money, but you can't put a value on feeling safe and secure and feeling affirmed and appreciated. That's a valuable tool, and we have control over that, so that's what we're going to focus on."