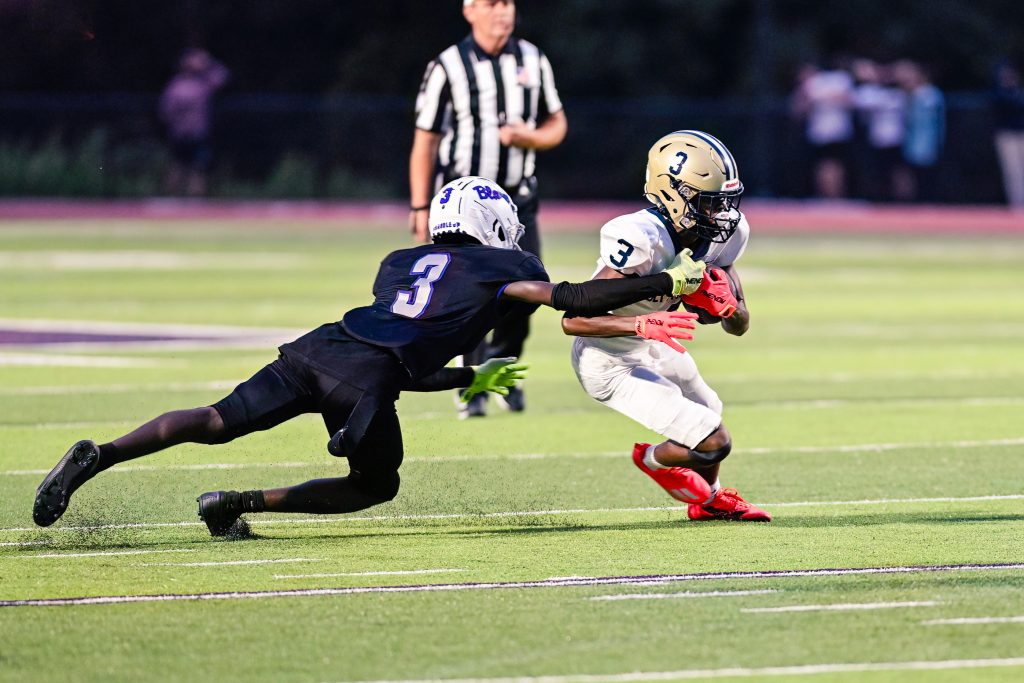 COLUMBIA – Blythewood's and Ridge View's season-opening football game Friday night evolved into a battle between which team could overcome first-game mistakes.
Amid turnovers, turnovers that negated turnovers, incompletions, and penalties, the Blazers capitalized enough to come away with a 21-victory over the Bengals at Blazer Stadium.
"It seemed like every time we had the opportunity to do something, a mistake just came out of nowhere," Blythewood head coach Jason Seidel said. "They're costly. You feel bad for the kids because they played their tails off and things just didn't bounce their way tonight. Credit to Ridge View, they played their tails off tonight too. It was a great game."
In the second quarter Donald Tomlin connected with Zion Agnew for a 77-yard touchdown pass play for the Blazers. The Bengals responded with a 58-yard Matthew Collins-to-Josh Gary pass play that set up Collins' 9-yard touchdown run.
The game stayed knotted at one score apiece at the half.
In the third quarter Ridge View first thought it had swung momentum when defensive back Javon Gillespie intercepted a Collins pass at his 24-yard line to stop a Bengals drive. On the Blazer's first play after the pick, Marcus Kelly coughed up the football and set Blythewood within 25 yards of a go-ahead score.
The Bengals' series that followed included three rushing plays that went for two yards, two incompletions, a personal foul that gave Blythewood a first down at the 13-yard line, and a Ridge View sack for a 12-yard loss on fourth down.
Such was the way of the game until fortune shined on the Blazers. With less than a minute to go in the third, Blythewood faced a third-and-four at the Ridge View 49. Collins took the snap but lost the football, defender Myles Brown scooped it up around the Blythewood 45-yard line and ran it into the end zone to give the Blazers a 14-7 lead with 18 seconds left in the third.
"I told them at halftime, this is going to be a defensive game, just don't turn it over," Seidel said. "We dropped the snap, and instead of just falling on it, punting, and getting them deep (in Ridge View territory. The kid (Collins) tried to scoop it up and make a play. I get it, kids want to make plays. It's a teachable moment. We had our chances (to capitalize on Blazers mistakes) too."
The Bengals got into scoring position twice after that misfortune and netted zero points.
A second Blythewood fumble just outside the Ridge View 20-yard line stopped what could have been a game-tying drive. Later, the Bengals drove to the Blazers' 15-yard line before they turned the ball over on downs.
After that possession Ridge View took over at their own 18-yard line and drove the length of the field for Tomlin's 27-yard touchdown pass to Chris Lawson Jr. to make it 21-7 Blazers with 2:58 left in the game.
Blythewood used what was left of the clock for a face-saving drive capped with Collins' 19-yard pass to Nate Rabon with 17 seconds left.
"I definitely want to tip my hat to coach Ryan Kendal, who did an amazing job setting up a great defensive game plan," second-year Ridge View head coach Derek Howard said. "I just can't say enough of how hard they fought as the offense dealt with Week Zero, trying to be consistent. I'm happy for the kids and happy for the win."
Both teams combined for six punts and a turnover on downs on the first seven possessions of the game.
Midway through the second quarter Ridge View got called on a holding penalty that set the Blazers back to the 23-yard line facing a second-and-23. That was when Ridge View ignited the offense.
Facing enormous pressure from Blythewood's pass rush, Tomlin slung a pass into traffic and into the hands of Agnew. Agnew broke away from the coverage around the Blazers' 40-yard line and bolted down the right sideline for the first score of the game at the 4:57 mark of the second quarter.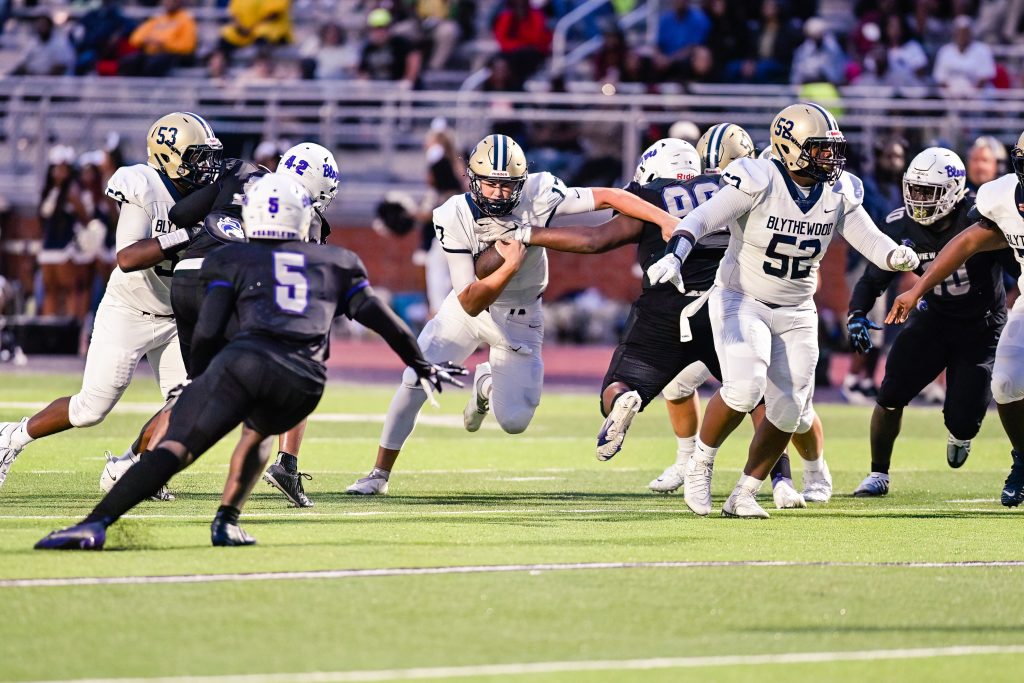 Blythewood returned the kickoff to the Bengals 25-yard line, and on the first play from scrimmage Collins got a pass to Gary, who battled around and threw Ridge View defenders to stretch the play to a 58-yard catch-and-run. Four plays later Collins ran into the end zone untouched to even the score at 7 with 2:13 left in the half.
Thanks to a 50-plus-yard Agnew kickoff return, the Blazers drove quickly to the Blythewood 20-yard line, but Marcus Kelly fumbled and Bengals defender Tykese Ashford fell on it. The Bengals ran out the clock to go into the locker room tied at 7. 
Ridge View held Blythewood to 41 rushing yards on 11 attempts, and 82 passing yards, most coming on Gary's reception that led to the Bengals score.
When the teams came back onto the field for the second half, Ridge View wanted to keep the defensive effort up, and keep giving the offense a chance to start clicking.
The Blazers did, holding Blythewood to 84 yards on the ground and 189 passing yards for the game. Collins went 18-for-35 with one interception.
Ridge View plays host to Sumter, 35-15 victors over Lakewood last week, Friday.
Blythewood opens its home schedule Friday against Richland Northeast. The Cavaliers escaped with a 29-27 win over Crestwood in their home debut last week.
Blythewood – 0-7-0-7 — 14
Ridge View – 0-7-7-7 — 21
Second Quarter
R -Zion Agnew 77 pass from Donald Tomlin (Nassio Charles kick) 4:57
B – Harrison Collins 9 run (Ryan Hart kick) 2:13
Third Quarter
R – Myles Brown 45 fumble return (Charles kick) :18
Fourth Quarter
R – Chris Lawson Jr. 27 pass from Tomlin (Charles kick) 2:58
B – Nate Rabon 19 pass from Collins (Hart kick) :17
BHS Ridge View
First Downs 15 13
Rushes-Yards 24-85 24-114
Passing Yards 189 153
Att-Com-Int 38-19-1 18-11-0
Fumbles-Lost 2-2 3-32
Penalties-Yards 6-50 11-95
Punts-Avg 3-36.3 5-23.2
INDIVIDUAL STATISTICS
RUSHING: Blythewood – Kinson Holland 11-32 David Herndon 1-8, Harrison Collins 8-28, Josh Gary 2-15, Deandre Williams 1-3, Team 1-(-3). Ridge View – Adonis McDaniel 1-0, Marcus Kelly 15-78, Francis Aiken 3-11, Donald Tomlin 4-19, Zion Agnew 1-6.
PASSING: Blythewood: Harrison Collins 18-35-1. David Herndon 1-3-0. Ridge View – Donald Tomlin 11-18-0.
RECEIVING: Blythewood – Chris Thomas 5-22, Josh Gary 6-91, Anthony Thurman 2-8, Team 2-30. Ridge View – Chris Lawson Jr. 3-40, Zion Agnew 3-80, Adonis Mitchell 4-28, Siah Mack 1-5.