BLYTHEWOOD – Many employable people are choosing not to go to work these days, but not so for a recent drive-thru hire at Blythewood's McDonalds restaurant located on McNulty Road, next to the I-77.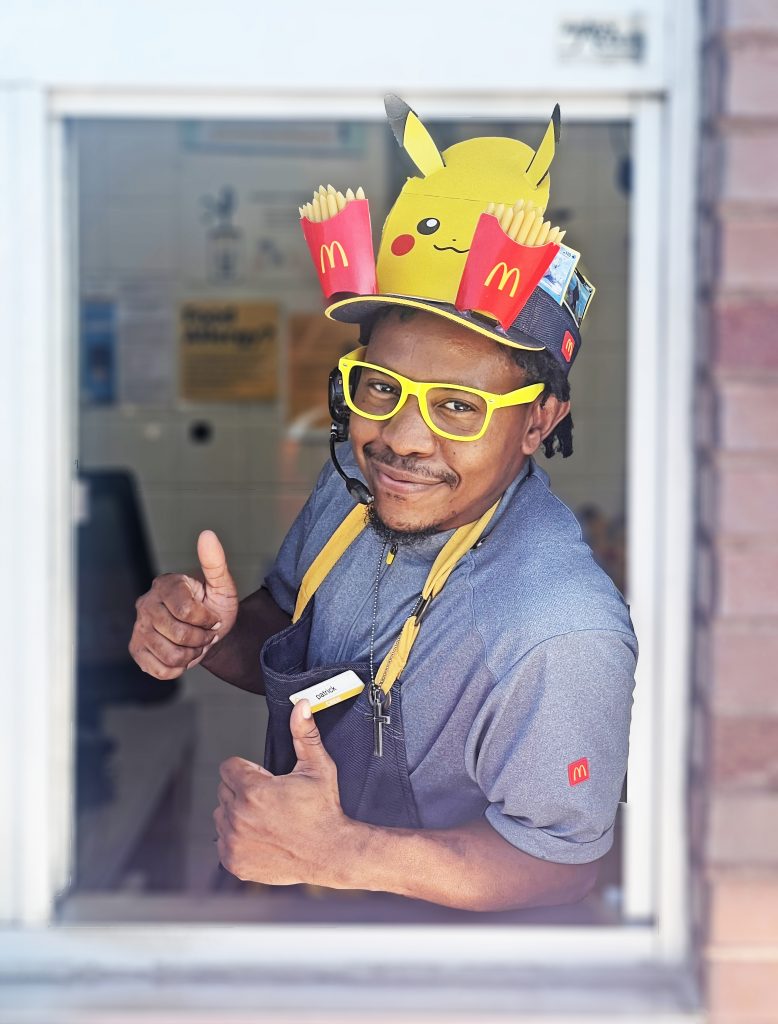 Patrick Canzater, 25, who was hired last spring, takes his job seriously. He comes to work at 5:30 in the morning, has no problem staying late if the restaurant is short staffed, and says he enjoys every minute of his work experience – which includes an exceptional style of customer service, according to Sally Marquez, the restaurant's manager.
"Patrick does more than just take the customers' orders and their money before they drive on to the next window to pick up their food," Marquez said. "He also brightens their day and gives them something to smile about when they stop at his window."
Wearing bright yellow-rimmed glasses and a McDonald's hat that he customized with little red boxes of artificial fries and themed Happy Meal toys, Canzater turns heads at the first window where he dispenses change, receipts, and offers an enthusiastic thumbs up, a big smile and a cheerful comment to his customers before they drive on to the second window.
The customer reaction has been overwhelmingly positive, according to Canzater.
"Most of my customers start smiling as soon as they notice what I'm wearing. It's pretty colorful," he said with a laugh. "Then they start a conversation, saying something about my hat and glasses. It's always something fun. My hat and glasses make them want to be friendly. Kids pop up out of the backseat sometimes when they see me, and they get excited. They'll say things like, "Mommy, Mommy, I want a hat like that!' or "Look at him!'
"I'll say this, everybody usually leaves my window happy and with a big smile on their face," Canzater said, flashing his own easy smile.
"From day one Patrick has been a very energetic and enthusiastic employee," Marquz said. "He never has a bad day and will go anywhere we ask him to help out including another location. He takes pride in anything he does. We love having him in our Mcfamily."
He said it's his nature to want to make people smile.
"People like new, funny stuff that they haven't seen before," Canzater said. "The surprise is part of it. They're surprised to see my hat and glasses. It just takes people's minds off regular stuff when they see me. They like that."
Canzater said he got the idea for the hat one day when he was dropping toys into the Happy Meal boxes.
"I thought, 'I could turn my hat into a happy meal look.'
"I was pretty sure I wouldn't be allowed to wear it at the window. There are certain rules about things at work. But I went with it, anyway. When Ms. Marquez, my supervisor, saw it, she liked it. It made her smile."
"She said, 'That's kind of cool.' And everybody at work was complimenting it. I was like, 'Wow, OK!' So I kept wearing it."
Canzater has since upfitted four other hats with different themed Happy Meal toys. He has also added a collection of colorful plastic lense-less eye glasses that he coordinates with the different hat colors. For instance, when he wears the hat with the blue Avengers toys, he wears the blue-rimmed glasses.
His newest hat challenge is the Lightening McQueen toys that arrived earlier this week.
A talented local mechanic, Canzater has an automotive garage where he works on cars in his spare time, changing out everything from motor oil to engines and transmissions. He says it's his nature to "come up with new stuff and new ways to do things."
"Whether its car repairs or Happy Meals, the more things you can come up with, the more you like your work and the happier your customers are," he said.
"After I started wearing the hats, my drive-thru customers have actually helped me come up with some of the best ideas. I had the red fry boxes on my hat when one of my drive-thru customers said, 'You gotta put fries in those boxes!' I did and, oh my gosh, the reaction to the fries has been great," he said, still amazed at the ingenuity of it all.
Canzater says he was the class clown at Blythewood High School and concedes that he likes to entertain. He said he's always had a positive attitude and does his best to come up with ways to help others have a positive attitude as well.
"Customer service is my job here, and I'm happy to say that I found a way to make my drive-thru customers drive off with a smile," he said, then paused and thrust out his trademark two thumbs up.
"They're 'lovin' it' and so am I!"