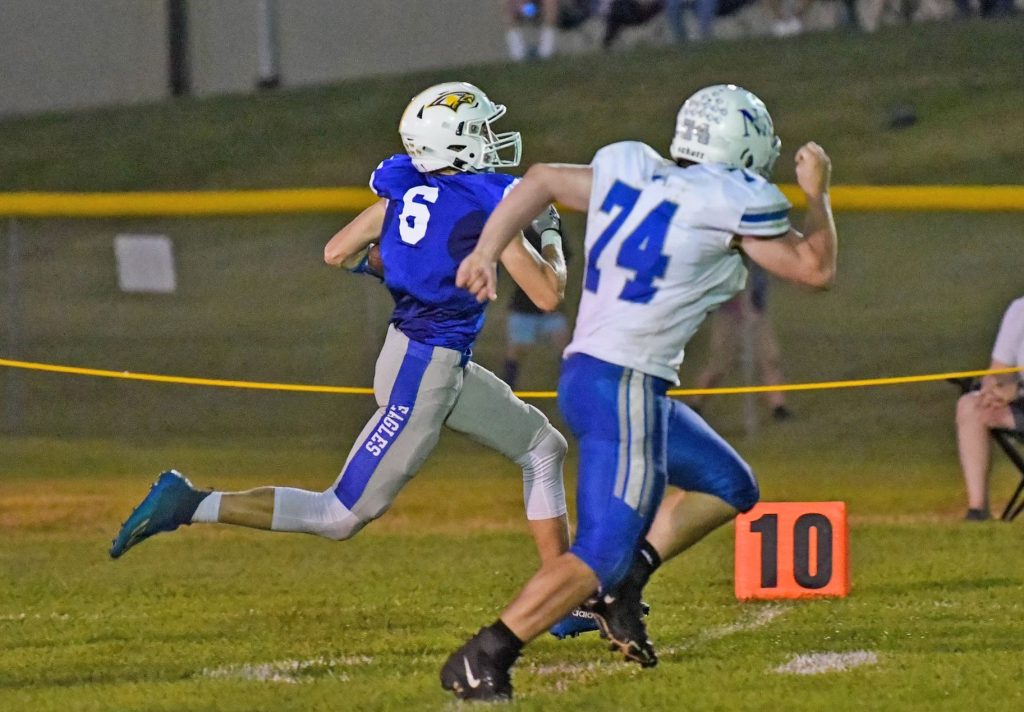 WINNSBORO- The Richard Winn Academy student section showed up to Ruff Field in safety vests and hard hats on Friday night as the Eagles demolished the "Under Construction" banner to face off against the Eagles of Newberry Academy.
It was all Richard Winn from the outset, with Newberry's only first down in the first quarter coming on a fake punt by running back Jalin Reid. Richard Winn took possession on the next play after defensive end Ethan Steward recovered a fumbled snap. A two-play, 48-yard drive ensued and took just 45 seconds. Landon Caulder ran for 33 yards on a quarterback draw before handing the ball to Jacob Chaisson for a 15-yard touchdown. Richard Winn held Newberry to just three first downs in the first half and dominated play on both sides of the ball, heading into halftime with a lead of 43.
Richard Winn's outstanding play on offense resulted in six touchdowns. Although offensive penalties in the first half resulted in two touchdowns being called back, the Eagle offense was not deterred, reaching the end zone on six of eight possessions. Left-footed kicker Josh Tindall converted all of his point-after attempts and performed a spiffy onside kick that gave the Eagles great field position on their second drive. In the second quarter, Caulder and Charlie Bonds executed a dazzling double pass to find Lawson Wade wide open for a 48-yard touchdown.
Caulder and Chaisson led the charge towards the lopsided victory. Caulder was six for six passing for 129 yards and 2 touchdowns. Chaisson gained 112 yards on the ground and scored three touchdowns. Receiving targets Rob Wilson and Lawson Wade accounted for the other three scores. Wilson caught two balls for 84 yards and two touchdowns, and Wade received one pass for a 48-yard touchdown. Drew Spires also received four passes for 45 yards, and had one carry for 12 yards. Bonds completed four of five passes for one touchdown while running for 19 yards on two carries. The Eagles racked up 361 total yards on offense. The one-sided contest also provided valuable playing time for back up players.
"It was a good win for us," said Richard Winn Head Coach Paul Brigman. "I was especially proud of our back up guys who played well."
Richard Winn's defense devastated Newberry's attempts at offensive production, forcing three turnovers, including two interceptions by Wade that would lead to two Richard Winn touchdowns. Newberry quarterback Jackson Montgomery failed to complete a pass in the first half, but started to show signs of life on Newberry's final drive before halftime.
After defensive end JT Wilkes stopped Montgomery for loss on third down, Montgomery converted on 4th down with a 16-yard run to the Richard Winn 24 yard line. A handoff to Newberry running back Thomas McLean netted just one yard before Wade tackled Montgomery for a loss of three. Montgomery failed to complete the next two passes and the Eagles regained control with 13 seconds remaining in the half.
Montgomery completed a 34-yard pass late in the second half to Jackson Wilbanks before scoring Newberry's only touchdown on a six yard run just two plays later. Montgomery converted the PAT for two points, fighting his way across the goal line. Richard Winn's defense limited Newberry to just 163 offensive yards. 16 Eagle defenders recorded tackles in the game, commanded by Connor Little with eight tackles and one tackle for loss; JT Wilkes with five tackles; Travis Bonds, Charlie Bonds, and Campbell Sims with four tackles apiece; and Lawson Wade, Joseph Stillwell, and Drew Spires, each with three tackles.
Richard Winn's game on Friday, September 16, will be their toughest test this season, as they host back-to-back state champions, the Holly Hill Academy Raiders. The Raiders are undefeated in their last two seasons, and have started this season strong, outscoring opponents 98-20. Coach Brigman said, "We are looking forward to the challenge. They have an excellent team and we will have to play mistake free to have a chance to win. I think our boys are excited about the opportunity."
Game time is slated for 7:30pm at Ruff Field in Winnsboro.
Richard Winn – 22-21-0-0 – 43
Newberry Academy – 0-0-0-8 – 8
First Quarter
RWA – Jacob Chaisson 15 run (Tindall kick) – 8:59
RWA – Rob Wilson 54 pass from Landon Caulder (Tindall kick) – 2:35
RWA – Jacob Chaisson 60 run (Landon Caulder run) – 0:23
Second Quarter
RWA – Rob Wilson 30 pass from Landon Caulder (Tindall kick) – 10:28
RWA – Lawson Wade 48 double pass from Charlie Bonds/Landon Caulder (Tindall kick) – 8:43
RWA – Jacob Chaisson 33 run (Tindall kick) – 5:47
Fourth Quarter
NA – Jackson Montgomery 6 run (Jackson Montgomery run) – 3:44