WINNSBORO – The Town of Winnsboro has tapped Fairfield County Sheriff's Deputy Kevin Lawrence as Interim Chief of the Winnsboro Department of Public Safety.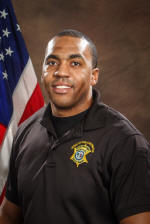 John Seibles resigned last week after serving the town for five years as WDPS Chief.
Lawrence will be sworn in on Friday, Sept. 2.
"We welcome Kevin to the Town and look forward to working with him," said Town Manager Jason Taylor. "He comes highly recommended and I feel his background in law enforcement makes him well prepared to take on the challenges of some of the crime issues our Town is facing right now."
Lawrence most recently worked as an investigator with the Fairfield County Sheriff's Department for the last two years. Prior to that, he served as a deputy with the Aiken, SC Sheriff's Department where he began his law enforcement career years earlier.
Before returning to Aiken, Lawrence worked for 12 years as a deputy with the Richland County Sheriff's Department in Columbia, and, from 2016 to 2018, had a role on the popular cop show, LIVE PD.
After two years on the show, he stepped down in 2018 to serve in the department's criminal investigation division.