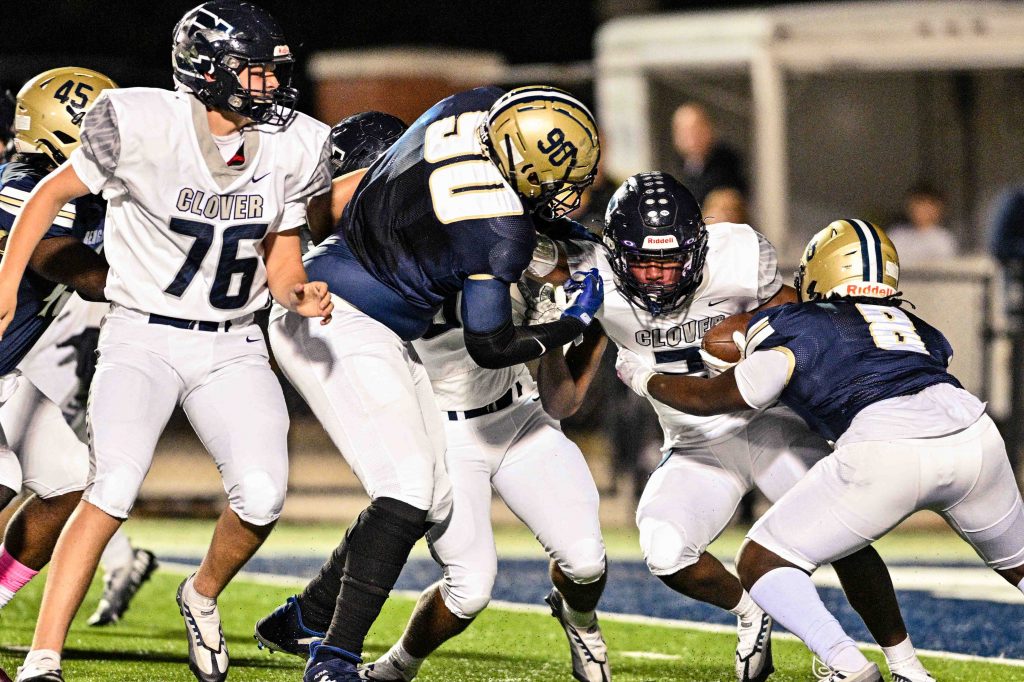 BLYTHEWOOD – The Blythewood football team may have jumped to an early 14-0 lead on Clover Friday night, but the Blue Eagles worked throughout the second and third quarters to even the score.
Jaylon Hoover threw a touchdown pass to Hunter Jaime just short of halftime, and in the third quarter Cooper Zohner picked off a Harrison Collins pass that set Clover up at the Blythewood 30-yard line.
The Blue Eagles came within three yards of tying the game at 14. Instead, the Blythewood defense rose up and stopped Clover cold with a pass-breakup at the goal line.
Two plays later, Collins made up for his gaffe with a school-record 96-yard touchdown pass to Deon Tyler.
The Bengals defense continued to pester Clover, while the offense worked at draining the clock to ensure a 21-7 victory that brings Blythewood one game closer to clinching the Region 3-5A championship.
"That just changed the momentum," Blythewood head coach Jason Seidel said of the pivotal play. "To me, the play of the game was being pinned and I said 'guys, I'm taking a shot.' It could've backfired, but it didn't. It took the lights out of the stadium. That was it. It was over after that."
Blythewood's offense, slow-moving against Clover's defensive front, could be condensed to three big plays—two Collins touchdown passes to Tyler and one to tight end Anthony Thurman.
"I've got to credit our offensive line because that's one of the best defensive teams that we've seen on film over the last couple of years," Seidel said. "Credit the O-line with Deandre eating the yardage here and there, and we said that we wanted to take 8-10 shots with Deon tonight and a couple of them paid off."
Tyler finished with two catches, both TDs, and 122 receiving yards. Deandre Williams, the leading rusher on the night, had 76 yards on 18 carries.
Blythewood (6-2, 3-0) jumped to a 14-0 lead by the 5:49 mark of the first quarter.
Collins found Tyler for a 31-yard touchdown pass just three minutes into the game.
On the second score, Blythewood faced a third-and-12 at the Clover 44-yard line. Collins threw a dart to Thurman on the right sideline just beyond the first down marker. Thurman broke free from two Clover tacklers and rumbled the remaining distance to complete a 44-yard TD pass play.
The Bengals offense went silent from there, but the defense continued to stick to Clover (4-4, 2-1). On the Eagles' one big break, a personal foul with under four minutes to go in the first half gave them a first down at the Blythewood 30-yard line. A 19-yard Elijah Farmer run set up Hoover's 11-yard touchdown pass to Hunter Jaime with 3:11 left before intermission.
Jaime's touchdown reception was the first score against the Bengals in three region games.
Midway through third quarter with Blythewood leading 14-7, the Clover defense created an opportunity to even the score.
Blue Eagles defender Cooper Zohner caught a Collins pass around the Clover 45 and returned it 25 yards.
Clover's short drive from the Bengals 30 down to the 3-yard line gave the Blue Eagles a solid chance to shift the momentum. But on fourth and goal Blythewood broke up a Hoover pass at the goal line, putting the Bengal's offense at the 3-yard line.
"I knew it was going to be a defensive battle," Clover head coach Brian Lane said. "We had a chance down there to tie it coming out of the second half, but we didn't execute. That's what it comes down to, you've got to execute in big moments and we didn't."
Blythewood executed instead.
On second-and-9 at the 4-yard line, Collins hit Deon Tyler in stride on the left sideline around the Blythewood 30. Tyler burned past Blue Eagles' defenders to complete the longest passing play in school history, a 96-yarder that put the Bengals up 21-7 with 2:44 left in the third.
The defense held the Blue Eagles to 45 net rushing yards on 36 attempts, and 43 passing yards with Hoover going 5-for-18. In addition, the Bengals forced Clover to punt seven times in the first half and nine for the game.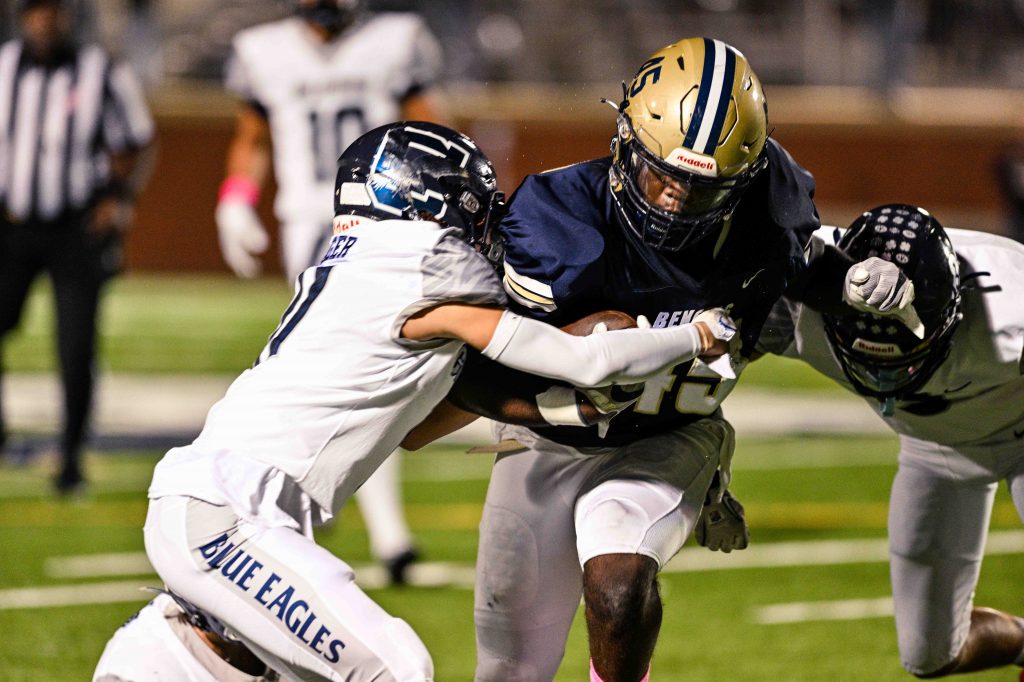 Blythewood also got up close and personal with Hoover, sacking him five times. Defensive lineman Edward Robinson, who has close to 20 sacks on the season, had three. Teammate Sterling Sanders had 1/ ½ sacks.
On the other hand, the Clover defense kept Collins off balance outside of his three TD pass plays and sacked him three times. Blythewood finished the night with 191 passing yards off of just five completions. Collins was 5-for-14 with an interception.
"They do a great job. They play hard, they play well," Lane said of the Blue Eagles' defense. "I'm proud of those guys with the way they play.
"(But) we couldn't get anything going, and that's what you need to do," he added. "You've got to play championship ball when it's championship time."
Blythewood finishes region play at Rock Hill (2-6, 1-2) Friday, followed by a home game against Spring Valley (4-4, 2-1) Oct. 28.
"We know we're not done," Seidel said. "That's the biggest thing we told them, celebrate tonight but we've got two more games."
Clover is at Fort Mill (0-8, 0-3) Friday and home against Rock Hill Oct. 28.
Clover – 0-7-0-0 — 7
Blythewood – 14-0-7-0 — 21
First Quarter
B – Deon Tyler 31 pass from Harrison Collins (Ryan Hart kick) 8:55
B – Anthony Thurman 44 pass from Collins (Hart kick) 5:49
Second Quarter
C –Hunter Jaime 11 pass from Jaylon Hoover (Haven Maddox kick) 3:11
Third Quarter
B – Tyler 96-yard pass from Collins (Hart kick) 2:44
CHS BHS
First Downs 8 12
Rushes-yards 36-45 38-83
Passing yards 43 191
Att-Com-Int 21-5-0 14-5-1
Fumbles-lost 1-1 2-2
Penalties-yards 6-60 7-53
Punts-avg 9-33.2 7-28.6
RUSHING: C – Demarco Evans 8-24, Landon Stone 9-15, Jaylon Hoover 8-(-31), Elijah Farmer 11-37. B – Deandre Williams 18-76, Harrison Collins 11-1, Bryant Owens 4-(-2), Anthony Thurman 2-4, Team 2-(-4), Ryan Hart 1-8.
PASSING : C – Jaylon Hoover 5-21-0. B – Harrison Collins 5-14-1.
RECEIVING: C – River Joye 2-19, Hunter Jaime 1-11, Dion Brown 1-11, Ron Johnson 1-1. B – Anthony Thurman 3-64, Deon Tyler 2-127.