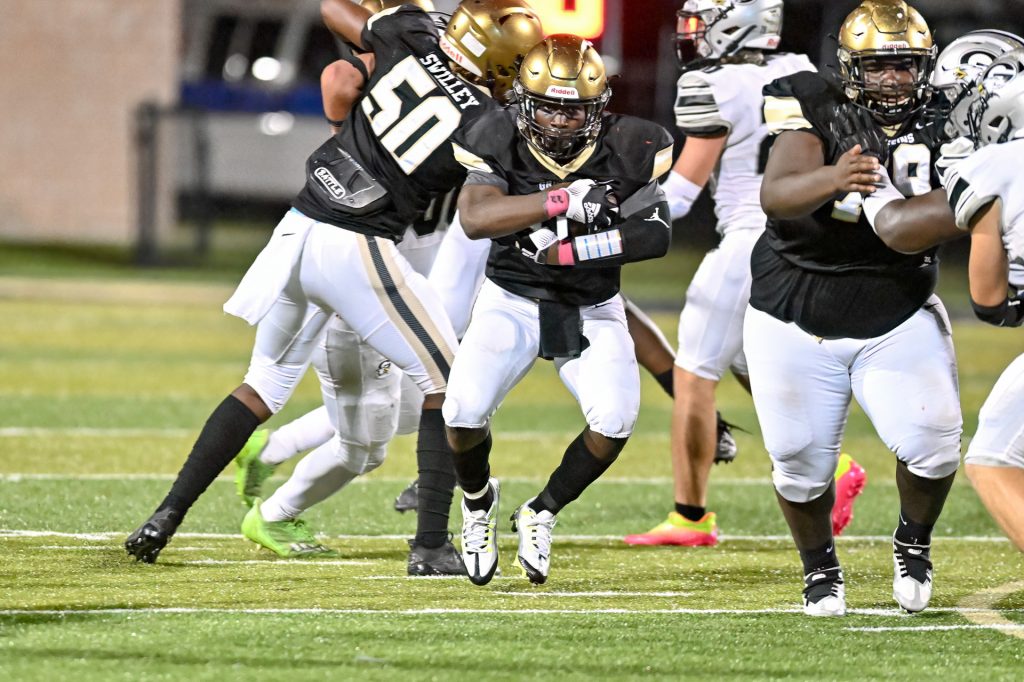 WINNSBORO – Fairfield Central gave Gray Collegiate a cause for concern in the second quarter of their game Friday night, but the War Eagles defense played well enough to overcome the offensive miscues.
The Griffins scored 14 points on a blocked punt and after a muffed kickoff, but Gray never gave up the lead and finished with a 27-14 Region 4-2A victory at E.K. McLendon Stadium.
Caleb Ford lifted the Gray Collegiate offense with 133 yards and two touchdowns on 24 carries. Devin Johnson had 59 yards and a score on 12 carries. Quarterback Riley Staton threw for 124 yards and a TD on 12-of-15 passing, with one interception.
The offense relied on steady running that drained the clock, especially in a near-scoreless second half.
The War Eagles defense won the night though, holding the Griffins to minus-seven rushing yards and 10 first downs. Gray Collegiate gave up just two chunk plays, a pair of long Cameron McMillon passes to Jai Boyd; one for a touchdown, another that eventually set up the blocked-punt touchdown.
"We've been doing a lot of good things offensively, but man the defense played great tonight," Gray Collegiate head coach Adam Holmes said. "Those two (Fairfield Central) scores, one was a blocked punt, the second one we threw an interception and gave up a short field. For the defense to come out and shut down their offense, I think they averaged close to 40 points a game, they did a great job."
First-place Gray Collegiate (5-3, 4-0) is in the driver's seat in the region standings with the win.
Fairfield Central (4-3, 2-1) is now in a three-way tie with Keenan and Newberry for second place with three games left on the schedule. Newberry (2-5, 2-1) beat Mid Carolina 42-14 and Keenan (4-3, 2-1) beat Columbia 50-6 Friday.
For now the Griffins are more concerned about shaking off a tough loss and growing as a young team.
"They're a good football team, we just didn't make the plays we needed to make," Griffins head coach Demetrius Davis said. "We made some great plays, Jai Boyd, Donovan Watkins before he got hurt, but when you're in a game like this, you've got to finish, and we just couldn't finish."
Gray Collegiate's running attack dominated the first quarter, with two long drives filled with Ford and Jonnson runs, capped with each running back scoring a touchdown to go up 15-0.
Early in the second quarter Staton found a wide-open Savion Smith camping out in the end zone and dropped a pass his way to make it 21-0 at the 10:22 mark.
Fairfield Central turned it around shortly afterward.
McMillion hit Boyd for a 52-yard completion on a second-and-long play on the next possession. The Griffins didn't score on that drive, which expired on the Gray Collegiate 13-yard line, but when the War Eagles went 3-and-out they blocked a punt and defender Jarian Yarborough fell on the ball in the back of the end zone.
That play accounted for Fairfield Central's first score of the game, at the 4:28 mark of the second quarter.
The Griffins recovered the ball on the kickoff. Two plays later McMillon found Boyd in the end zone for a 36-yard touchdown pass at the 4:07 mark.
Just three Gray Collegiate plays later, Chris Jackson intercepted a Staton pass and returned it to the War Eagles' 30-yard line.
McMillon moved Fairfield Central inside the 20-yard line, but after trying to get the ball into the end zone before the half, the Griffins turned the ball over on downs.
Gray Collegiate ran the clock out with a 21-14 lead at intermission.
The Miles College (Ala.) Purple Marching Machine, in town for the Bears' SIAC game at 5-0 Benedict Saturday, marched onto the field at halftime and delivered a sensational, brass-heavy performance.
The Griffins received the second-half kickoff, but on the first play from scrimmage a Gray Collegiate defender tipped a McMillon pass and Rylan Cunningham caught it to give the ball right back to Gray Collegiate.
"We didn't score on the fourth down (at the end of the second quarter, and that hurt us," Davis said. "That turnover on the first play of the third quarter is probably the worst thing we could've done. We never ourselves the chance to make the most of our momentum."
The War Eagles marched 46 yards on seven plays to set up Ford's second 1-yard touchdown run of the evening to put Gray Collegiate up 27-14 with 8:52 left in the third.
"I've always talked about the first eight minutes of the second half being really big," Holmes said. "We get the ball back on the first play, get back momentum, we made some adjustments to run the ball on the boundary and we had some success there, and we got up by two scores."
From that point forward, the War Eagles' offense drained clock on two long possessions, and the defense forced Fairfield Central to punt twice and turn the ball over on downs in the Griffins' final possession.
"We're playing with a 14-year-old quarterback, man," Davis said of McMillon, who has great big-play potential as seen with two long passes to Boyd, but was off target on several other clutch throws in the game. "We're going to have to take the good with the bad. We're going to have to grow. We're going to have to grow and just keep working."
The War Eagles travel to Newberry Friday and finish the regular season with a home game against Keenan Oct. 21.
Fairfield Central heads to Columbia Friday, then plays host to Eau Claire Oct. 21 and Newberry Oct. 28 to close out its regular season.
Gray Collegiate – 15-6-6-0 — 27
Fairfield Central – 0-14-0-0 — 14
First Quarter
G – Devin Johnson 1 run (Caleb Ford run) 6:47
G – Ford 1 run (Junior Gonzalez Hernandez kick) 1:02
Second Quarter
G – Savion Smith 41pass from Riley Staton (kick failed) 10:22
F – Jalian Yarborough blocked punt recovery in end zone (Hezekiah Childers kick) 4:28
F – Jai Boyd 36 pass from Cameron McMillon (Childers kick) 4:07
Third Quarter
G – Ford 1 run (kick failed) 8:52
GCA FC
First Downs 16 10
Rushes-yards 39-204 11-(-7)
Passing yards 124 186
Att-Com-Int 15-12-1 34-14-1
Fumbles-lost 0-0 0-0
Penalties-yards 12-140 5-32
Punts-avg 1-43.0 4-31.5
RUSHING
G – Caleb Ford 24-133, Devin Johnson 12-59, Riley Staton 1-2, Jamarious Lockett 1-8, team 1-2. F –Kensley Copeland 6-8, TyDarian Grier 1-(-1), Steven Gadsden 1-1, Cameron McMillon 3-(-15).
PASSING
G – Riley Staton 12-15-1-124. F – Cameron McMillon 14-34-1-186.
RECEIVING
G – Devin Johnson 4-38, Zai Offord 3-2, Zion Job 2-20, Savion Smith 2-59, Dre'Von Dopson 1-11. F – TyDarian Grier 6-57, Jai Boyd 3-95, Donovan Watkins 3-27, Roger Burns 1-8, Kensley Copeland 1-(-1).