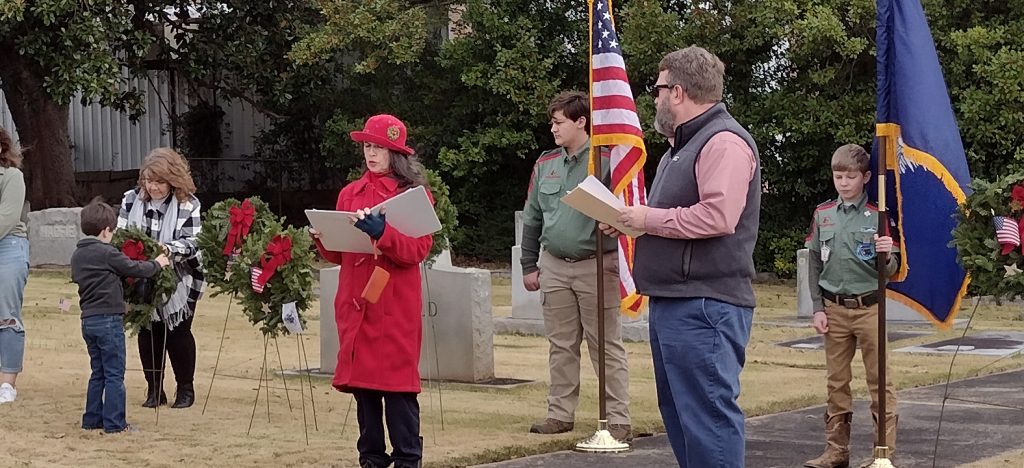 WINNSBORO – It was a chilly day, but participants arrived with warm hearts, ready to pay tribute to the veterans buried in the Bethel ARP cemetery.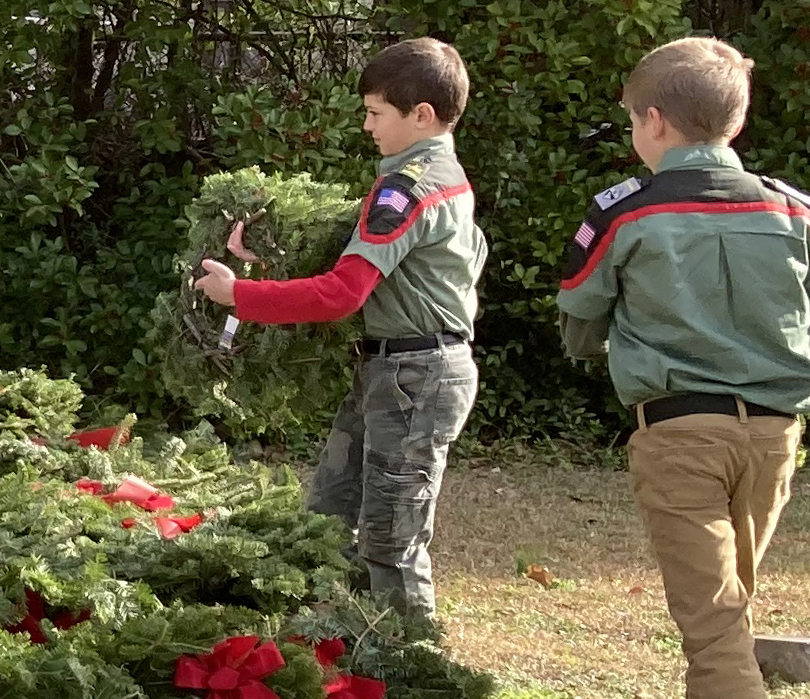 As part of the Wreaths Across America program, friends and family members of Fairfield County veterans laid wreaths at all veteran's graves in the Bethel ARP Cemetery in Winnsboro on Saturday during Fairfield's second annual wreath-laying ceremony.
Wreaths were placed at the graves of veterans of the American Revolution through the Vietnam War.
The mission of Wreaths Across America is to "Remember, Honor, and Teach," said the event's coordinator Penny Renwick.
Renwick placed special emphasis on the "teach" portion of the mission this year by including children, grandchildren, and great-grandchildren of veterans, and members of Trail Life Troop 1858 in all aspects of the ceremony.
"Not only is it important for adults to remember and honor those who have served, but it is essential that we teach the next generation the importance of the service and the sacrifice our veterans have made," she said.
Renwick emphasized that the next generation must know that freedom is not free, that it came with a price.
"That price," she said, "is the sacrifice of the men and women who have served in our armed forces. We must also support those who are currently wearing the uniform and who are ready to make the supreme sacrifice, if necessary, so that we may continue to enjoy the freedoms we so often take for granted.
"Laying a wreath remembering and honoring those who have served is a simple way to keep that in the forefront of our minds," she said.
"It was an honor and a blessing to lay wreaths on the graves of our great nation's heroes since 1776," said Oliver Johnson, Jr., who has attended both years of the wreath-laying ceremony in Winnsboro.
Daniel Timms stated that his children were excited that they could hold the flag, place a ceremonial wreath on a grave, and hand out the wreaths for other participants to place on graves.
"The respect and seriousness with which the children accepted the small part they were given in the ceremony was so moving," Renwick said.