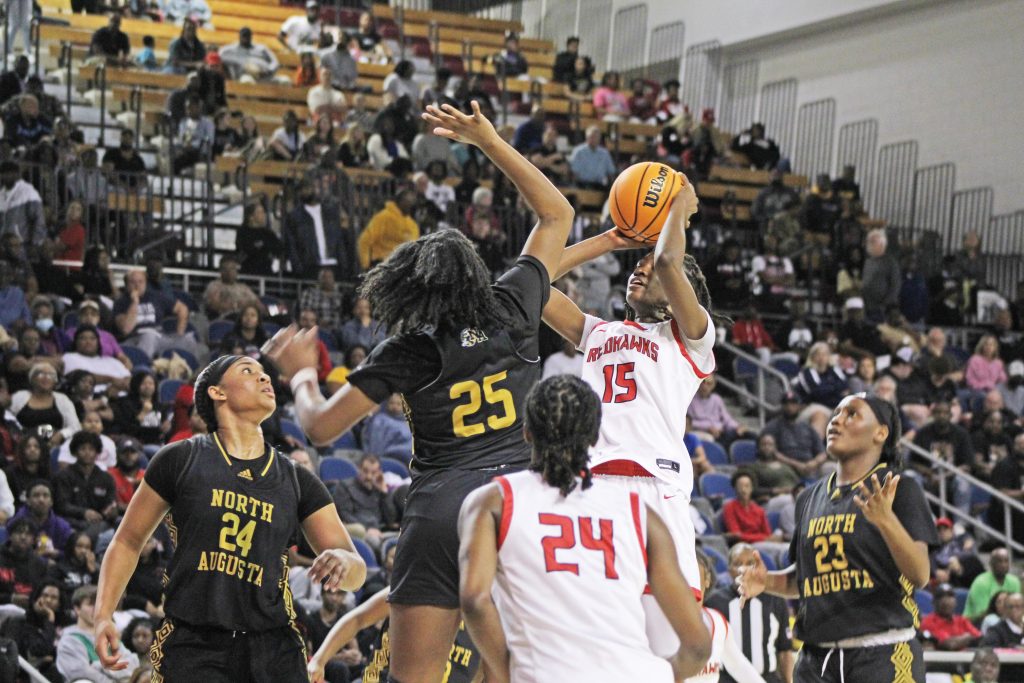 AIKEN – In a battle between two top-notch defenses, North Augusta's 12-point third-quarter run proved the difference in the Yellow Jackets' 42-29 victory in the Class 4A girls state championship game Thursday afternoon at USC-Aiken's Convocation Center.
Westwood, making its first state championship appearance and playing for the chance of winning the first state title in a team sport in the history of the school, fell one game short. Bauldrick said that falling short should not diminish what the team had accomplished this season.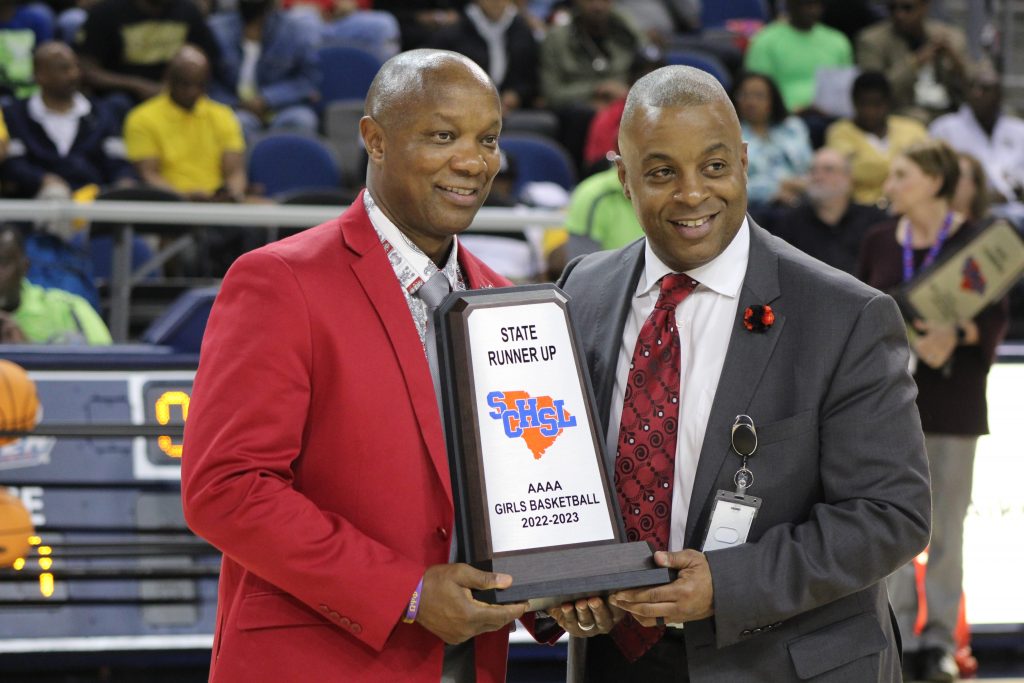 "We're proud of these young ladies in all that they've accomplished," Bauldrick said. "We fell a little short tonight, but it's been an amazing season, an amazing journey. Regardless of the scoreboard, there are 15 winners there, 15 champions. Tonight was just not our night."
The Yellow Jackets (26-2) played in their sixth state championship appearance in the last seven years, won their fifth state title. They won four straight state crowns from 2017-2020.
"It's an awesome feeling, and I'm just so proud of our kids," North Augusta head coach Al Young said. "We had a new group that stepped up this year and refused to be defeated, they came back and got things done."
North Augusta reached the state final by rallying from a 5-point halftime deficit against Wade Hampton to win 58-50.
North Augusta got on the scoreboard first on a quick basket from Jadah O'Bryant, but Westwood (26-5) settled into its usual early game stride of stout defense and getting open looks from the 3-point line. Makiah Thompson and Jessica Woods rang up 3s to help the Redhawks to an 8-2 lead, and closed out the first half leading the Yellow Jackets 13-8.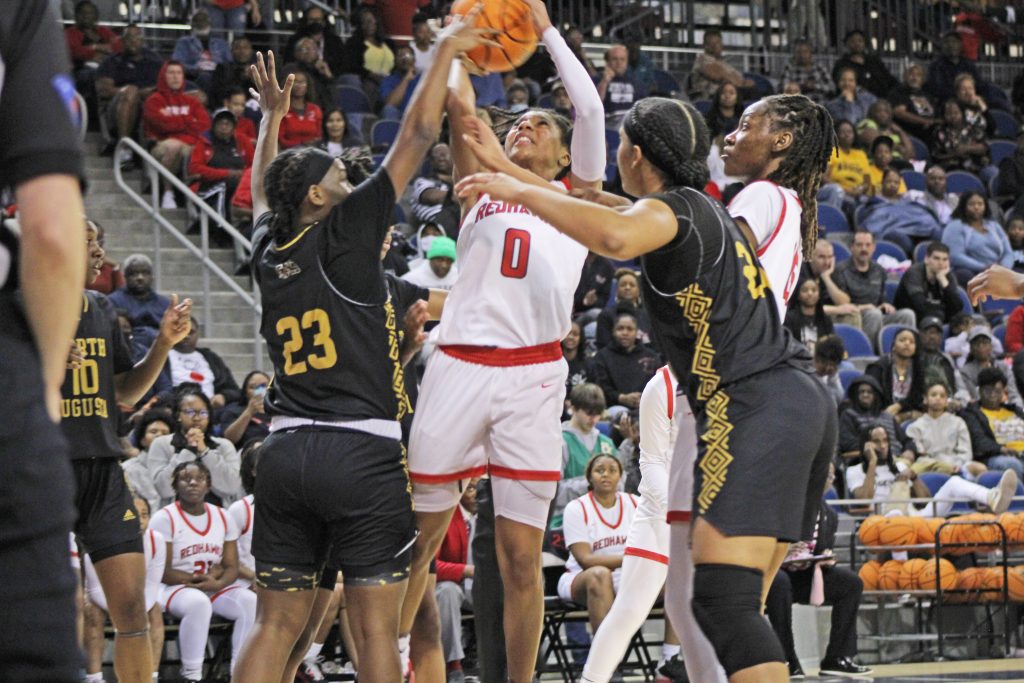 "Coming into the game, I didn't think their press would be a problem," Young said. "I guess our nerves were on edge."
Not long into the second quarter though, the Yellow Jackets settled in on a court just a quick drive from their home court at North Augusta. Celena Grant and P'eris Smith began disrupting the lane in earnest, and Westwood's offense fell apart. In a second-quarter flurry of turnovers, missed shots and fouls, the Redhawks managed just one point, a free throw from Woods at the 5:53 mark. While North Augusta continued to struggle with its field goals, Westwood picked up just one point–from Woods at the 5:53 mark of the second.
While North Augusta shut down the Redhawks for the final five minutes of the half, the Yellow Jackets couldn't put together a sustained offensive attack. Down 14-10, North Augusta managed a free throw from Ansley Gartrell and a basket from Ashley Walker to go into the locker room trailing the Redhawks 14-13.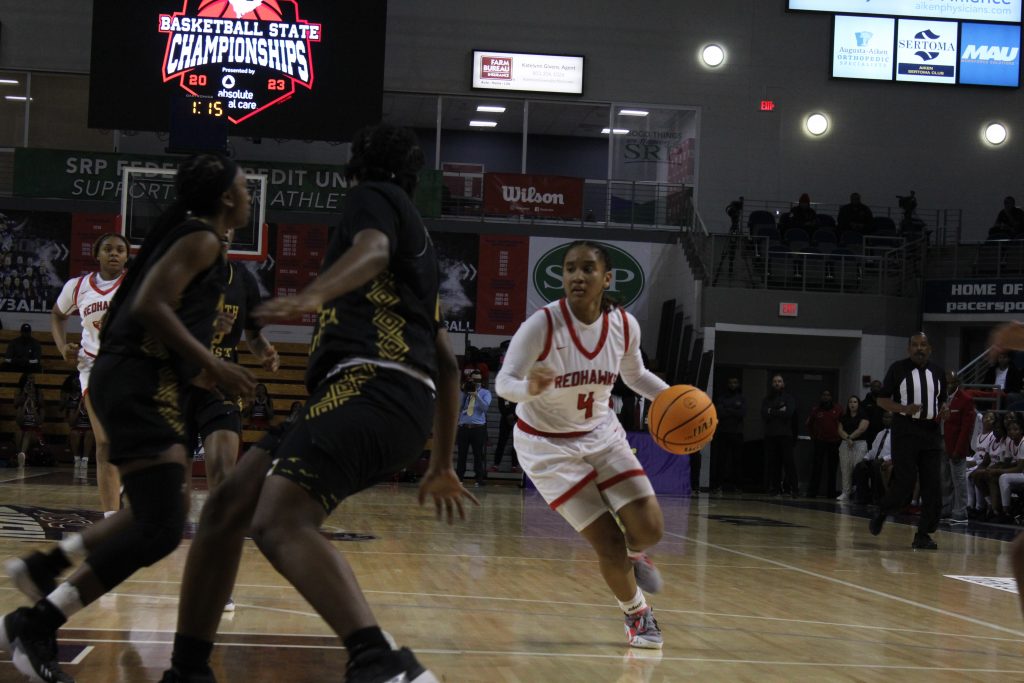 "I just think we were a little nervous," Young said. "We talked to them about settling down and doing the things we knew we could do, and they came back and played well."
The Yellow Jackets cashed in as the third quarter played out. After Destiny Omeire's field goal opened the second-half scoring, North Augusta hit on a 12-2 scoring run that featured two foul shots from Grant, a go-ahead basket from Smith at the 6:03 mark, 3-pointers from Gartrell and Grant, and a Smith putback.
That run gave North Augusta a 25-18 lead and the Yellow Jackets didn't need to look back. They finished the third quarter holding a 33-20 lead.
"That was the separator that we couldn't recover from," Redhawks head coach Gregory Bauldrick said. "We talk about it every game, the first four minutes of the third quarter is always critical. We want to be the team that gets off to the fast start based on adjustments and kind of get them uncomfortable. But it was reversed this time, and we couldn't recover."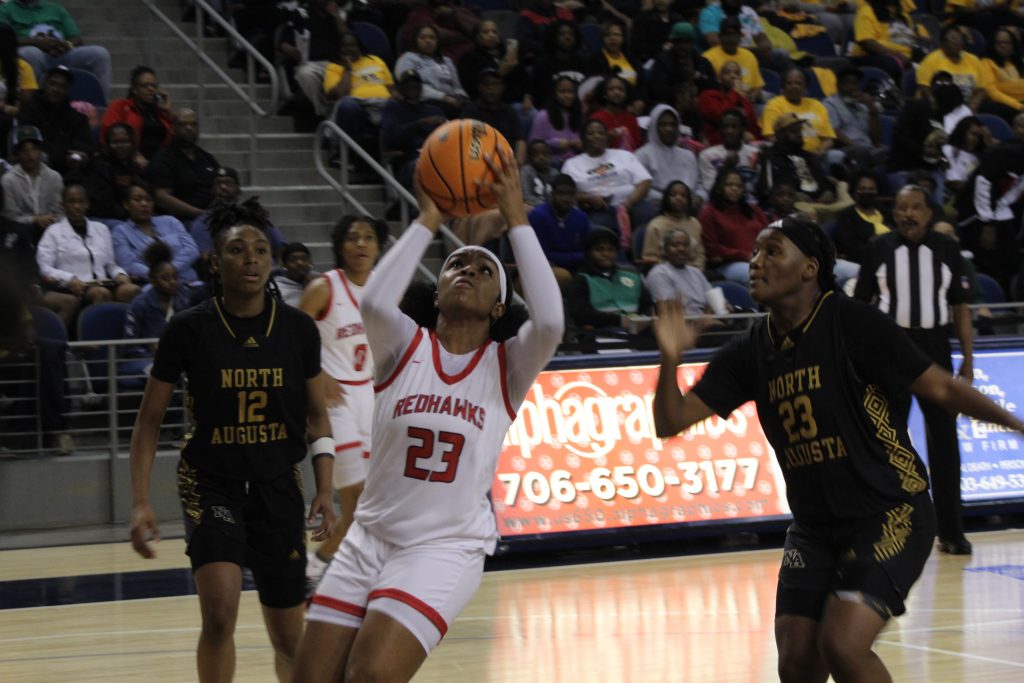 While Westwood tried to rally in the fourth quarter, Smith, Gartrell, and Grant always seemed to be one step ahead. A Grant putback with 2:12 left gave North Augusta its 42-29 lead and the Yellow Jackets played keep away with the Redhawks over the final two minutes.
"We always talk about being able to finish, being able to outlast other people," Young said. "That's our mindset. We just believe that because of our conditioning and things that we do in practice, we can always overcome, or at least we'll always have a chance."
Smith finished the night leading all scorers with just 13 points on the night. Grant had nine points and 12 rebounds, and Gartrell had nine points.
Woods, the Region 4A player of the year who signed to play for Campbell, led the Redhawks with 10 points. Raven Johnson had nine points and 11 rebounds.
North Augusta – 8-5-20-9 — 42
Westwood – 13-1-6-9 — 29
North Augusta – P'eris Smith 13, Gartrell 9, Grant 9, O'Bryant 5, Wright 4, Walker 2.
Westwood – Jessica Woods 10, Johnson 9, Daniels 5, Thompson 3, Omeire 2.