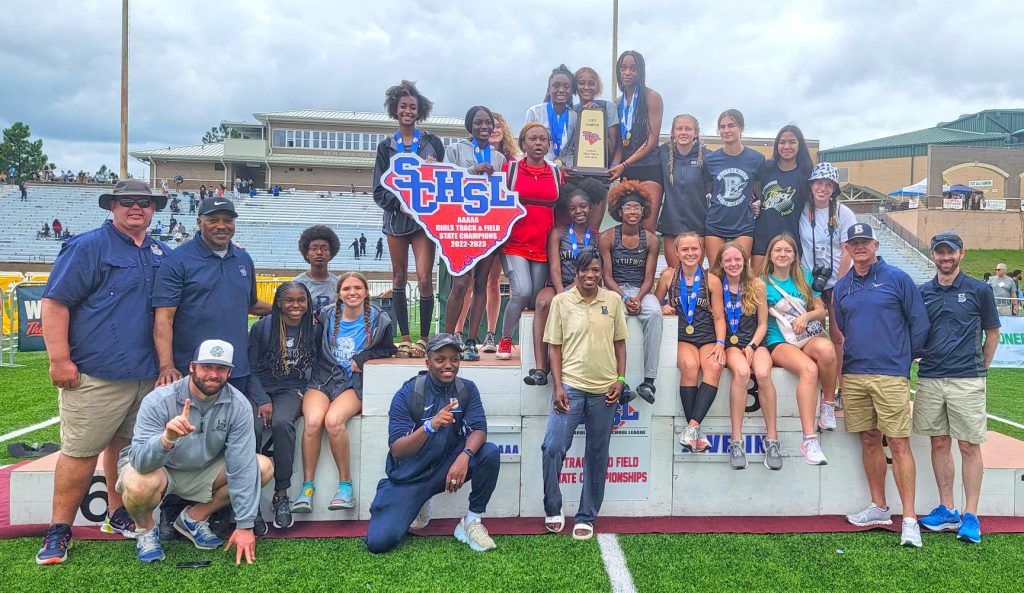 HOPKINS – One day after the Westwood girls track and field team came home with their 4A state championship, the Blythewood girls track and field team dominated the 5A meet at Spring Valley's Harry Parone Stadium and claimed their first state championship as well.
The Bengals totaled 93 points on the afternoon dash 33 points better than Wando's 60 points and third place Byrnes' 49.
"I knew that we would come out here and have a strong performance," head coach Alicia Taylor said. "I told them to trust in their training and they did everything that they were capable of."
Senior sprinter Ariana Williams let the way for Blythewood, winning gold in the 200-meter dash (24.33 seconds) and the 400 meter dash (54.65). Williams also took gold in the 4×100, running with teammates Hailey Duncan, Ashlynn Scott, and Zion Harvey and finishing with a time of 47.03.
Wiliams finished the afternoon with the girls 4×400 team that also included Madison Ross, Olivia Taylor, and Aminah Rhone. They closed out the meet with a silver-winning time of 3:51.85.
"This is my last high school meet and I wanted to do what I've been training for all season," Williams said. "I went through some hardships but it was important to get through them."
Blythewood got a gold-medal performance from the 4×800 relay team of Hayley Hightower, Mallorie Hogue, Kaitlynn McFadden, Anna Kelly, Peyton Hightower, and Eva Pendleton. Four of those runners finished with the time of 9:23.06.
"With the 800 team, we've come a long way with them and to have a freshman and sophomore back for the next two to three years that's really good," Taylor said. "They were really close to breaking the state record."
The Bengals' depth helped in capturing the championship. Duncan took second in the 100 meter dash with a time of 11.97. She took third in the 200 dash with a time of 24.77.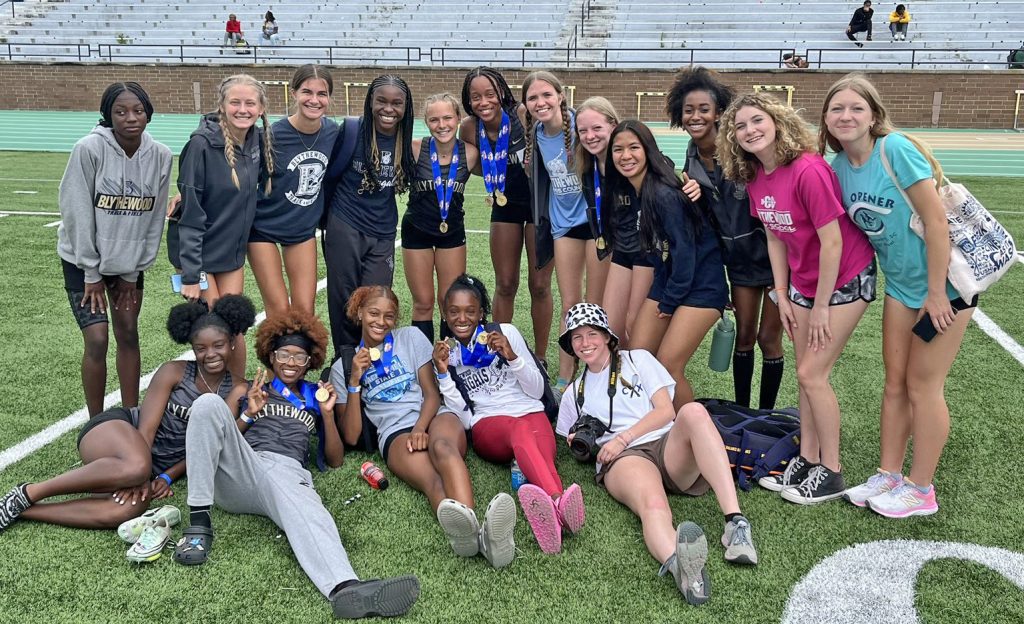 Backing up Williams' gold performance in the 400-meter run, Olivia Taylor took fourth in the event with a time of 57.42.
A freshman basketball standout, Hayley Hightower took fourth in the 800-meter run with a time of 2:17.38. Rhone took fourth in the 400 hurdles with a time of 1:04.39.
The team came together after placing second in last year's meet, Taylor said.
"We were motivated," Taylor said. "We were like, 'there's no way we should've lost last season.' They came back after that night and they said 'look we have no choice but to win a championship.'"
Blythewood girls track loses four seniors, Williams, Duncan, Young, and Scott. Williams is Iowa Commit. Duncan is a Coastal Carolina Commit, Young a Claflin commit, and Scott a Francis Marion commit.