BLYTHEWOOD – The Blythewood Town Council approved the rezoning Monday night of a 290-acre parcel from D-1 zoning to Light Industrial zoning (LI2). The parcel is slated to become a rail yard as part of the Scout Motors plant adjacent to the Ashley Oaks subdivision.
With the 3-2 approval on second reading, the project has cleared its zoning hurdles and will next come before the town for site plan approval at an upcoming meeting of the Blythewood Planning Commission.
The two members of council who live in Ashley Oaks split their votes on the rezoning.
Mayor Bryan Franklin, an Ashley Oaks resident, waived his turn to vote until all the other councilmen had voted. After Councilmen Eddie Baughman, McKenrick (the other Ashley Oaks resident) and Donald Brock secured a majority 'yes' vote for the rezoning, Franklin, who is up for re-election in November, voted against the rezoning to the applause of his neighbors.
"I think this is moving too fast right now," said Franklin, who welcomed Scout to Blythewood from the steps of the state capital in March. "Not 'no' to the whole project, but 'no' until you get your answers."
Council is not currently slated for any further votes on the Scout property at this time.
Councilman Sloan Griffin, consistent with his first vote in expressing empathy for the Ashley Oaks residents' plight, also voted against the rezoning.
Meanwhile, a steady stream of residents came to the microphone during public comment to describe how they have suffered for the better part of the last two months from smoke and ash floating through their neighborhood. The smoke is coming from the 1,100 acre site of the future auto plant, which is in the process of being cleared for the project. Residents said the smoke makes it hard to breathe and prevents them from enjoying time outside.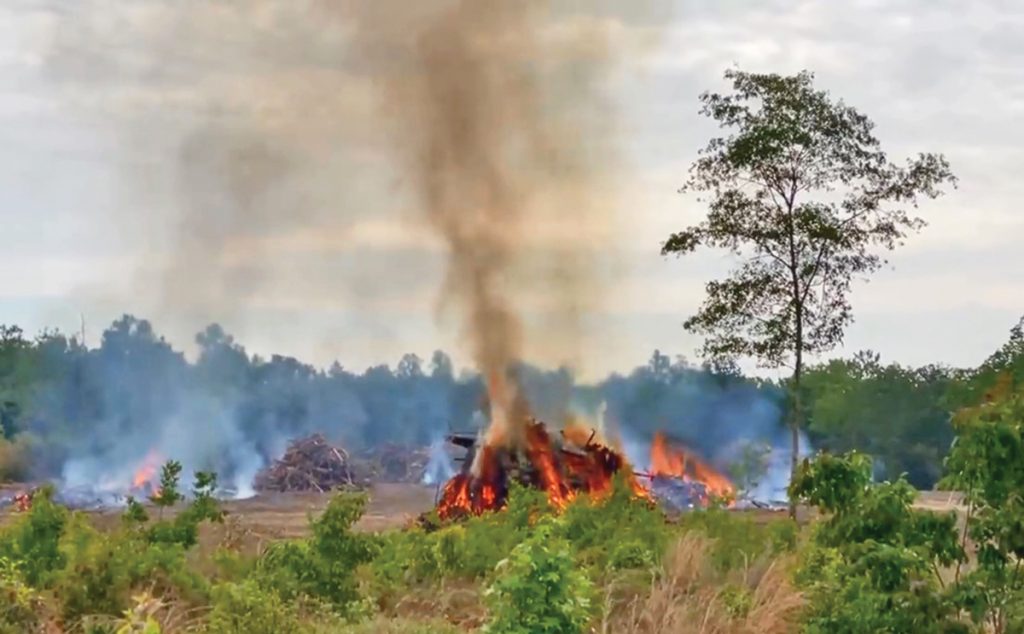 "All of this is nuts," said Bobbi Young, who lives in Ashley Oaks. "I can't even go out in my yard. My car smells like smoke, I smell like smoke, my horses are snorting."
"I have a swimming pool in my backyard that I like to enjoy every now and again, but since the burning and stuff started it's pretty bad out there right now," said Tony Christoferson. "So, I don't know how much time we're going to spend outside this summer with all that going on. I just can't believe there's not a better way to haul this stuff away or do something."
"Stop the burning," said one woman from the back of the room. "Think about the residents. Think about the people. Think about the children."
When residents asked how long the burning would continue, they were told it would potentially last into early fall.
Another Ashley Oaks resident, Gordon Fuller, described the noise being generated by the clearing work as "an awful lot like a tank battalion coming across the ridge into our neighborhood."
Alex Oakes, a longtime Blythewood resident and contractor who says he bid on the subcontract for the clearing project, said the burning is a concern particularly because the general contractor over the project had specified in writing to bidders that it was a no-burn bid.
"Now," Oakes says, "it appears taxpayers are being charged a higher, no-burn price tag for a project that's being done by an out-of-state contractor using a [less expensive] method that includes the continuous burning of material.
During discussion ahead of the re-zoning vote, residents of the Ashley Oaks subdivision expressed not only their frustration over the noise and smoke caused by the land clearing but also worry that noise and other aspects of the plant will impact their property values and quality of life.
"No one moved here for Blythewood to become Detroit," said Keith Bailey, former Blythewood mayor and a resident of the neighborhood, noting that the area does not appear to be suffering from a shortage of jobs.
"We did not come here to go to work. We came here to enjoy those senior years that most of the community is in. Never in a hundred years did I think our elected officials… would put a rail yard 1,000 feet from my house."
Sound Study
A sound study – performed with measurements of existing noise plus computer modeling for future noise impact, and taking into account grading, topography, ground cover, and "worst case scenario" train noise on the site – indicated a noise increase of no more than three decibels in the most impacted locations – significantly less than the federal threshold to consider it a community impact.
"The noise study came out with nothing. [It] says there's no need to do any mitigation. You're meeting all federally regulated requirements," said engineer John Culbreth with Thomas and Hutton Engineering.
"However, in the good faith of the county and some of our conversations with the Town, we thought it best [to go the] extra mile. And that's not a cheap berm: that's 3,000 feet of 5-foot-high-dirt. We decided to put that in…. So, we wanted to provide a little bit of extra protection," Culbreth said.
The berm is expected to cost about $5 million to build. Visually, Culbreth said, the final product will appear like a "grassed wall" or "nice grass hill" to its Ashley Oaks neighbors.
Still, residents expressed worry that they were not given a clear maximum decibel estimate – and asked when representatives of Scout Motors would appear at a town meeting.
Jeff Ruble, director of economic development for Richland County, said they would have their opportunity.
"We have committed – the state and the county – to delivering pads so they can build. Tonight, this is helping the county and the state live up to our commitment to the company," Ruble said.
"After that, the company has to come back with a site plan… right here to Doko Manor, right in front of you guys, and at that point you'll have Scout Motors in front of you. You can ask all those questions."
Before casting his vote, McKenrick stood strong for Scout and lectured the Ashley Oaks residents in the audience who expressed concerns about noise and smoke in their neighborhood. They were also offended that a Thomas and Hutton representative seemingly treated their requests lightly, saying that he would put it on his grocery list.
"You don't like the word 'grocery list?' McKenrick asked, raising his voice and punching his finger toward the audience. "By God, he (Ruble) buys what is on his grocery list. He listens to the people."
McKenrick, defended Ruble, Thomas and Hutton, the Town and county officials. Shaking his finger at the residents repeatedly. He also criticized the residents for not knowing certain information about the development process.
"Why were you so surprised to see the elevation that Richland County so eloquently talked about?" McKenrick asked.
McKenrick told residents that their complaints (about smoke and noise) had zero to do with the vote to rezone the 290 acres for a rail yard.
Resident Chris Harden shot back.
"For the last six years you've been telling us how hard you work on the planning commission and council," Harden said, addressing McKenrick. "What bothers me is that you're not working for us, to protect us from the smoke. When you pass this vote on the 290 acres, we'll be in the rear view mirror. We got smoke. We got noise."
"I don't think we should be ashamed asking our council people to hear us and do something for us instead of just working for everybody else," Harden said to a round of applause from the audience.
At some as yet undetermined time, Scout will come before the planning commission for a site plan review. Town Hall officials said the public will be notified before the meeting.