BLYTHEWOOD – Besides Blythewood and Westwood girls track and field state championship team wins, both Blythewood and Westwood's boys teams had members who took home medals.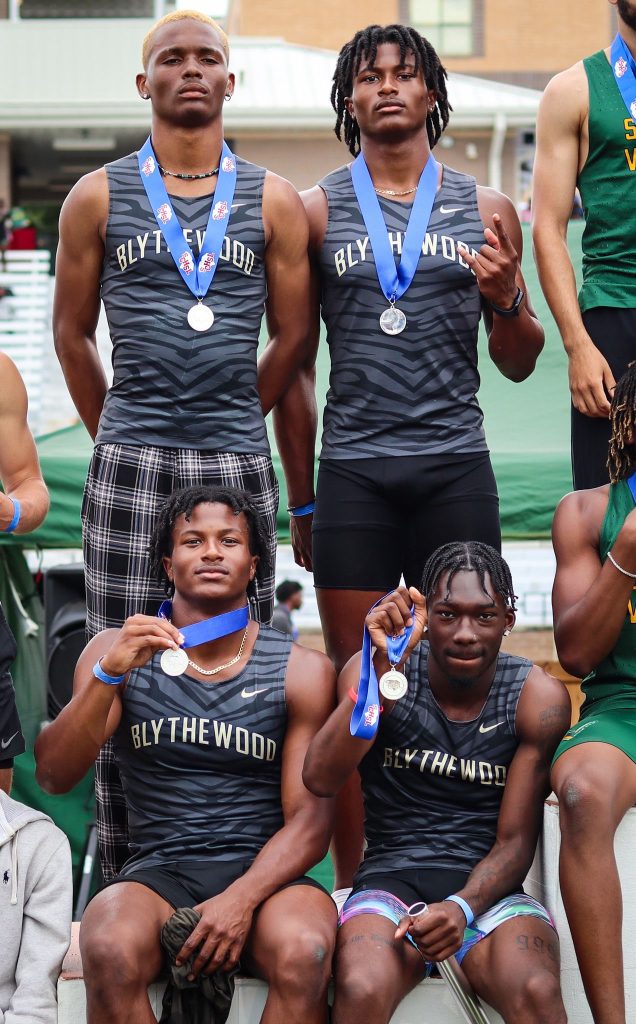 In the 4A state meet, Westwood's 4x100m relay team of Mekhi Britt, Jayd Harrison, Darius Jones and Zion Jones finished in first place with a season best time of 41.84. The 4x400m relay team of Mekhi, Harrison, Corey Putmon and Dominic Young also had a season best finish (3:23.85) for second place.
William Tyndall had the team's only third place finish. Tyndall came in third in the 800m run with a time of 1:59.03, about two seconds over the personal record he set May 13 in the Lower State Championships.
Young placed fifth in the 400m dash at 50.11 and Britt placed fifth in the 200m dash at 22.09.
In 400m hurdles, Christian Banks finished at 59.25 for seventh place. Noah Jennings had a season best mark (20-4) in long jump. He finished tenth. Daelmonte Anderson was right behind him in 11th place at the 20-1 mark. Malachi Whitmore rounded out Westwood competitors. He finished 13th in discus at the 131-2 mark.
The meet followed the May 13 4A Upper State meet, where the Westwood boys finished in fourth place. They finished second in the region behind Ridge View in their May 3 region meet.
Blythewood's 4×400 relay team finished second in the 5A state meet. They clocked a season-best time of 3:19.66.
Chase Johnson finished third in two events – discus (158-1) and shot put (49-9.5). Chase Simmons finished fifth in triple jump at the 45-0.5 mark, and Kaleb Kelly placed fifth in 110m hurdles with a time of 14.74.
The boys 4x100m relay team finished sixth at 42.40 and the 4x800m relay team placed ninth at 8:31.23, a season best time.
Graysen Manning had a season best time in the 800m run for 11th place (2:00.33). Harrison Knight placed 11th in discus at 136-2.
Jacob Powell also had a season-best time. He finished at 4:37.76 for 12th place in the 1600m run. Jacob Gary also had a 12th place finish. Gary ran a 50.50 in the 400m dash. Gary also ran in the 100m dash. He placed 13th with a time of 11.13. Jonathan Harper finished 13th in the 200m dash at 22.64.
The Blythewood boys team finished sixth at the Upper State championships on May 13.