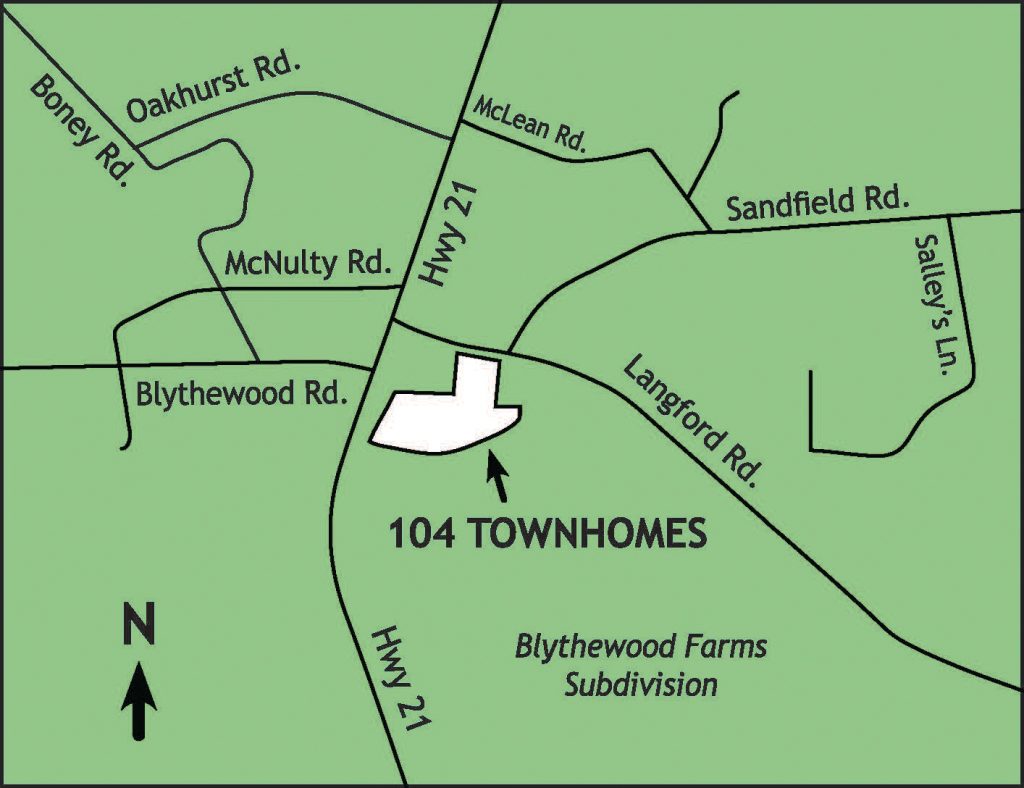 BLYTHEWOOD – The Blythewood Planning Commission voted on Aug 29, to recommend approval of a site plan for 104 townhomes proposed in one of the most traffic congested sections of downtown Blythewood.
The vote passed 3-2 with Marcus Taylor and Erica Page opposing.
Great Southern Homes wants to build the townhomes along with a walking trail at 158 Langford Road, at the northern end of the new Blythewood Farms subdivision with 600+ homes, also developed by Great Southern Homes. The townhomes would sit across from the intersection of Sandfield Road and Langford Road. The entrance to the townhomes will be to the south of that intersection.
Because of its central location, commissioners expressed concerns about traffic impacts.
Malcolm Gordge, chair of the commission, said he had serious concerns about traffic gridlock in the vicinity of Langford Road and Main Street.
"You can sit for 4, 5, 6, 7, 8 light changes before you get a chance to get across that road," Gordge said, referring to that intersection. "I'm concerned we're just aggravating an already serious situation with traffic during peak periods of the day."
Asked whether the traffic study had taken into consideration not only the current traffic congestion, but the future increase in traffic expected when Scout opens, traffic engineer Todd Anderson, who performed the traffic study for The Traffic Group, Inc., said the S.C. Department of Transportation doesn't typically approve road improvements based on anticipated traffic counts.
Suggested improvements at the intersection of Main Street (Hwy 21) and Langford Road include right turns only (from Langford onto Main Street) and street markings for a right turn lane from Main Street onto Langford Road as well as traffic signal adjustments at that intersection.
Anderson noted that an existing traffic study proposes a traffic signal at Langford and Allen Crest Roads (entrance road to Blythewood Farms) when eventually warranted by the level of traffic.
A right turn lane is also proposed for southbound Sandfield Road onto Langford Road, according to planning commission documents.
The indication, however, is that even with the signal adjustments at the Main Street and Langford Road intersection and the right turn lane improvements onto Langford Road from Sandfield Road, the level of traffic on Langford Road would not improve.
Gordge, who initially criticized the traffic congestion in the Langford Road/Main Street areas, ultimately voted to approve the site plan as presented. He was joined in approval of the plan by Commissioners Ed Kesser and Ken Coleman.
Commissioners Jamaal Mosely and Bill Tomes did not attend the meeting.