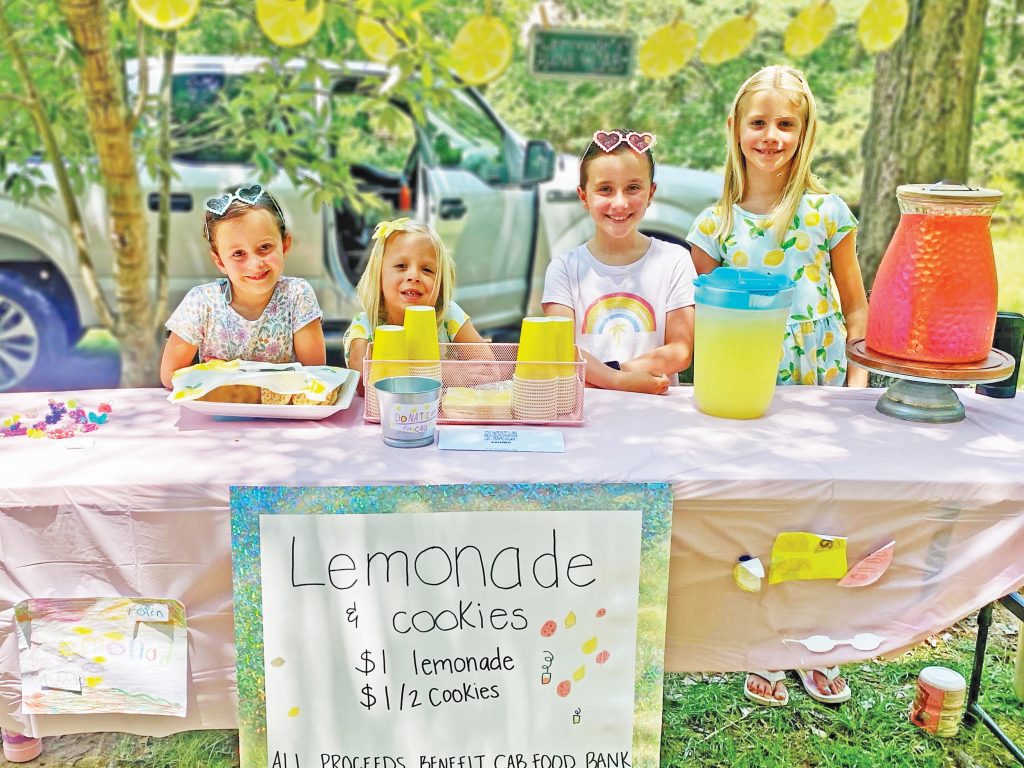 BLYTHEWOOD – Four Blythewood girls and their moms report that their lemonade stand, which they operated on Aug. 6, brought in just over $300 to help CAB (Christian Assistance Bridge), a local food pantry in Blythewood that serves both Blythewood and Fairfield County.
"I'm very grateful for the people that not only lived in the neighborhood but also out in the community who saw the girls' Facebook post and were willing to stop, even if they didn't want to buy anything, just to give the girls money to allow them to experience what it feels like to give back to the people in their community," said Amy Ronine, mom to two of the girls.
"It's a good reminder to them [the girls] that they don't know who they come across who might be at our church or at their school in their classrooms that don't have a pantry full of food, they don't have that security. They learned that being able to provide that for them is a blessing."
Lauren Banish, mom to the other two girls, says it started when the kids expressed interest in having a lemonade stand. When she and Ronine considered it, they saw a good opportunity for a lesson in charity.
Instead of letting the girls hold a lemonade stand for profit, they allowed it as a means to raise money for CAB, which has made several emergency pleas for help from the community this summer as rising grocery prices have driven more people through their doors in need of food assistance.
So, fourth-grader Addy Kate Banish (age 9), second-grader Brooke Ronine (age 7), first-grader Sutton Banish (age 6), and preschooler Natalie Ronine (age 4) put together a plan.
The girls made signs, and their moms posted the information on a Facebook page for their Long Creek neighborhood the Friday before the Sunday afternoon event.
And word got out!
Not only residents of the neighborhood, but also other people the girls know in the community, like their dance teacher, turned out to show their support.
"We each had jobs and we kept on switching," says 9-year-old Addi Kate, of how she and the other girls operated the lemonade stand as customers arrived. "We had yellow and pink lemonade, so one person served yellow lemonade and one person served pink lemonade, and we also had cookies, so people could buy the cookies and also the bracelets."
The rubber band bracelets were the brainchild of 7-year-old Brooke, who says she sold them for $1 – the same price as a cup of lemonade – and reported total sales of $5.
"I was excited for the people to get there," says Brooke, noting that it was a very hot day – a good one for selling lemonade.
Ronine said she's thankful that there were so many people in the community who stopped to show support for the girls' charitable effort.
In the end, they tallied a total of $306 after subtracting approximately $20 spent on cookies and lemonade supplies.
Then, using a list of items most requested by the food pantry this summer, the four girls and their moms went shopping at Aldi.
"We helped with the math," Banish says of the moms. "We talked a lot about choosing not just canned food items like vegetables and things, but choosing some high-protein, good options that were easy to make. So, we bought a lot of peanut butter and some hearty soups and canned chicken and things like that. And we loaded the buggy full."
Because the older girls were in school, they were not able to help deliver the items to the food pantry during its open hours the next day. But Natalie, whose 4K preschool program hadn't started yet, was able to go with the moms to drop off the food.
"The boys came out, and they started to pack up the food onto the [carts]," says 4-year-old Natalie, of what happened when they rolled up – and the load was too much for food pantry workers to carry. "It did good for other people."
Six-year-old Sutton said it feels good to be able to help others – and hopefully start a chain of goodwill that could continue into the future.
"You're helping other people like a friend," she says of what it means to give food to assist hungry members of the community and help them get on their feet. "That way, they can help other people [later]."
The moms say it's an encouraging sign of what can be accomplished when the community comes together to help those in need.
"When we took $300 to the grocery store…we were surprised by how much we could buy," says Banish. "There were several times that we would add up the amount and have to go back for more. Obviously, not everybody has $300 to go shop and donate, but even adding a few items to your buggy every week to donate could really make a huge difference in somebody's life."