BLYTHEWOOD – The game took three days to get in the books, but after Blythewood's 14-0 shutout over arch rival Ridge View Monday night at District Two Stadium, the football season has begun.
Gilbert High transfer Josh Strickland passed for a touchdown and Brandon Edwards rushed for another, while the Bengals defense racked up four sacks on quarterback Andre Washington and limited the Blazers to 12 first downs.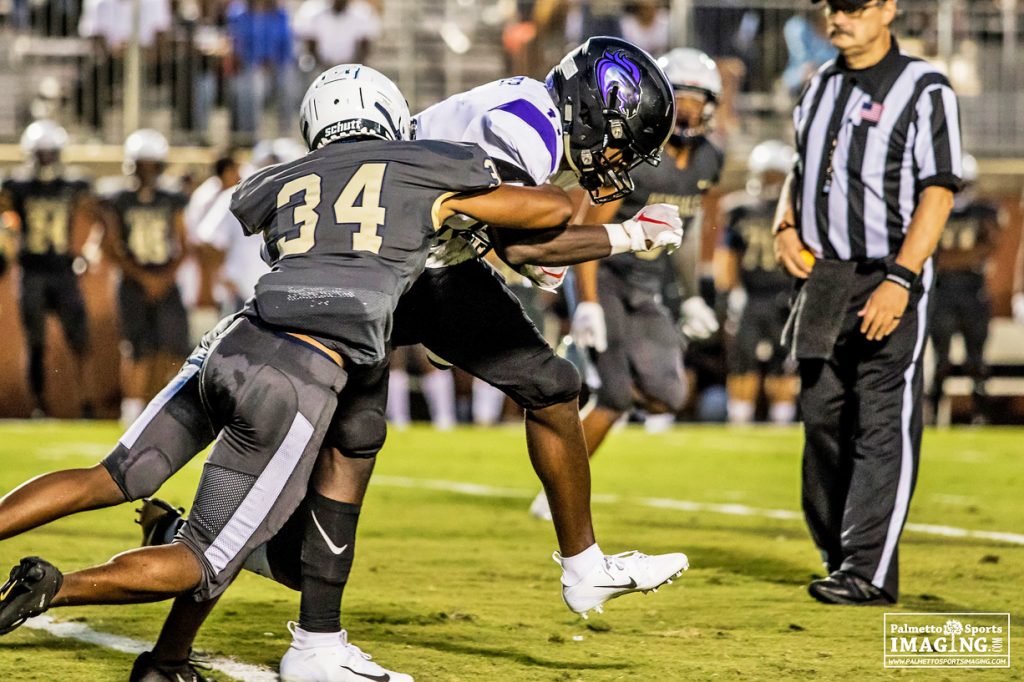 Although the Bengals scores sealed the win, most of the game was bogged down in typical early-season mistakes. Blythewood rushed for 244 yards but was just 2-for-9 in third-down conversions and punted four times.
Ridge View had 10 penalties assessed, some of which killed some early drives. The Blazers had trouble moving the ball, but gave Blythewood all they had on defense.
"We gotta remember how young we are as a team," Blythewood head coach Jason Seidel said. "We did a great job driving it inside the 20, but it's a credit to Ridge View's defense for stepping up, that was a very good defense. I was very impressed with that D-line. The answer to that for us was to run the ball and I felt like as the game got going into the second half we were able to do that.
"What a great game what a great rivalry, what a great defensive game," he added.
The second-year Blythewood coach's recruiting of some Ridge View players in the offseason worked up the rivalry to some extent.
Seidel was disciplined by Richland District Two in May. At issue with Seidel's behavior is not only breaking the District's ethics policy and going behind parents of students regarding contacting players, but also Seidel's effort to cover up evidence of that contact with the students.
The Voice has submitted a Freedom of Information (FOI) request to the District to acquire Seidel's personnel record and accounts of the District's punishment, which are public records.
The South Carolina High School League, which governs public school athletic programs, passed on making a decision because there was no evidence at the time that any student transferred because he was recruited to play for the Bengals.
Seidel did not comment on his case but acknowledged the personalness of the Ridge View-Blythewood matchup to the kids and to the community. He said that a rivalry can get personal no matter how it can be stoked, and it's up to the coaches to smooth things over.
"It was a class act with both our teams. I didn't notice any cheap shots," Seidel said. "I was more worried sometimes with the outside community the outside world who doesn't have much at stake in this, who wants to see something, a hard-hitting game, and there's nothing wrong with that, as long as if it's within the rules.
"Credit to (Ridge View) Coach (Perry) Parks and his staff," Seidel added, "I didn't see any kid running their mouths, and if we saw anybody we were yanking them and they knew that going in."
Seidel and Parks met briefly after the game, only long enough to exchange Parks' offer to fist bump rather than the usual shaking of hands that is common with coaches after a game.
The game itself featured little offensive drama, as both teams struggled to put long drives together.
Apart from Strickland's 16-yard touchdown connection with Josh Burrell in the first quarter, the first half was a tale of missed opportunities for Blythewood and penalties against Ridge View.
Strickland fired the Bengals up with a 40-yard run on their first drive of the game and found Burrell in the end zone three plays later to cap a 6-play 77-yard drive.
Ridge View, which got called for two holding penalties, two false starts, two personal fouls, a chop block, and an offsides in the first half, gave Blythewood a lot of leverage on the field.
The Bengals looked to take a 14-0 lead on its second possession, driving all the way to the 1-yard line. The Blazers' defense stiffened, and Jerry Finney's 20-yard field goal attempt hit the left bar on the goal post early in the second quarter.
Late in the first half, Blythewood pinned Ridge View back to a fourth-and-long situation at its own 12-yard line. The Blazers' punt went just 14 yards and the Bengals were 26 yards away from the end zone with 20 seconds to go.
A botched running play, followed by a Blythewood false start had the Bengals back to the Ridge View 35 with eight seconds left.
Even so, a Blazers personal foul got the Bengals to the 20-yard line with 1.2 seconds left. Finney took the field for a 32-yard attempt that went both short and wide left.
Both teams opened the second half with adjustments. Blythewood opened up the running game, while Ridge View tried to run and throw. Blythewood's changes worked.
Edwards' 26-yard touchdown run with 3:12 left in the third quarter capped a 7-play, 74-yard drive.
Ridge View had four short possessions and just two first downs in the first half, but showed progress at moving the ball in the second half. With runs from David Mitchell, the Blazers marched deep into Blythewood territory three times. They turned the ball over on downs each time.
Washington was 10-for-26 in passing for 98 yards, and didn't connect with any receiver until late in the game.
Mitchell had 10 carries for 70 yards.
"Their running back is tough," Seidel said. "Every time their running back got to the line I said 'oh boy can we tackle him,' but they tackled well and I thought our conditioning showed. I'm so proud of the kids."
Now that the game is finally in the books, Blythewood sets its sights on another rivalry game, at Westwood Friday night. Getting over the week zero matchup with Ridge View will have to come quick, no matter how exhausting it was.
"It was tough to bounce back, even as coaches," Seidel said about the weather delay Friday. "I remember coming home that night and I'm up at 12 or 1 at night, and I felt like I coached a game, I was exhausted.
"I can't imagine what these kids are going through up and down up and down. I'm sure they're happy the game is over, but now we've got to turn around get ready for another rivalry and they're licking their chops."
RVHS – 0-0-0-0 – 0
BHS – 7-0-7-0 – 14
First Quarter
B – Josh Burrell 16 pass from Josh Strickland (Jerry Finney kick) 4:23
Third Quarter
B – Brandon Edwards 26 run (Finney kick) 3:12
TEAM STATSTICS RVHS BHS
First Downs 12 17
Rushes-Yards 27-110 39-244
Passing Yards 98 47
Att-Com-Int 26-10-0 10-5-0
Fumbles-Lost 0-0 1-0
Penalties-Yards 10-87 8-45
Punts-Avg. 5-31.6 4-34.2
INDIVIDUAL STATISTICS
RUSHING: RVHS – David Mitchell 10-70; Caleb Rayner 8-36; Cincere Scott 1-21; Josh Holmes 1-5; Andre Washington 7-(-22). BHS – Desmond Boatwright 15-86; Brandon Edwards 8-85; Dhani Dixon 8-41; Josh Strickland 6-28; Aamir Washington 2-4.
PASSING: RVHS – Andre Washington 10-26-0-98. BHS – Josh Strickland 5-10-0-47.
RECEIVING: RVHS – Cincere Scott 3-28; Jordan Smith. 2-29; Josh Holmes 2-2; Deoiondre Patton 1-19; Tyree Byrd 1-17; Caleb Rayner 1-3. BHS – Josh Burrell 2-31; Chase Atkinson 1-8; Aamir Washington 1-5; David Patten 1-3.