WINNSBORO –Stormy weather delayed the Fairfield Central Griffins' first kickoff in the renovated E.K. McClendon Stadium on Friday. The Griffins and Johns Creek Gladiators were finally able to kick off at 9:20 p.m. The storms stuck around, and the game was called with eight minutes left in the contest as the Gladiators defeated the Griffins by a score of 44-6.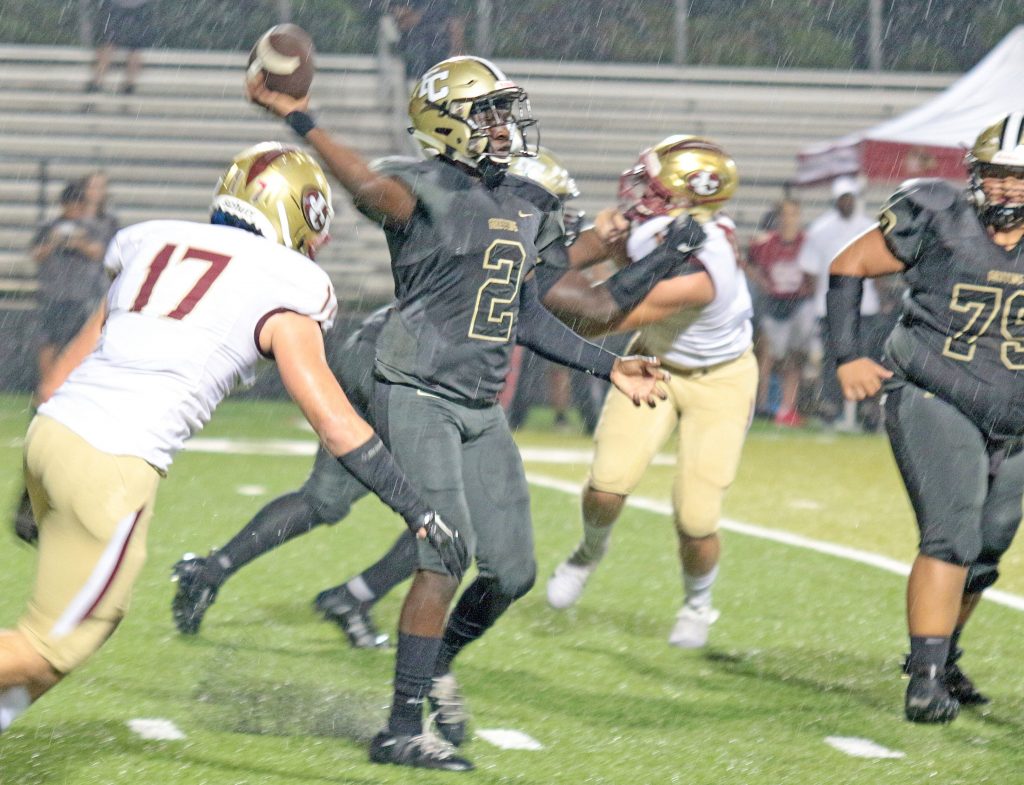 Johns Creek opened the scoring with 9:50 to play in the first quarter. Following a three-and-out by the Griffins offense and a punt return of 40-plus yards, the Gladiators scored on the first offensive a play – a 28-yard touchdown strike through the air. Johns Creek added one more score before the end of the quarter and take a 14-0 lead after one.
On the first play of the second quarter the Griffins got a 53-yard scamper from quarterback Stephon Gadsden. Then two plays later Gadsden hit Jacob McManus with a 30-yard touchdown strike of his own, cutting the Gladiators lead to 14-6. Johns Creek took the returned the following kickoff down to the Griffins five yard line. The Gladiators capitalized with a five-yard touchdown run on the first play.
The Griffins defense regrouped and held Johns Creek at 21 for the remainder of the first half. The scoring halt ended on the opening kickoff of the second half as the Gladiators made it 28-6 following a 76-yard kickoff return. Johns Creek added a field goal and two more touchdowns to go up 44-6 before more lightning would cause the game to come to an end.
Gadsden was the leading rusher for the Griffins with over 100 yards on the ground and his 53-yard scamper to start the second quarter was the highlight of the game for the Griffins.
The Griffins are back in action at E.K. McClendon Stadium on Friday, Aug. 30 against Lancaster High School at 7:30 p.m.