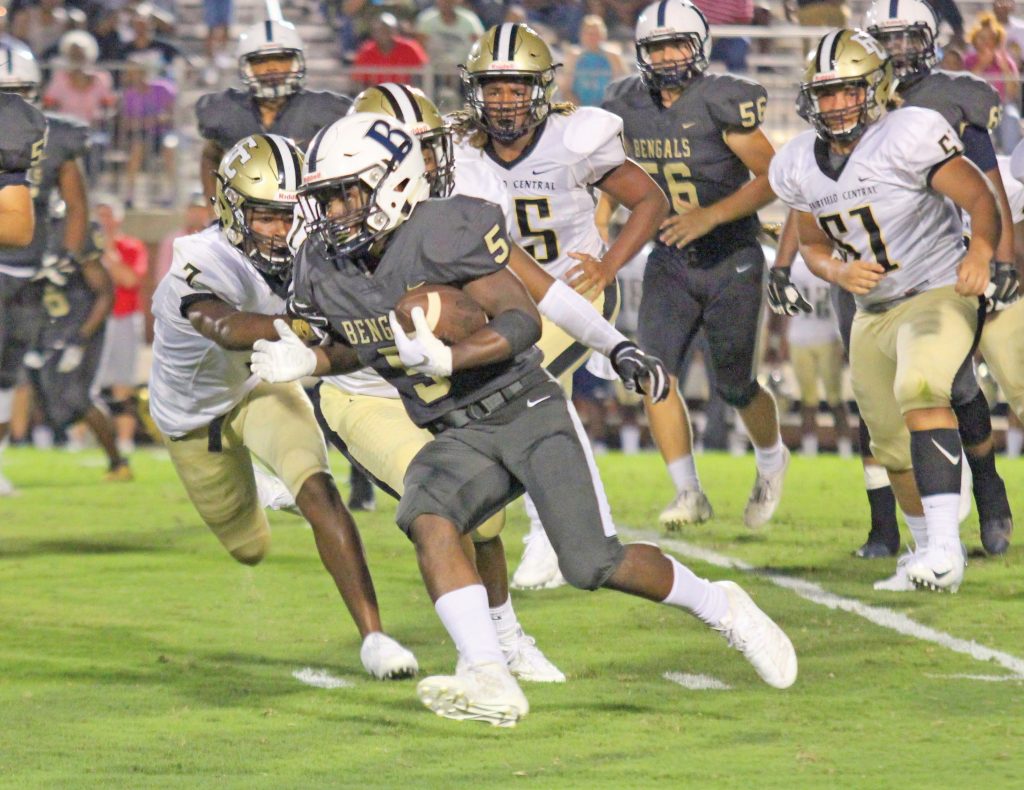 BLYTHEWOOD – The Blythewood Bengals came away with a 35-21 victory over Fairfield Central during their 2019 Homecoming game last Friday.
The Bengals opened the contest with an eight play, 70-yard touchdown drive highlighted by a 10-yard rush from David Patten and capped with a 15-yard touchdown toss from Josh Strickland to Josh Burrell on fourth down with 13 yards to go.
The Griffins had an opening drive of their own working as Stephon Gadsden connected with Knija Bagley for 43 yards, but a Bagley fumble gave the ball back to Blythewood. Fairfield's defense made a stand following the fumble, knocking the Bengals back 17 yards and forcing a three-and-out.
The teams traded punts before the Griffins tied the game at 7 on a 42-yard rush up the middle by Gadsden.
Blythewood scored a pair of touchdowns in the second quarter to take a 21-7 lead into the half. The first came on a one-yard run from Aamir Washington that capped a five play, 61-yard drive. The second touchdown came on a three-yard touchdown toss from Strickland to Brandon Edwards that capped a seven play, 65-yard drive. The Griffins were held to 26 yards of offense in the second quarter.
"Coach Parker Smith was our fill-in OC and he called a great game and guys some plays," said Coach Kevin Rholetter. "We were far, far from perfect. We did not expect to be, we are still a young team and to get out of here with a win and a pretty decent one, I am extremely proud of them."
Blythewood upped the lead to 28-7 before the Griffins managed to cut into it. Fairfield used a blocked punt to set themselves up at the Blythewood 12-yard line. Three rushing attempts later Devin Johnson crossed the goal line making it 28-14. With nine minutes left in the game Keon Trapp came up with an interception and returned it 99-yards for a touchdown, but it was called back for defensive holding. One play later Edwards rushed in from three yards out and to put the Bengals ahead 35-14.
"It was huge, I told them at the half when we were up that I know this team, they have a lot of fight and athletes that are young," said Rholetter on Blythewood capitalizing on the holding call against the Griffins. "There was no doubt in my mind that they were going to make a run and had that stood we would have been in a fight for sure. We could have been in a fight anyway, that is really strong ball club.
"I am really proud of this team. We lost two starting inside linebackers and two starting corners, so we were playing without a lot of guys and we were already a young defense with only one real returner that played every game last year and he was out, so I am proud of how they played."
Fairfield Central would cut into the deficit with 1:42 left in the contest when Gadsden completed a nine-yard touchdown pass to Montavious Thompson. The six-minute, 13-play, 83-yard drive was the Griffins' last one for a 35-21 final score.
The Bengals move to 2-1 on the season and travel to North Augusta on Friday.