WINNSBORO – After eluding authorities for 10 days, a Winnsboro man has been arrested on charges stemming from a shooting incident that occurred on Saturday, Aug. 17 in the Popular Street area of Winnsboro.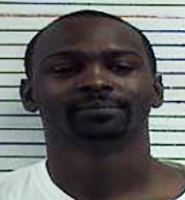 Charles Tyler Bouknight, 30, turned himself in to the Fairfield County Detention Center on Wednesday, Aug. 28, according to Sheriff Will Montgomery.
Bouknight was charged with four counts of attempted murder, possession of a weapon during a violent crime and discharging a firearm into a dwelling.
Officers were called to a shots-fired incident in the 400 block of Popular Street, on Aug. 17. Upon arrival, deputies say they were told by witnesses that a man with a white ski mask had walked down Popular Street firing a handgun into a neighboring home, then got into the passenger side of a gray sedan and drove off.
Witnesses also told officers that a person came out of the house that had been shot at and returned fire at the offender as he left the scene, according to the incident report.
Officers reported observing damage to the home and to vehicles in the yard that appeared to have been caused by a firearm.
While still on the scene, deputies received a report of a second shooting on Railroad Avenue, a few miles away. There, they found a woman who said she had been in the residence [that was shot at] with another woman and a juvenile. She said the home belonged to her mother.
Deputies reported that the woman said she was looking for the person who had shot into the home. Officers arrested the woman who they reported had firearms in her vehicle.
Motivation for firing into the home has not been disclosed.
Bouknight is currently awaiting a bond hearing at the Fairfield County Detention Center.