BLYTHEWOOD – Of the 1,300 acres that Richland County hopes to purchase and have rezoned for a Blythewood Industrial Park, almost 500 acres (two parcels) are in the county, not the Town of Blythewood, and the county will have jurisdiction over their re-zoning.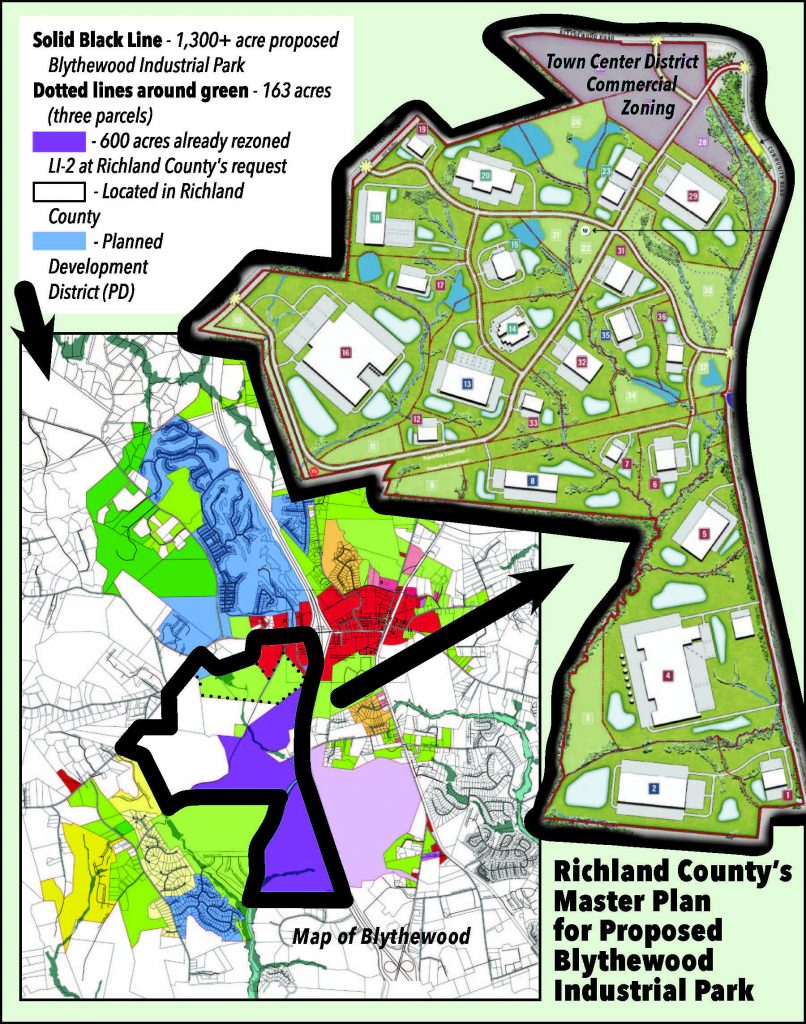 The two parcels, located along Blythewood Road, west of Fairfield Electric Cooperative's facility, will go before the Richland County planning commission Monday, Sept. 9 at 3 p.m. for a public hearing and recommendation to council.
While the public can sign up to speak their minds about the rezoning, county staff has already made up its collective mind, recommending that the planning commission not approve the rezoning.
Both parcels are zoned rural (RU). The County is asking for one of the parcels (456.01 acres) to be rezoned to Light Industrial (LI) and the other (27.54 acres) to be zoned for General Commercial (GC).
The 2015 Richland County Comprehensive Plan designates the RU zoned area as Neighborhood (Low-Density) for future zoning.
According to the staff report, the LI district is intended to accommodate wholesaling, distribution, storage, processing, light manufacturing and general commercial uses.
"The zoning request [for the 456.01 acres] is not consistent with the objectives for non-residential development within the Neighborhood (Low-Density) future land use designation," staff stated in its report. "Within the Neighborhood (Low Density) designation, the Comprehensive Plan recommends that industrial development with significant community impacts, i.e., noise, exhaust, odor, heavy truck traffic) is discouraged. The variety of industrial uses allowed under the LI district includes potential uses which would be incompatible with the general area as it is currently developed."
For these reasons, staff recommended disapproval of the requested map amendment.
Likewise, the county's planning staff recommended disapproval of GC for the smaller parcel, stating that it was not consistent with surrounding zoning and would constitute leapfrog development.
Blythewood Town Council has rezoned about 600 acres from Development (D-1) zoning to Limited Industrial (LI) at Richland County's request and passed the first of two votes to rezone the remaining 163 acres of the 1,300 acres.
The Blythewood planning commission voted 3-3 on the recommendation to Town Council which resulted in no recommendation. Blythewood Council will take its second and final vote on September 23.
Richland County Planning Commission will meet on Sept. 9 at 3 p.m. in Council Chambers, 2020 Hampton Street in Columbia 29202. The Commission's recommendation will then go to County Council.
Blythewood Town Council will meet on Sept. 23 at 7 p.m., at the Doko Manor. That vote will be the final vote for the rezoning request for the 163 acres.