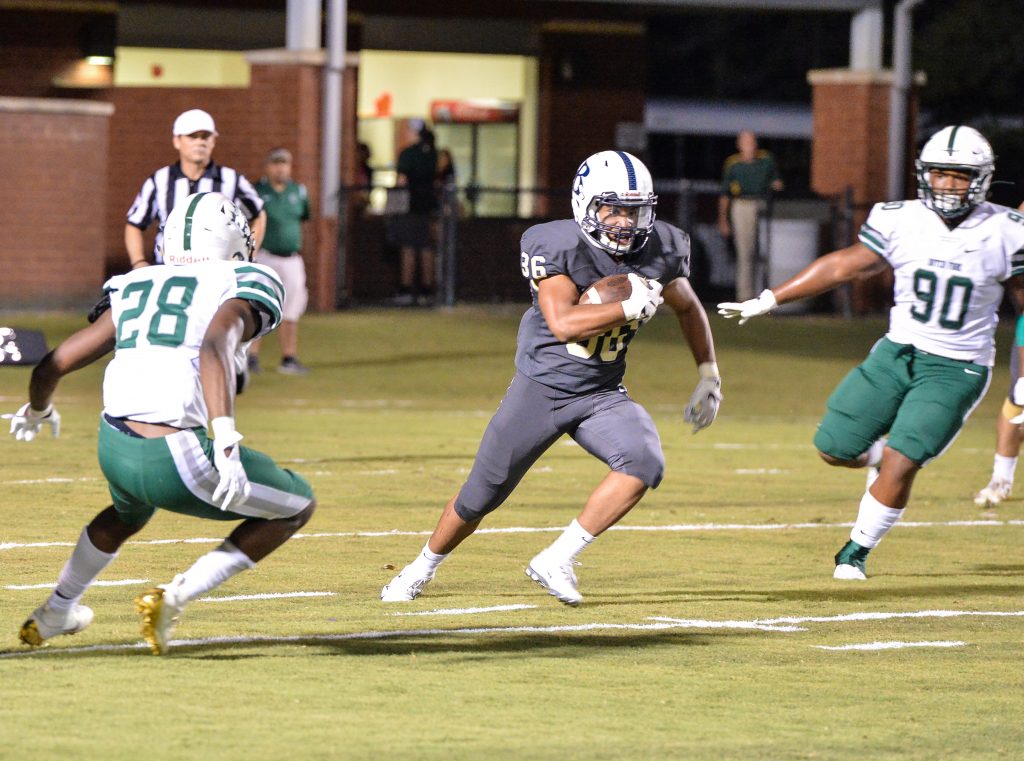 BLYTHEWOOD – The Dutch Fork football team left little room for surprises at District Two Stadium Friday.
The three-time 5A state champions rolled to a 49-0 lead over Blythewood by the half, then finished out the second half in a 49-13 victory over the Bengals.
Blythewood (3-2) finally got on the scoreboard when Josh Strickland found Josh Burrell for a 9-yard touchdown pass to complete a 9-play, 78 yard scoring drive at the 7:02 mark of the third quarter.
Strickland connected with David Patten for a 29-yard TD pass with 6:23 left in the game to close out a 10-play, 70-yard march.
Strickland finished the night completing 18 of 25 passes for 150 yards and no interceptions. King Ford had 41 yards passing.
Blythewood's passing was just about the entirety of offense for the night, as Dutch Fork stifled Bengals rushers to the tune of 22 total yards on the ground.
The rest was all Silver Foxes (4-0-1) who stretched their unbeaten streak to 30 games. Using solid blocking and pass protection, Dutch Fork easily worked down the field and rolled up most of its 421 yards of total offense on the night.
Ty Olenchuk passed for 204 yards and two touchdowns, and Jalin Hyatt had five catches for 135 yards and two scores. John Hall ran for four scores and had 97 yards on just 11 carries.
The Silver Foxes closed out a quick 78-yard drive on three Olenchuk passes to Dorian Jacobs and Hyatt before Hall ran the ball in from 11 yards out at the 9:54 mark of the first quarter.
Dutch Fork needed just four plays on its next two possessions to take a 21-0 lead going into the second quarter.
Olenchuk found Hyatt for a 57-yard touchdown strike at the 6:22 mark of the first, then with 2:07 left, Hall closed out a 72-yard march with a 12-yard TD run.
Olenchuk hooked up with Hyatt again on a 33-yard score to start the second quarter. After that came two more Hall touchdown runs and a rushing score from A.J. Knight for the 49-0 lead at the halftime gun.
Blythewood finishes non-region play with a long road trip to Beaufort Friday. Beaufort (0-3) is coming off a 44-7 loss at Valdosta, Ga. last week.
DFHS – 21-28-0-0 – 49
BHS – 0-0-7-6 – 13
First Quarter
D – Jon Hall 1 run (Graham Newboult kick) 9:54
D – Jalin Hyat 57 pass from Ty Olenchuk (Newboult kick) 6:22
D – Hall 12 run (Newboult kick) 2:07
Second Quarter
D – Hyatt 33 pass from Olenchuk (Newboult kick) 10:40
D – Hall 10 run (Newboult kick) 7:30
D – Hall 3 run (Newboult kick) 5:50
D – A.J. Knight 5 run (Newboult kick) :38
Third Quarter
B – Josh Burrell 9 pass from Josh Strickland (Jerry Finney kick) 7:02
Fourth Quarter
B – David Patten 29 pass from Strickland (kick blocked) 6:23
                        Dutch Fork   Blythewood
First Downs  20                   11
Rushes-Yards                     31-215           15-22
Passing Yards 206 197
Att-Com-Int 18-14-0 26-19-0
Fumbles-Lost 1-0 3-6
Penalties-Yards 5-40 6-35
Punts-Avg.  0-0.0             4-33.2          
INDIVIDUAL STATISTICS
RUSHING: Dutch Fork – Jon Hall 11-97, Marcus Taylor 5-35, Aaron Harrison 3-31, A.J. Knight 4-31, Ty Olenchuk 6-23, Leo Lowery 2-(-2). Blythewood – Dhani Dixon 7-20, Aamir Washington 3-13, Josh Strickland 5-(-11).
PASSING: Dutch Fork – Ty Olenchuk 11-13-0-204, Aaron Harrison 3-5-0-2. Blythewood – Josh Strickland 18-25-0-150, King Ford 1-1-0-47.
RECEIVING: Dutch Fork – Jalin Hyatt 5-135, Jon Hall 3-38, Dorian Jacobs 2-25, Mason Wilkinson 1-6, AJ Knight 1-2, J. Sweetenburg 1-0, Elijah Spencer 1-0. Blythewood – Chase Smith 4-71, Josh Burrell 4-37, Noble Cooper 4-34, David Patten 2-41, Dhani Dixon 2-17, Aamir Washington 2-(-7), Chad Ishmael 1-4.