WINNSBORO – The Richard Winn Eagles went into Friday night's contest with revenge on their mind, and revenge is what they got defeating the defending State Champion Beaufort Academy Eagles by a score of 49-14. Brandon Miller, the Eagles leader at RB/LB, finished the contest with 295 yards and three touchdowns as well as 11 tackles on the defensive side of the ball.
"We talked all week about redeeming ourselves," said Coach Paul Brigman. "We played those guys twice last year and they beat us badly both times. They were more prepared – the more physical team. They handled us last year, so we talked about that. We talked about it and about how this is our time to redeem our self and show our physicalness and to show our ability to dominate. Our guys took that and took it as a challenge and they executed perfectly."
The game started out slowly as the first quarter finished with a scoreless tie. On the first play of the second quarter Miller rushed for 16 yards and a touchdown.
Beaufort answered with a five play, 70-yard drive of their own. The two-point conversion attempt was no good and Richard Winn continued to lead, 7-6.
Richard Winn scored the next 21 points before Beaufort got on the board again. Miller rushed for a 30-yard touchdown, then Zack Taylor connected with Hudson Wade for a 44-yard touchdown. Dru Caldwell then made it a 28-6 score with 9:51 to play in the third.
Richard Winn went for the onside kick after their fourth touchdown, but Beaufort recovered. Following the recovery, Beaufort went six plays for 51 yards to close the gap 28-14.
Richard Winn's defense held Beaufort scoreless for the remainder of the game while the offense continued to pile on the points.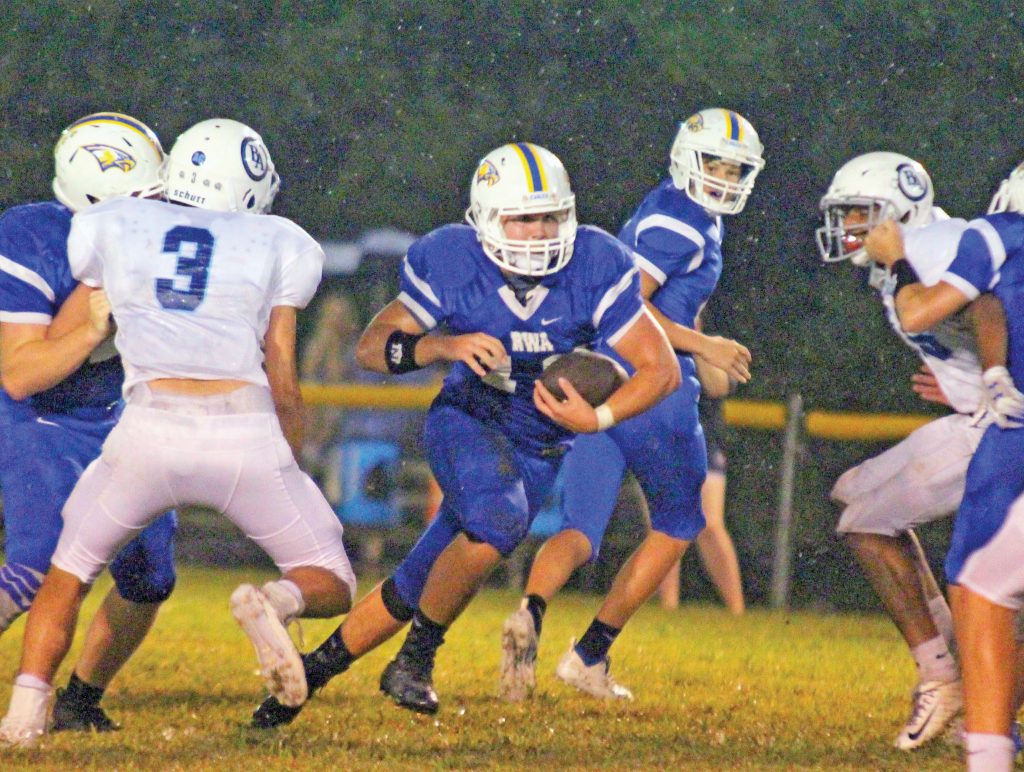 Taylor rushed for a 50-yard score making it 35-14 with 2:30 to play in the third quarter.
The Eagles tacked on insurance scores in the fourth quarter, the first coming on an 18-yard pass from Caldwell to Wade. The second was a 55-yard rush by Miller, who finished with three rushing scores on the evening. Richard Winn took a 49-14 lead with 2:43 to play.
"We knew they were tough, but our plan was to try to get them tired and wear them down," said Brigman on the slow start that turned into a blowout. "They hung with us early but in the end our conditioning and physical nature of our team in the end won out. They have a few guys injured and it was just kind of a snowball effect, once things start going well and momentum starts going one way it is hard to get out of the way of that. I think our guys did a really good job with that, picking up the physicality and seizing the momentum."
Richard Winn finished with a 489 to 197 total yards advantage. 428 of those yards came on the ground. Miller rushed for 295 yards and three touchdowns on a 14.05 yards per carry average. Taylor also surpassed the 100-yard mark with 104 on 16 carries. Wade had two catches for 62 yards and two scores from a receiving standpoint.
The Eagles move to 3-0 this season and have outscored their first three opponents by 158-14 margin. Richard Winn hosts Jefferson Davis Academy this week in its Homecoming contest.