WINNSBORO – There are only three school districts in the state whose five year olds are more ready for kindergarten than those in Fairfield County, according to the statewide First Steps Kindergarten Readiness Assessment (KRA) scores released in August.
"It's an indication for the county as a whole not just for our First Steps program or the school district," Patti Wilkes, executive director of the county's First Steps program, said. "Our goal, of course, is for every Fairfield County child to be ready for success when they start kindergarten."
According to the report, 49 percent of them are.
Only preschoolers in Georgetown (50%), York 4 (55%) York 2 (51%) are more ready than those in Fairfield. Charleston, Lexington 3 and Fairfield all scored a 49 percent overall.
The state funded program was introduced in South Carolina in 1999 and a First Steps office now exists in each of the state's 46 counties. The school district offers K3 and K4 kindergartens throughout the district. The 2017-18 KRA reported Fairfield County was one of only 13 of the 46 state-wide First Steps programs that met or exceeded the state average.
Wilkes said the KRA provides a snapshot of students' abilities at the beginning of the five-year-old kindergarten school year in four domains: social foundations, language and literacy, mathematics and physical development and wellbeing. Students are scored according to their level of readiness – emerging readiness, approaching readiness and demonstrating readiness. (See KRA charts)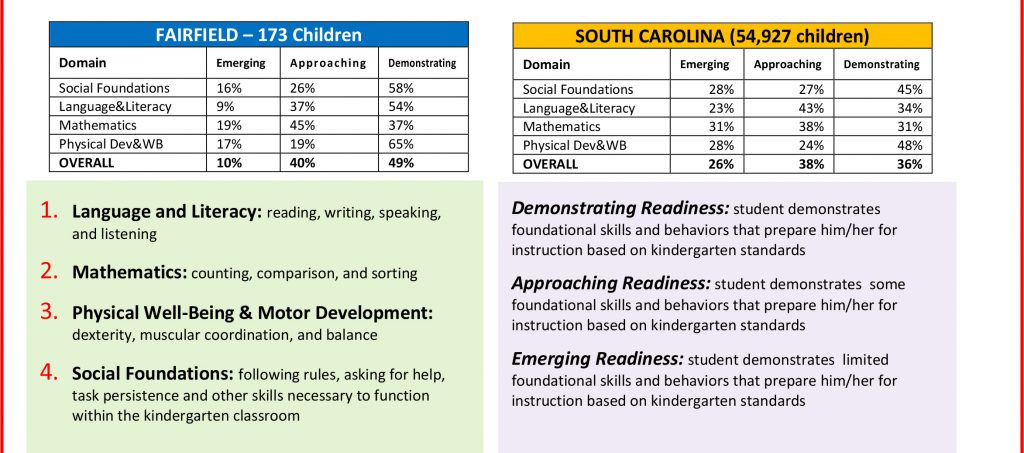 While the First Steps offices in each county share the same goals, they use different methods to achieve those goals. Fairfield uses five programs that are designed to prepare children for a successful start to their school career.
"Literacy is the number one indication for success in school," Wilkes said.
One program Wilkes uses to improve literacy is 1000 Books Before Kindergarten.
"We go into the classroom, read to the students and give books to the classroom as well as to students to take home," Wilkes said.
Other programs, like Parents as Teachers and Countdown to Kindergarten focus on home visits to equip parents and caregivers with the confidence and competence to be their child's first and best teacher.
Because many of the children served in Fairfield live in poverty, First Steps makes some scholarships available to cover the costs of child care. Last year, Wilkes' office provided 22 children with scholarship assistance so their parents could work or attend school.
"To spark the love of reading, Fairfield County First Step distributed 6,614 free, age-appropriate books to 746 children last year.
"If a child has any developmental delays, we try to address those before they enter five-year-old kindergarten. If children are not ready for kindergarten, we lose instruction time in the classroom," Wilkes said.
Wilkes says she uses programs that strengthen relationships, all kinds of relationships, but particularly between parent and child.
"As part of our Countdown to Kindergarten program, we partner with the school district, United Way and get funds through the preschool development grant to hire all 5K teachers in the district to make six home visits to each participating student during the summer before they start school," Wilkes said. "These visits incorporate a full curriculum of core subjects. Last summer we funded six teacher visits to each of 70 students."
"Our goal is to prepare these children to be successful in school," Wilkes said. "That preparation starts early, but the parents have to buy in. We wish we could get to these children at birth. The parents have to see that success in school is their child's way out of poverty."
Fairfield First Steps is located at 101 N. Congress Street, Suite 1, Winnsboro. For more information, contact Wilkes at 803-635-1590 or email [email protected]