BLYTHEWOOD – Westwood got in some good legwork in a 38-6 defeat of Lower Richland Friday night.
Westwood head coach Matt Quinn said he was glad to see the rushing yards pile up and the defense shut out the Diamond Hornets in the first half at the Redhawks District 2 Stadium.
But early in the second half, when the Redhawks were up 26-0, Quinn was a little concerned about his team's mouthwork.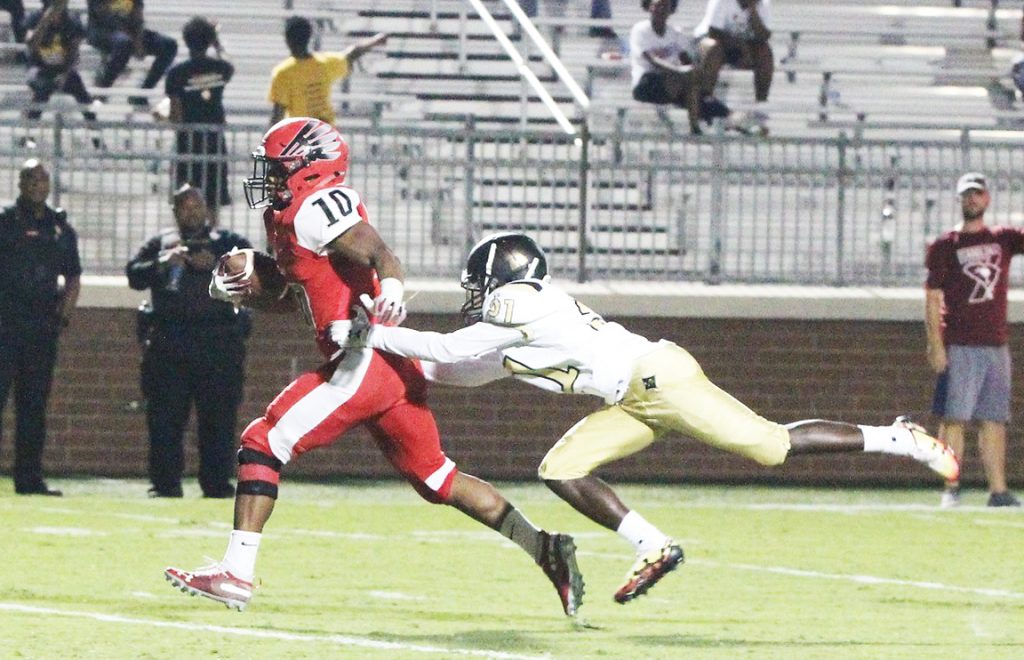 In the midst of Lower Richland's one and only scoring drive, the Redhawks (2-1) chalked up three personal foul penalties on two plays. Quinn saw what his team was doing and called a time out three minutes into the third quarter.
He and the Redhawks staff brought the entire team to the benches and sat them all down.
He concluded his lecture with "Play football! No more talk! Let the scoreboard talk!" that was plainly audible to the home crowd.
"I felt like it was the time for me to take a time out and teach my players," Quinn said. "We had to calm them down, get them settled down. The game got a little feisty, and that's something we're gonna work on."
When the game resumed, Lower Richland (1-2) eventually did punch the ball in, on a 14-yard Jamison Ganzy pass to Fred Archie. But the talking indeed ceased and Westwood went back to business.
With the Redhawks up 26-6, Cam Atkins caught a 51-yard touchdown pass from Ahmon Green, and Green himself ran 41 yards for a score to seal the 38-6 win.
The Redhawks used three running backs and Green to roll up 269 rushing yards. DeShawn Boyd had 88 yards and two touchdowns on 19 carries. Julian Milligan had 62 yards and a score on 8 carries, and Nick Gilliam had 49 yards on 8 carries.
In addition to rushing for 59 yards and a touchdown, Green had two touchdown passes to Atkins and threw for 105 yards.
For a team that had no offensive touchdown in a 12-8 loss at Lugoff-Elgin and one in a 14-7 win over Blythewood, seeing the offense work put a charge in Quinn as well as the crowd.
"We were really excited that we got our running game going," Quinn said. "We've got three really good running backs that can play well, and finally our senior stepped up and had a big game for us, and our offensive line did a phenomenal job of blocking."
The Redhawks knocked out two long drives in the first quarter. The first one died out on a fourth-and-8 at the LR 21-yard line, but Westwood found good fortune on a fourth-and-long on the second drive.
Green found Atkins about seven yards downfield from the LR 27. Atkins bulled his way into the end zone at the 1:51 mark for the first score of the game.
Westwood kept the ball on the ground the rest of the way.
De'Shawn Boyd broke free for a 31-yard gain that set up a first and goal at the 6 early in the second quarter. Boyd capped that possession with a 3-yard TD run with 8:38 left in the first half.
With the Redhawks up 12-0, Boyd found the end zone again on another 3-yard run with 5:48 left. Green ran in for the 2-point conversion to give the Redhawks a 20-0 lead.
Julian Milligan's 15-yard touchdown run with 2:29 left capped the first-half action.
The Westwood defense held Lower Richland to 0 first downs in the first half, and five in the second half. Lower Richland had just 64 total yards.
With the bye week this week, Quinn said the team will work on the usual runs and defensive schemes, but will also get schooled in keeping one's composure.
"We have some time to work on that, and to refocus our kids on some extra work," Quinn said. "We'll have them ready. We'll clean that mess up next week."
LRHS – 0-0-6-0 – 6
WHS – 6-20-12-0 – 38
First Quarter
WHS – Cam Atkins 27 pass from Ahmon Green (pass failed) 1:51
Second Quarter
WHS – De'Shawn Boyd 3 run (pass failed) 8:38
WHS – Boyd 3 run (Green run) 5:48
WHS – Julian Milligan 15 run (pass failed) 2:29
Third Quarter
LRHS – Fred Archie 14 pass from Jamison Ganzy (pass failed) 8:17
WHS – Atkins 51 pass from Green (pass failed) 5:30
WHS – Green 41 run (pass failed) :49
TEAM STATS LR Westwood
First Downs 5 17
Rushes-Yards 25-25 47-269
Passing Yards 39 105
Att-Com-Int 18-8-0 11-6-0
Fumbles-Lost 0-0 2-2
Penalties-Yards 12-109 11-115
Punts-Avg. 7-25.6 1-35.0
INDIVIDUAL STATISTICS
RUSHING: Lower Richland – Jeremy Barney 6-(-1), Jamison Ganzy 14-10, Keshaun Jenkins 2-15. Westwood – Nick Gilliam 8-49, Ahmon Green 8-59, Julian Milligan 10-62, De'Shawn Boyd 19-88.
PASSING: Lower Richland – Jamison Ganzy 8-17-1, Jeremy Barney 0-1-0. Westwood – Ahmon Green 6-11-0.
RECEIVING: Lower Richland – Fred Archie 2-19, Nate Branch 1-7, Tyleek Sealey 1-6, Travis Reese 2-5, Keshaun Jenkins 2-2. Westwood – Cam Atkins 4-95, Xorian Dobey 1-11, Jayden Harrison 1-(-1).