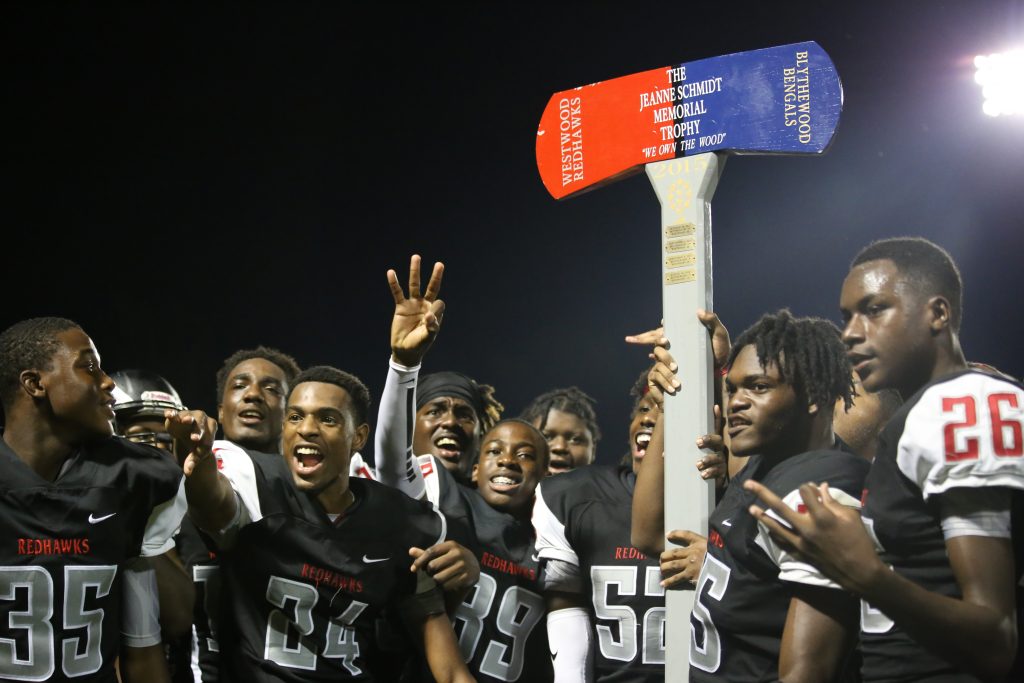 BLYTHEWOOD – The Westwood offense couldn't catch a break Friday night, until Nick Gilliam got sprung in the third quarter.
Gilliam broke free on a 43-yard touchdown run after six futile Redhawks possessions. His score boosted the Redhawks to a 14-7 victory over crosstown rival Blythewood in the Battle of the Woods series.
We made a few changes and got them fired up this week," Quinn said about the offensive line. "We challenged our offensive line, and Nick Gilliam did a good job of finding the end zone on that breakaway."
Gilliam finished the night with 119 yards on 20 carries, but what really earned Westwood its third straight victory in the series was defense.
Westwood held Blythewood to 49 rushing yards and 197 total yards on the night.
LeRoy Isaac was at the top of the list for the Redhawks D. Isaac recovered a fumble in the first quarter for a touchdown, a play that Sean Artiss caused when he sacked Blythewood quarterback Josh Strickland near the goal line. Isaac had two sacks of his own and broke up a fourth-quarter pass that forced Blythewood to turn the ball over on downs.
"Our defense has played lights out, even last week at Lugoff," Westwood head coach Matt Quinn said. "Our defense is well-coached, and they've worked their butts off all year long, and it showed tonight."
The defense set up Gilliam's score when it stopped a long Blythewood drive midway through the third quarter. Up 8-7, the Redhawks took over at their own 14-yard line and went 86 yards on four Gilliam runs, the last one being the score that gave Westwood its first offensive touchdown of the year.
Before then, the Redhawks had moved the ball in the first half only to come up with nothing in three tries inside the 20-yard line.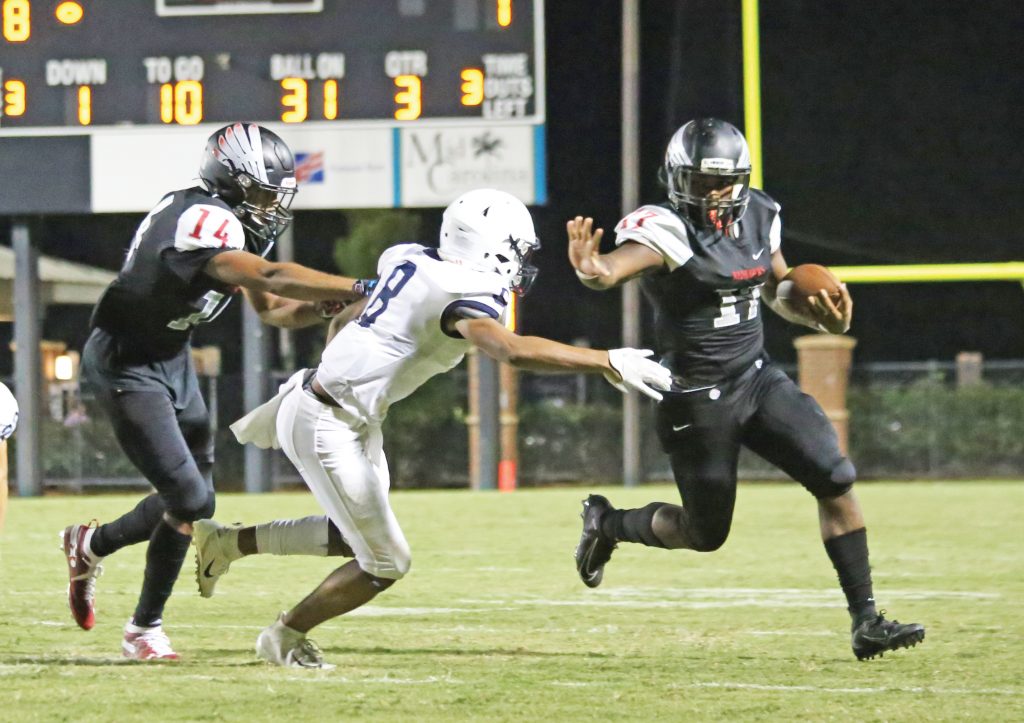 Westwood's offense showed it could move the ball down the field—but Blythewood stopped the Redhawks cold inside the 20-yard line three times. Grant Thompson recovered a fumble for the Bengals and his defensive teammates forced two turnovers on downs in the second quarter.
The Redhawks defense showed its tenacity right off.
After Thompson's fumble recovery on Westwood's opening possession, the Redhawks took the field and pressured Blythewood quarterback Josh Strickland. On the Bengals third offensive play from their own 13-yard line, Sean Artiss chased down Josh Strickland close to the goal line and sacked him, jarring the ball loose. Leroy Isaac pounced on it as it rolled into the end zone for the easy touchdown.
Ahmon Green's 2-point conversion pass to Gaines Salvant gave the Redhawks an 8-0 lead with 5:21 left in the first quarter.
Blythewood responded with a quick 5-play, 62-yard drive to get on the scoreboard. Strickland hit David Patten on a screen that Patten stretched 32 yards into the end zone for the score.
Both teams looked to take some momentum into the locker room at the half.
Westwood drove 62 yards on one possession. On another, the Redhawks got a short field after pushing the Bengals back to the 1-yard line and forcing a punt. Both drives died out on downs.
Blythewood had two small possessions in the second quarter, with one ending at its own 4 and the other dying at midfield on an incomplete fourth-down pass.
The emotions swung in Westwood's favor in the second half, certainly by Gilliams' breakout run. After that score, Blythewood had the ball three times with field position at their own 38-yard line or greater. Each time the Bengals neared the goal line, either penalties or defensive stops would halt the drive.
"In my opinion, I don't know if we brought enough energy tonight," Blythewood head coach Jason Seidel said. "I don't want to use that as an excuse, because give credit to Westwood, they played a great game. I told them (the Bengals team) that they're playing their first home game and they're coming off a loss."
Patten had six catches for 95 yards and a touchdown, and Strickland was 16-for-23 in passing for 148 yards, but he was sacked three times. Add to that Blythewood's 49 net rushing yards, and it wasn't the best of nights for the Bengals.
"We made too many mistakes offensively," Seidel said. "But I felt for them, when you lose three of your major players right off the bat, a lot of kids were like what are we doing, what's happening but that's football, it's part of life, the next guy steps up and you gotta move on and the kids did that."
Quinn, in his first year as head coach after serving as offensive coordinator in 2016, said the Battle of the Woods game is important to the community and the kids, and both teams respected that.
"Hat's off to Blythewood and their coaching staff,' Quinn said. "They did a great job preparing, a well-coached game. Clean play on both sides, and that's the sign of a good family rivalry that you have in the town of Blythewood."
Westwood retained the Jeanne Schmidt Memorial Trophy, a red and blue axe that the schools share as the prize for the Battle of the Woods.
BHS – 7 – 0 – 0 – 0 – 7
WHS – 8-0-6-0 – 14
First Quarter
WHS – Leroy Isaac fumble recovery in end zone (Gaines Salvant pass from Ahmon Green) 5:21
BHS – David Patten 32 pass from Josh Strickland (Jerry Finney kick) 3:11
Third Quarter
WHS – Nick Gilliam 43 run (pass intercepted) 2:46
TEAM STATS BHS WHS
First Downs 11 16
Rushes-Yards 26-49 38-192
Passing Yards 148 73
Att-Com-Int 23-16-0 23-12-0
Fumbles-Lost 1-1 1-1
Penalties-Yards 11-65 8-61
Punts-Avg. 4-33.5 2-35.5
INDIVIDUAL STATISTICS
RUSHING: Blythewood-Desmond Boatright 9-43, Aamir Washington 7-33, Dhani Dixon 4-8, Josh Strickland 6-(-35). Westwood-Nick Gilliam 20-119, Ahmon Green 12-50, Julian Milligan 5-27, Cam Atkins 1-9-4).
PASSING: BHS -Josh Strickland 16-23-0-148. WHS -Ahmon Green 12-23-0-73.
RECEIVING: Blythewood-David Patten 6-95, Noble Cooper 4-13, Josh Burrell 3-22, Chase Smith 1-13, Chase Atkinson 1-7, Brandon Edwards 1-(-2)
Westwood-Rashad McCain 3-22, Cam Atkins 3-21, Julian Milligan 2-12, Xorian Dobey 2-10, Gaines Salvant 2-8.