LEXINGTON – Richard Winn jumped out to a 43-0 lead after one half of play in Lexington last Friday. The second half was shortened to six minute quarters with a running clock as the Eagles finished off Northside Christian Academy 57-0.
The Eagles got the scoring started with 6:39 to play in the first quarter as Dru Caldwell found Hudson Wade for a 17-yard scoring strike. Brandon Miller made it 8-0 with his two-point conversion run. Richard Winn followed that initial 10-play, 66-yard scoring drive with an onside kick recovered by Wade to give the Eagles the ball at the Northside 46 yard line. They capped this five play drive with a two yard rushing score by Caldwell. The PAT made it 15-0.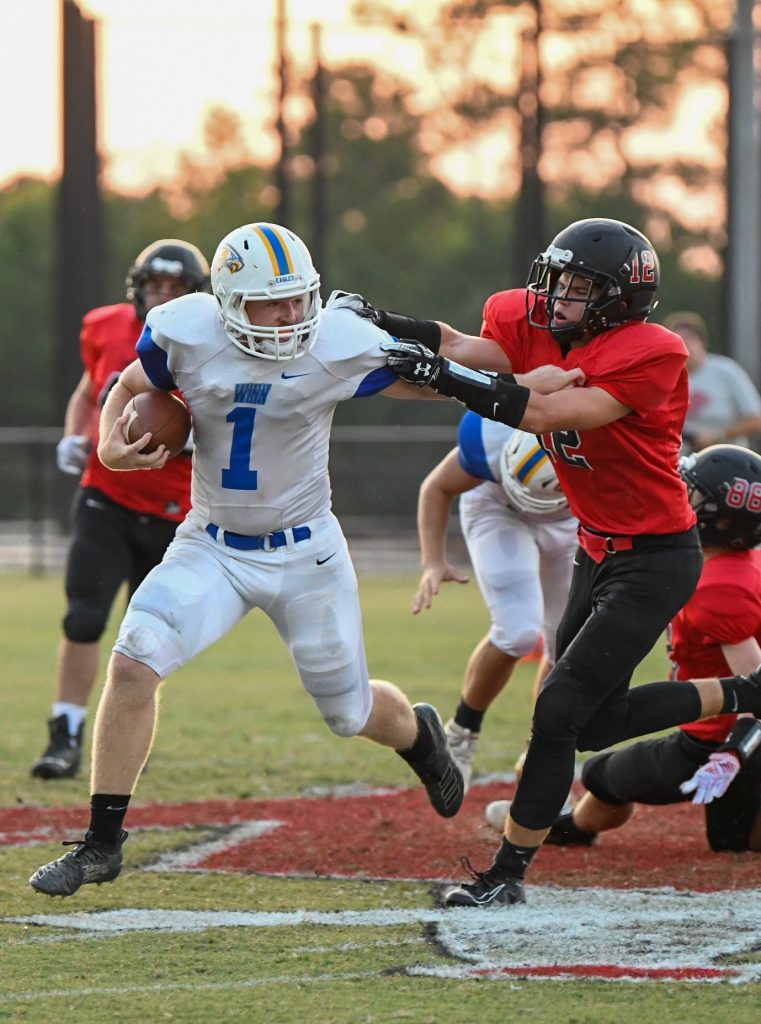 Following a Northside three-and-out, the Eagles started their next possession at their own 48. After an offsides penalty against the defense, the Eagles got 14 yards on two rushes and a 33-yard touchdown strike from Caldwell to Wade for a second time, making it 22-0 with 2:22 to play in the opening quarter.
Following another three-and-out forced by the Eagle defense, Richard Winn found the endzone again with an 81-yard touchdown pass from Zack Taylor to Gavin Douglas. The PAT put the Eagles up 29-0.
Richard Winn tallied two more touchdowns in the opening half – a one-yard run by J Talbert with 6:03 to play and then a 10-yard touchdown pass from Caldwell to Jacob Chaisson, making it 43-0 at the intermission.
The second half started with a 91-yard kickoff return for a touchdown by B Baker, putting the Eagles up 50-0. Richard Winn's final score came with 2:38 to play in the contest, a 39-yard run by Joey Banister.
As a team, Richard Winn finished with 409 yards of offense and 10 total first downs while Northside had eight yards of total offense and one first down. The Eagles threw for 215 yards and rushed for 194. Caldwell had 117 yards passing and three touchdowns while Taylor had 98 yards and one touchdown. Miller was the leading rusher with 73 yards. Douglas led the way with 81 yards receiving. Miller led the Eagles defensively with 10 total tackles.
The Eagles improve to 2-0 on the young season and face their biggest test of the season on Sept. 13 when they play defending State Champion Beaufort Academy. Beaufort defeated the Eagles 66-34 in the first round of the playoffs en route to their 2018 state title.